Kenya Birding and Big Game Tour
Jackson's Hornbill
Kenya Birding and Big Game Tour
Report and photos by Tour Leader Washington Wachira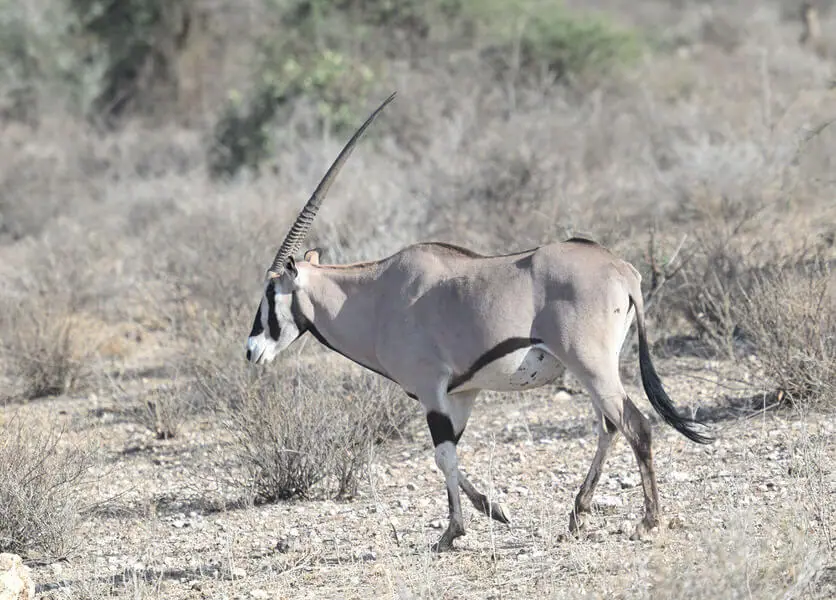 Beisa Oryx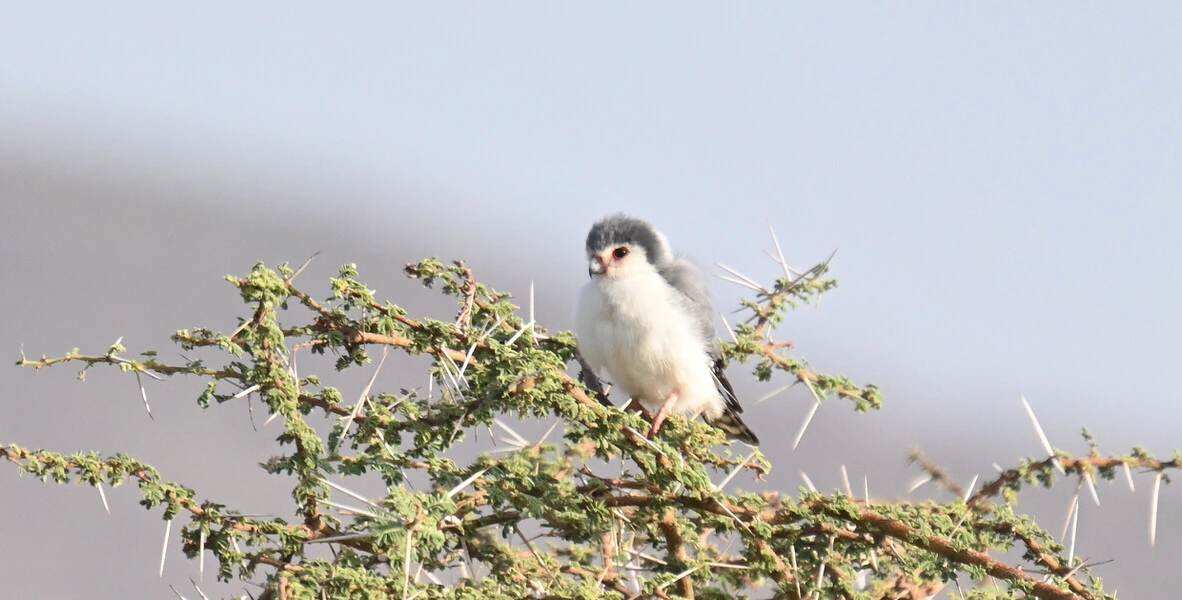 Pygmy Falcon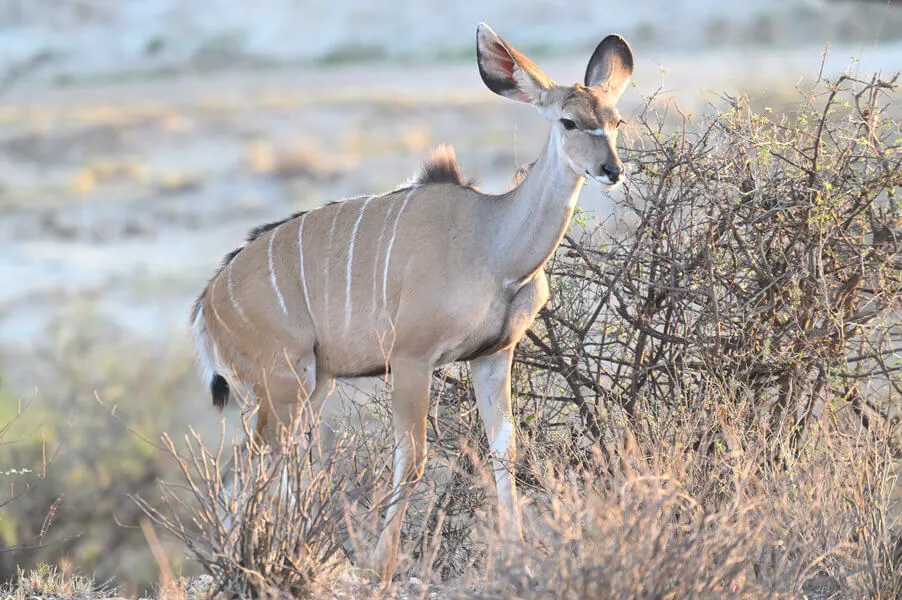 Greater Kudu
TOP BIRDS OF THE TOUR – AS VOTED BY GUESTS
Three-banded Courser
Malachite Kingfisher
Secretarybird
Northern Carmine Bee-eater
Lilac-breasted Roller
White-crested Turaco
Great Blue Turaco
Papyrus Gonolek
Saddle-billed Stork
TOP MAMMALS OF THE TOUR – AS VOTED BY GUESTS
Leopard
Cheetah
African Lion
Southern White Rhino
Gerenuk
African Elephant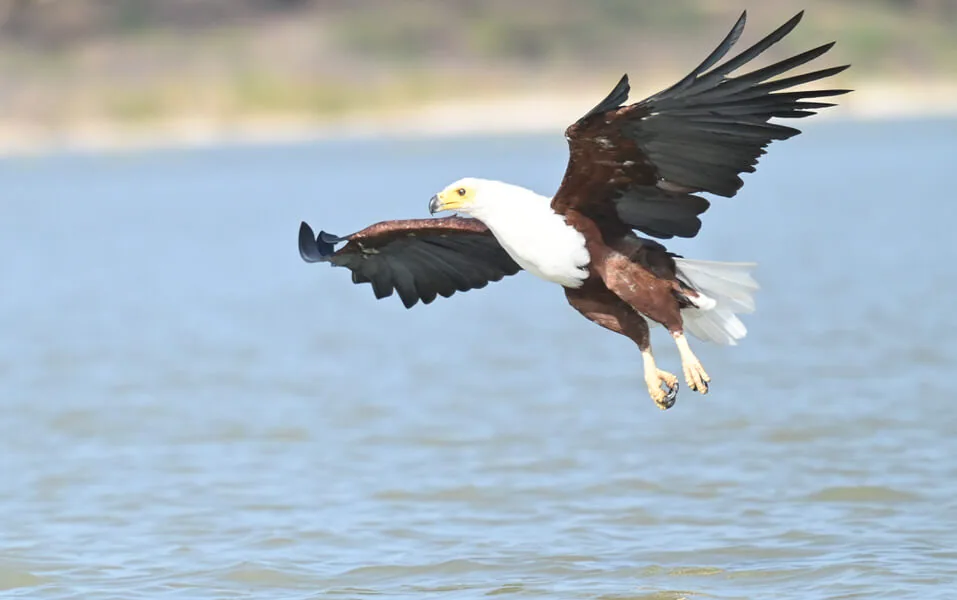 African Fish Eagle
DAY 1: 20/11/2021 – ARRIVAL IN NAIROBI
The Kenya Birding and Big Game Tour started in Nairobi, Kenya's political and economic capital. The guests arrived around 10pm, and were transferred to the hotel for a relaxed night. After a short briefing session, we all went to bed and were set for a long adventure ahead.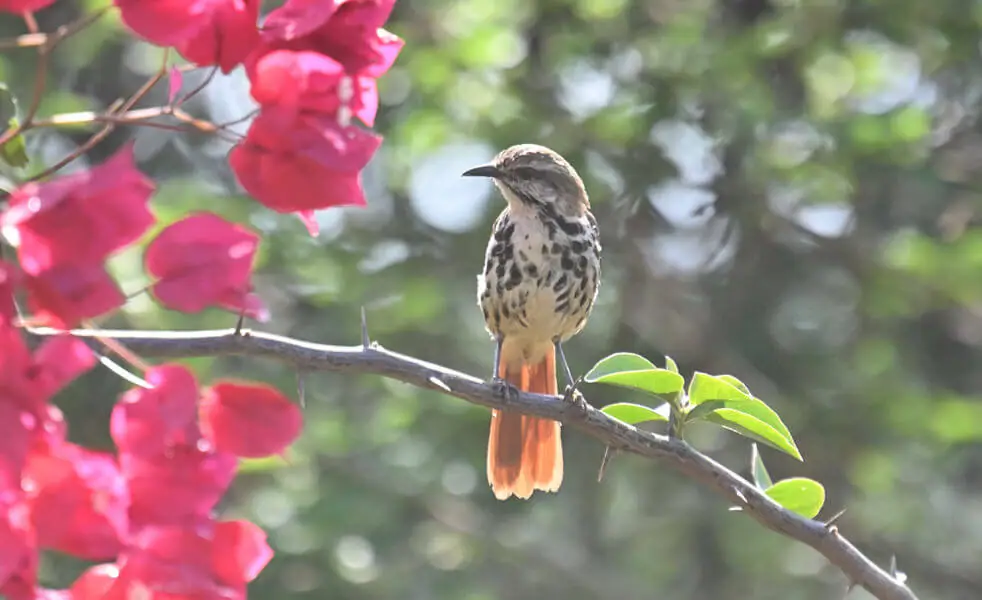 Spotted Palm Thrush
DAY 2: 21/11/2021 – NAIROBI TO MT. KENYA
Our first day of birding was very productive. We started with some local species around our hotel compound right at breakfast. Here we scored Dark-capped Bulbul, Abyssinian Thrush, Bronzy Sunbird, Rock Martin and the special Dusky Turtle Dove. Driving across the city, we added some great views at Marabou Stork, Pied Crow and Yellow-billed Kite. Soon we were at our first roadside birding spot, where we arrived to a large colony of Village Weavers, busy at their communal nesting tree. Multiple males were observed flying back and forth with grasses as they tried to tidy up their nests. We then heard the call of a Singing Cisticola go off – and soon had good views; next to two Spotted Palm Thrushes. We enjoyed birding the local bushland that is characteristic of Eastern Kenya – with some stars being a few Black-bellied Sunbird pairs. A Red-throated Twinspot gave us a very hard time, but we got the consolation views from a Green-winged Pytilia and Purple Grenadier. The striking Moustached Grass Warbler gave us many nice views, of several individuals. Here we also recorded the endemic Hinde's Babbler, Black Cuckoo and a host of Palearctic migrants – Booted Eagle, European Bee-eater, Common Whitethroat, Thrush Nightingale, Marsh Warbler, Eastern Olivaceous Warbler and one brief River Warbler.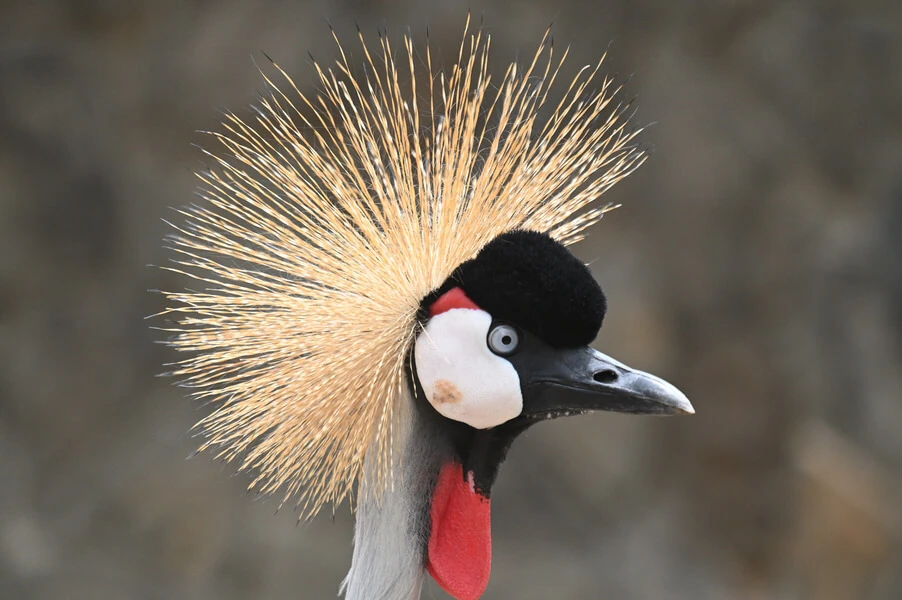 Grey Crowned Crane
We had two smart reptiles here too: Speke's Hinged Tortoise and Kenya Red-headed Rock Agama. This started our Kenya Birding and Big Game Tour reptiles list well.
Continuing to our lunch place, we scored a nice flock of Eastern Golden Weavers, Red-headed Weavers, Yellow Bishop, Northern Brownbuls, Sombre Greenbuls, Rufous Chatterer, Southern Black Flycatcher and a Little Sparrowhawk. After lunch we had views of Eurasian Golden Oriole, Pale White-eye and Knob-billed Duck.
Continuing down the road, we enjoyed Mwea puddies. Here many waterbirds and marshland species were present – African Jacana, Long-toed Lapwing, Yellow-crowned Bishop, White-winged Widowbird and Hamerkop showed well. Parrot-billed Sparrows also showed well. We stopped farther along the road to look at European Rollers; and this site added Wahlberg's Eagle and Village Indigobird.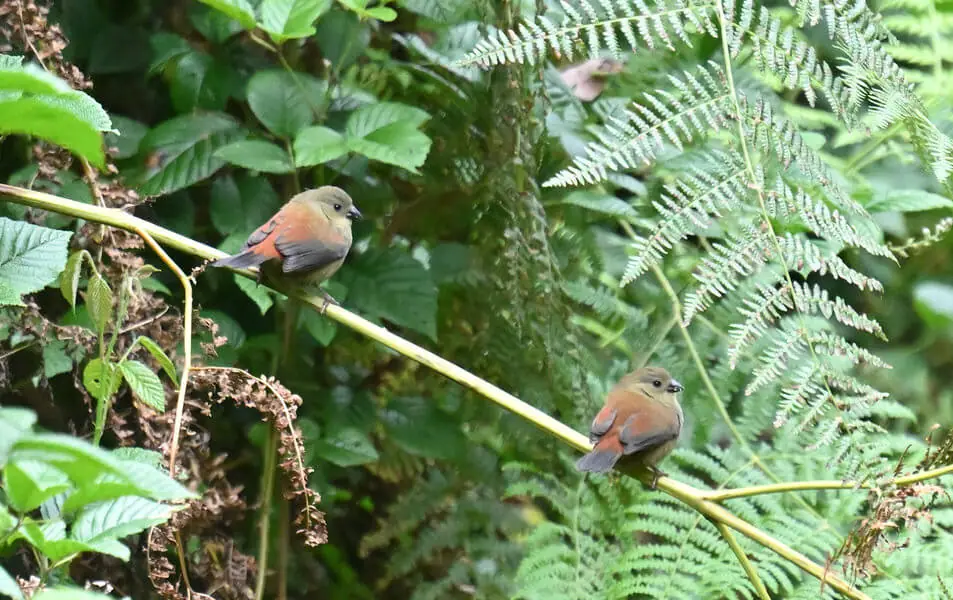 Abyssinian Crimsonwing
In the afternoon we birded in the Mt. Kenya forest adding Ruppell's Robin-Chat, Silvery-cheeked Hornbill, Yellow-whiskered Greenbul, Tree Pipit, Tacazze Sunbird and Cinnamon-chested Bee-eater. We went to dinner with Olive Ibis and Barred Long-tailed Cuckoo calling into the dark.
DAY 3: 22/11/2021 – MT. KENYA
A beautiful day where we woke up to magical views through to the peaks of Mt. Kenya, Kenya's highest and Africa's second-highest mountain. This mountain is always a landscape highlight on our Kenya Birding and Big Game Tours. After some cups of amazing Kenyan coffee and tea, it was time to explore the forest. We started with a nice view at Tambourine Dove and Hartlaub's Turaco right at camp. We then drove down the road, scoring White-headed Wood-Hoopoes close to the vehicle. Here we also enjoyed a family of Mt. Kenya Guerezas. A few steps farther, we added Moustached Tinkerbird, Black-throated Apalis, Grey Apalis, African Hill Babbler, Eastern Bronze-naped Pigeon, African Olive Pigeon and Waller's Starling.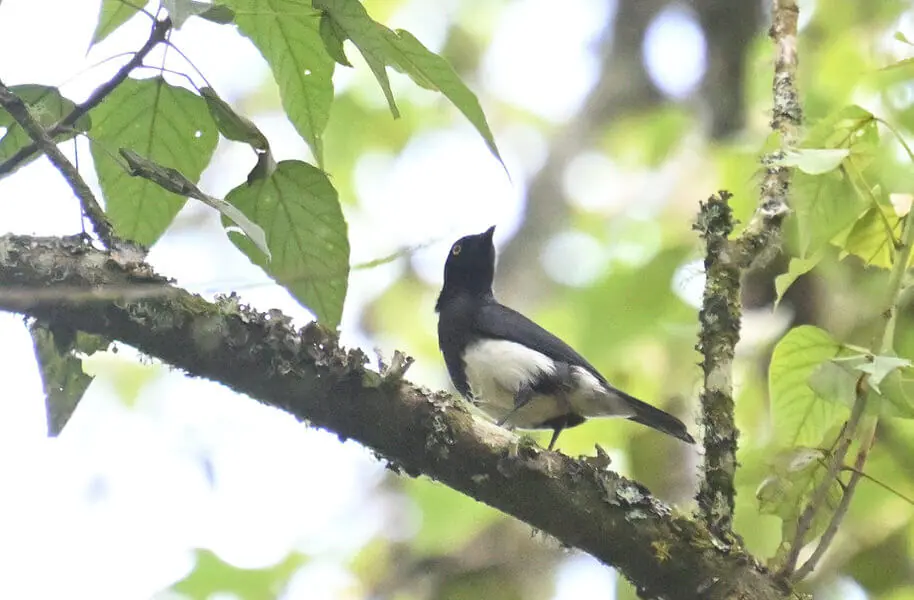 Abbott's Starling
In the mid-morning, we went higher into the mountain, and had great success with the rare Abbott's Starlings. Near here, we also saw a Mosque Swallow, Olive-breasted Greenbul and four Red-fronted Parrots. Along one stretch of bracken ferns, we scored Abyssinian Crimsonwing, Yellow-bellied Waxbill and later Kandt's Waxbill. Hunter's Cisticolas were also plenty as were the endemic Kikuyu White-eyes. Another super endemic, we scored here was the Jackson's Francolin, where we had a whole family – father, mother and four chicks. Indeed, our Kenya Birding and Big Game Tour performed very well on endemic species.
We were also lucky to have brief views of a shy mammal – the Harvey's Red Duiker. This was a great sighting for the Kenya Birding and Big Game Tour.
The afternoon session was brilliant in every way. We started with an adult African Harrier-Hawk right at the parking lot. We then explored some of the rivers and stream traversing the forest; and also enjoyed roadside birding along the main track. Here we had a stunning male Bar-tailed Trogon showing off for enough time; until we had all enjoyed our fill. Nearby an African Emerald Cuckoo kept teasing us; but we managed a great view at a gabonensis race of the Black Cuckoo. While walking down the road, we enjoyed a great Scaly Francolin in open view as it was foraging by the roadside.  On one section of the river, we enjoyed three African Black Ducks, in close views. Here we also had our first of three Mountain Wagtails – the other two coming in later on, at a lower stream. We also enjoyed a flock of Common House Martins flying above us, and two Alpine Swifts. Scarce Swifts were plenty, as were Black Saw-Wings.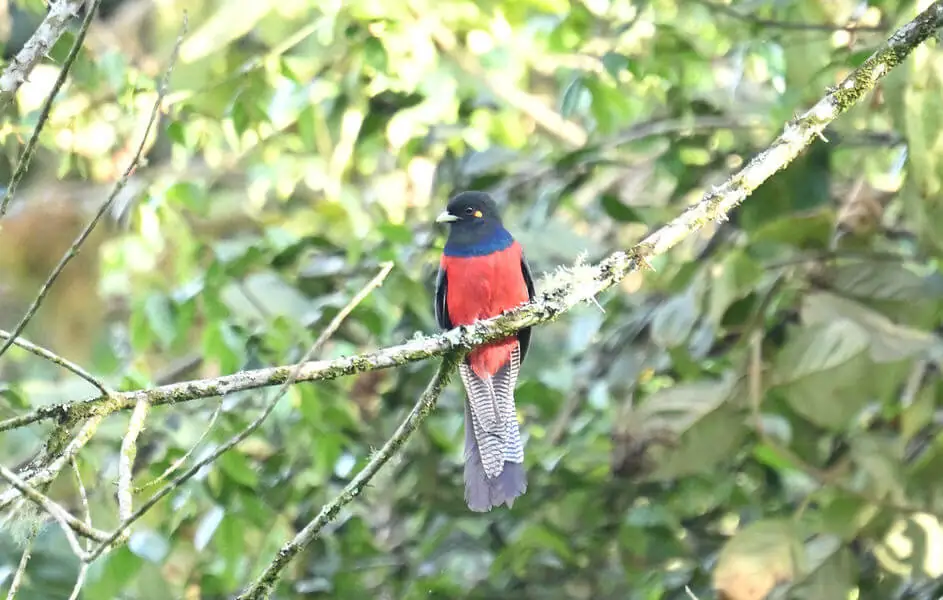 Bar-tailed Trogon
DAY 4: 23/11/2021 – MT. KENYA TO SAMBURU/ BUFFALO SPRINGS NATIONAL RESERVES
Another absolutely productive day on our Kenya Birding and Big Game Tour as we started in the mountains and ended in the lowlands. We started the day with some great views at Mountain Oriole right at breakfast. Soon we were all set for the departure. On our way out, we had planned to check one section of the main river, in hope of finding a Giant Kingfisher. We were in luck, and we managed to find one beautiful female.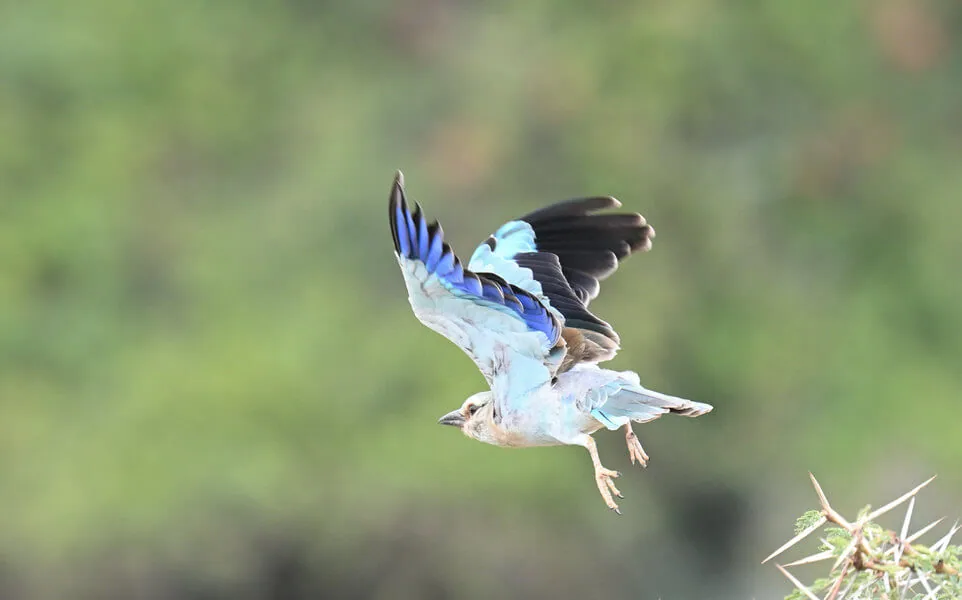 European Roller
Continuing along the road outside the forest, we scored a family of Northern Pied Babblers. Our journey was smooth, cruising across the Equator, where Speke's Weaver was added. We then saw several European Rollers and a few Cape Rooks; before beginning our decent into Samburuland.
Grevy's Zebra
We were welcomed to the Buffalo Springs gate by the stunning Long-tailed Paradise Whydahs, perched near the road. We enjoyed our lunch in Samburu as we watched White-headed Mousebirds, Pygmy Falcon and even managed to find a Yellow-winged Bat.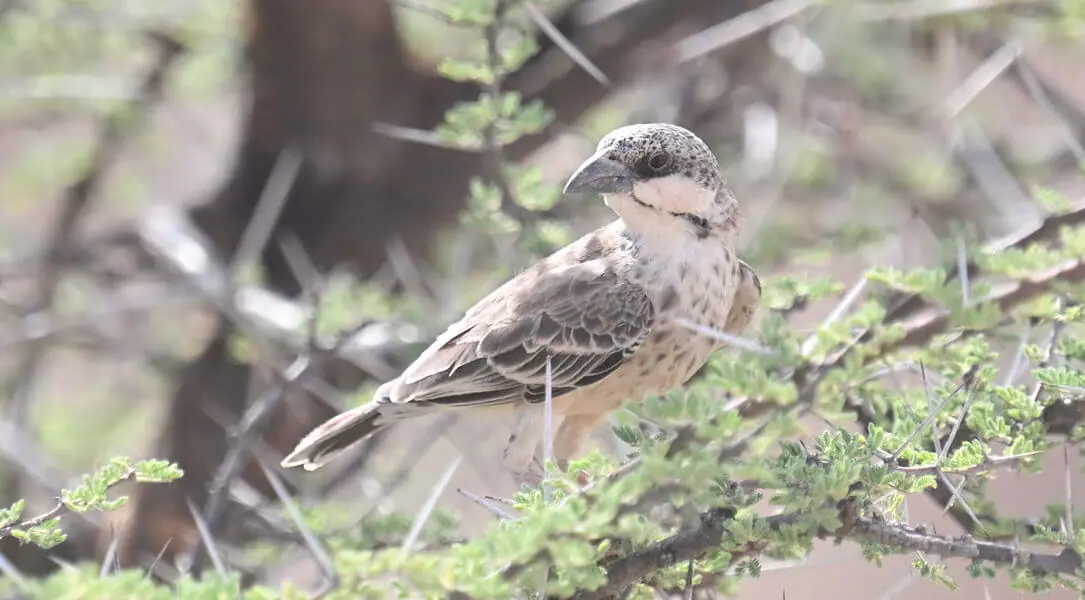 Donaldson Smith's Sparrow-Weaver
Our afternoon drive was very exciting, adding many mammals and birds. Top mammal highlights included Gerenuk, Desert Warthog, Somali Dwarf Mongoose, Beisa Oryx, African Bush Elephant and Reticulated Giraffe.
Palm-nut Vulture
The birds were very nice too; and we scored Somali Ostrich, Pale Prinia, Red-fronted Warbler, Martial Eagle, Black-faced Sandgrouse, Acacia Tit, Taita Fiscal, Three-streaked Tchagra, Rosy-patched Bush-Shrike, Foxy Lark, Buff-crested Bustard, Scissor-tailed Kite, Donaldson Smith's Sparrow-Weaver, Eastern Yellow-billed Hornbill, Bearded Woodpecker, Golden-breasted Starling and Three-banded Courser. Migrant species included Blue-cheeked Bee-eater, White-throated Robin, Rufous-tailed Scrub-Robin, Upcher's Warbler and Pied Wheatear.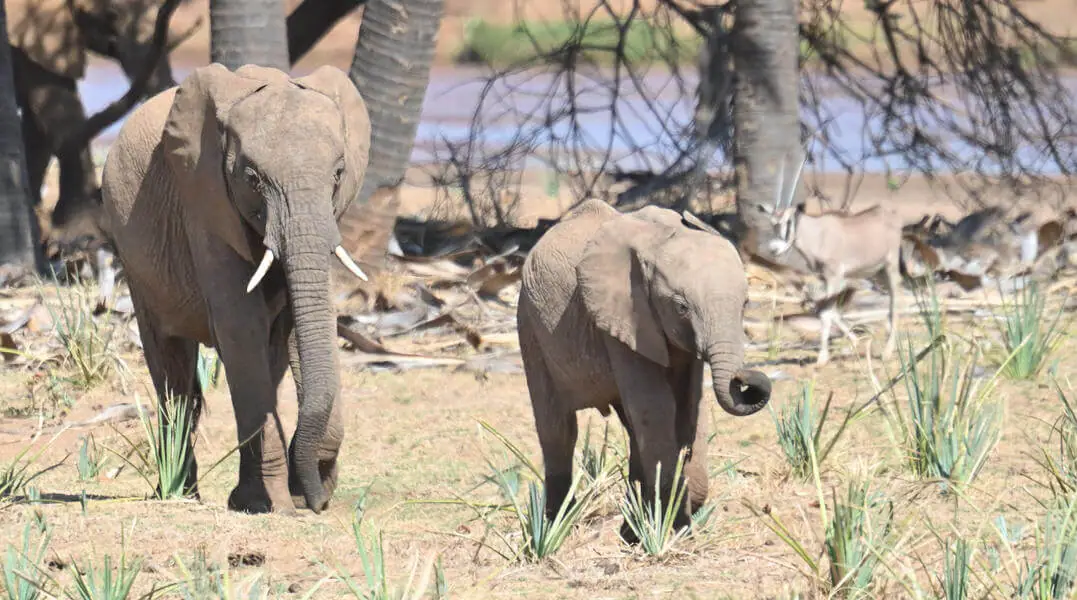 African Bush Elephants
We then drove to our camp, located in a Doum Palm forest. Here we enjoyed final views of the day's sunset, as a Reticulated Giraffes' family walked uphill. A Common Waterbuck stood near our vehicle, as a baby Beisa Oryx watched us from a distance. We called it a day and enjoyed a well-deserved rest; hoping for more great animals on the Kenya Birding and Big Game Tour.
Mourning Collared (African Mourning) Dove
DAY 5: 24/11/2021 – SAMBURU/ BUFFALO SPRINGS NATIONAL RESERVES
We started the day in good time to enjoy some birding around camp. We added the Wahlberg's Eagle, Dodson's Bulbul and a second Black-bellied Sunbird. We then drove out of camp and saw an active flock of scavengers in a distance feeding. We approached slowly and managed to score White-backed Vulture, Ruppell's Vulture and a Hooded Vulture sitting in the distance. An African Fish Eagle flew into a palm tree nearby. Along the river bed, we enjoyed Goliath Heron, Vulturine Guineafowl and Green Sandpiper. Mottled Swifts were flying around and Nyanza Swifts joined them later. A flock of Amur Falcons flew over the Ewaso Nyiro River, headed Southwards. Here we also enjoyed a juvenile African Hawk-Eagle and Bateleur.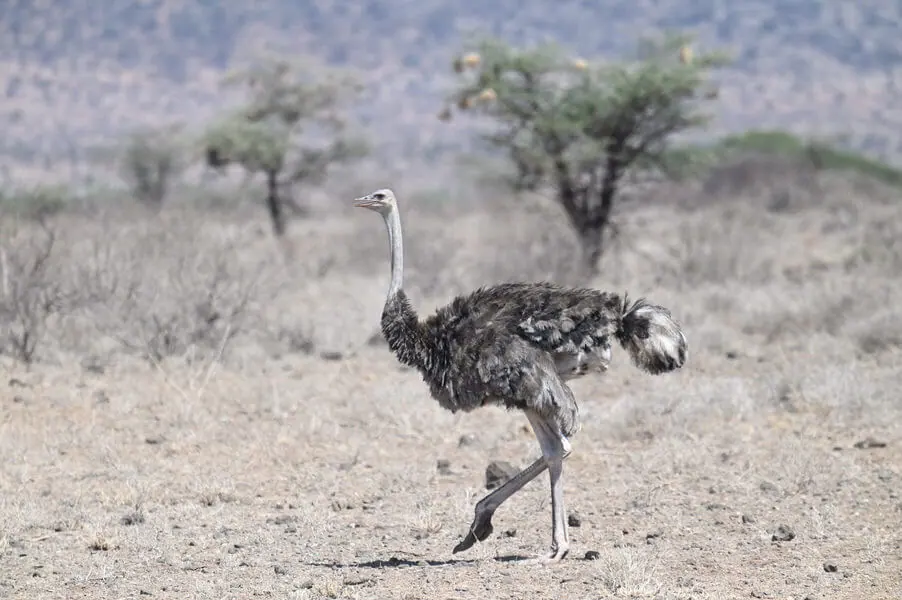 Somali Ostrich
We then drove towards the swimming springs, where we enjoyed some great mammals enroute – African Bush Elephants, Grevy's Zebra, Beisa Oryx, Desert Warthog and Bright's Gazelles. Here we also added our first Marico Sunbird and Namaqua Dove. Before returning to our camp for lunch, we saw a nice Eurasian Hoopoe, flashing its white primary band as it flew. We also enjoyed a Secretarybird near the vehicle – a key target species for our Kenya Birding and Big Game Tour. During the lunch break, we added Red-bellied Parrot and Spotted Flycatcher at camp. Some members also saw the Golden Palm Weaver.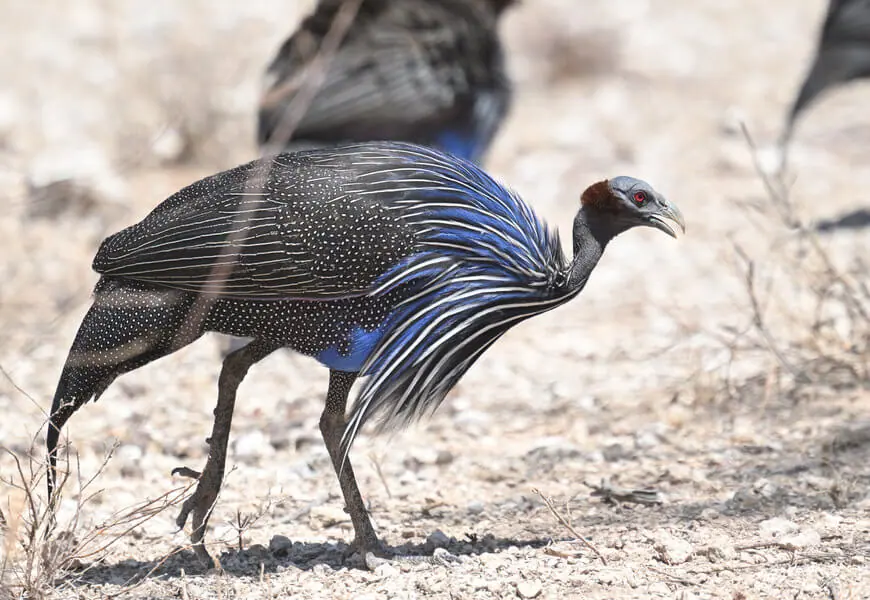 Vulturine Guineafowls
Today we had an especially special afternoon of birding and we scored three Samburu area woodpeckers – Cardinal Woodpecker, Nubian Woodpecker and Eastern Grey Woodpecker. We had also spotted Bearded Woodpecker yesterday, so that makes it four species here. Along a small stream, we managed to score two Palm-nut Vultures perched near two nesting Hooded Vultures. The same stream produced Purple Roller, White-crested Helmet-Shrike, Abyssinian Scimitarbill and Grant's Wood-Hoopoe.
Black-faced Sandgrouses
Mammal highlights included Kirk's Dikdik, Yellow-spotted Bush Hyrax and Greater Kudu.        
Reticulated Giraffes
Gerenuk
DAY 6: 25/11/2021 – SAMBURU/ BUFFALO SPRINGS TO LAKE NAKURU NATIONAL PARK
Our travel from Samburu and Buffalo Springs National Reserves was smooth and birdy. We started with some Rufous Chatterers and Black-bellied Sunbirds at camp. Driving out we added a nice Pygmy Falcon perched next to the road. Behind him was a Pink-breasted Lark singing from a bush.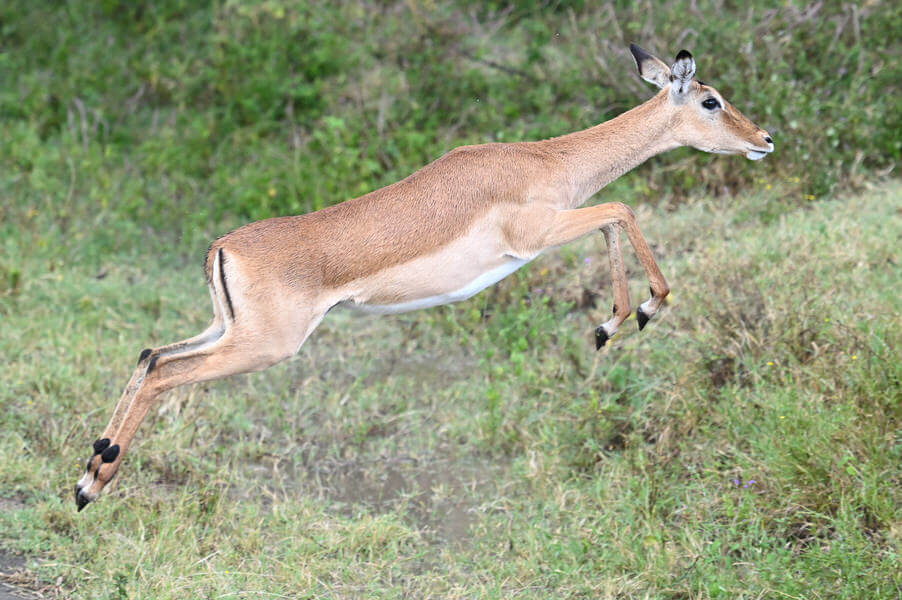 Impala
Enroute, we had a few stops to enjoy Northern Wheatear, Red-capped Lark, Kenya Sparrow, Abdim's Stork and Brimstone Canary. We also met a local guide at one of the few known roosting sites for the rare Mackinder's Eagle-Owl, a subspecies of Cape Eagle-Owl. We enjoyed great views of one perched bird.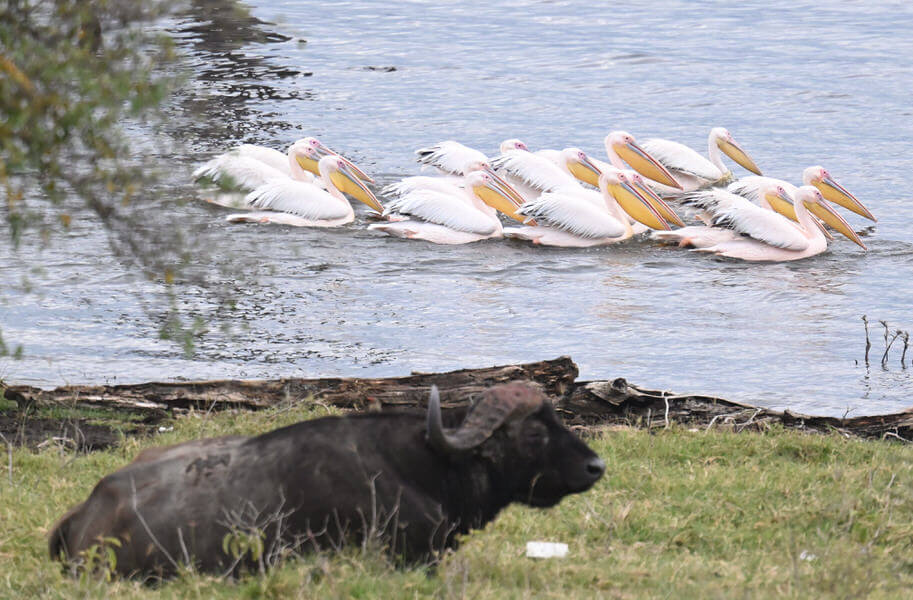 African Buffalo with Great White Pelicans
We arrived in Lake Nakuru National Park in great time to enjoy an afternoon game drive. At the gate, we added Hybrid Lovebirds, Northern Puffback and Scaly-throated Honeyguides – two young birds begging from a caring Eastern Grey Woodpecker male (this must have been their nest host). This was indeed a special sighting on this Kenya Birding and Big Game Tour. Later we enjoyed Lesser Flamingo, Arrow-marked Babbler, African Open-billed Stork, Coqui Francolin, Green Wood-Hoopoe, Western Osprey, Dark Chanting Goshawk, Grey-backed Fiscal, Whinchat, White-bellied Tit, Pink-backed Pelican and White-fronted Bee-eater.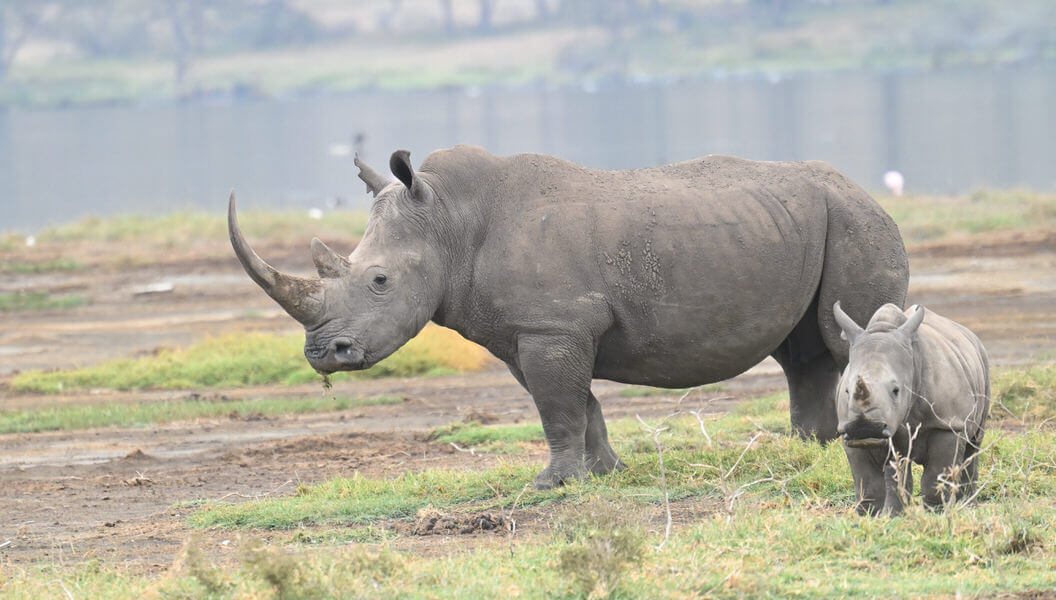 Southern White Rhinos
Driving through the park, we added some great mammals e.g. Thompson's Gazelle, Defassa Waterbuck, White Rhinos and a pride of African Lions. This was indeed a lovely day on the Kenya Birding and Big Game Tour.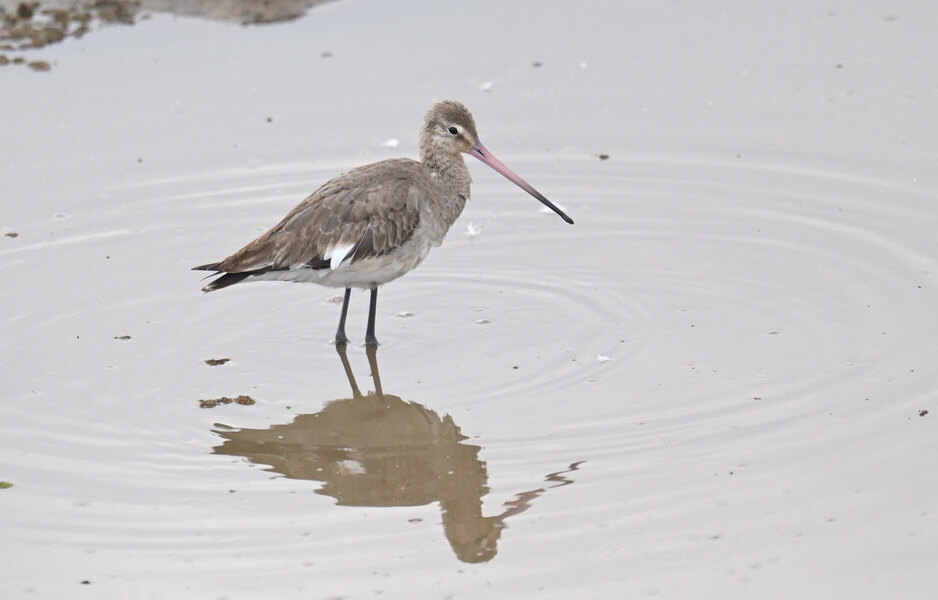 Black-tailed Godwit
DAY 7: 26/11/2021 – LAKE NAKURU NATIONAL PARK TO LAKE BARINGO
We started the day early with the goal of scoring a great abundance of waterbirds along the Lake Nakuru shoreline. Our main mammal targets were Rothschild's Giraffe, Black Rhino and White Rhino. We managed to score a great selection of waterbirds including Northern Shoveler, Whiskered Tern, Marsh Sandpiper, Little Stint, Ruff, Common Greenshank, Red-knobbed Coot, Kittlitz's Plover, Pied Avocet, Black-tailed Godwit, Greater Flamingo and Lesser Flamingo (the flamingo experience has made Lake Nakuru very popular on all our Kenya Birding and Big Game Tours). We also added two Harrier species within a short distance – Pallid Harrier and Western Marsh Harrier. Here we also scored over ten Grey Crowned Cranes.
Great White Pelican and Pink-backed Pelican
Our mammals were amazing as we scored two groups of Rothschild's Giraffes, one Black Rhino and six Southern White Rhinos.
Greater Flamingo
We then exited the park and started our journey to Lake Baringo. Before too long we had added Chin-spot Batis and Silverbird. Continuing along the way, we added a great trio of Black-headed Lapwings and a breeding flock of White-billed Buffalo-Weavers.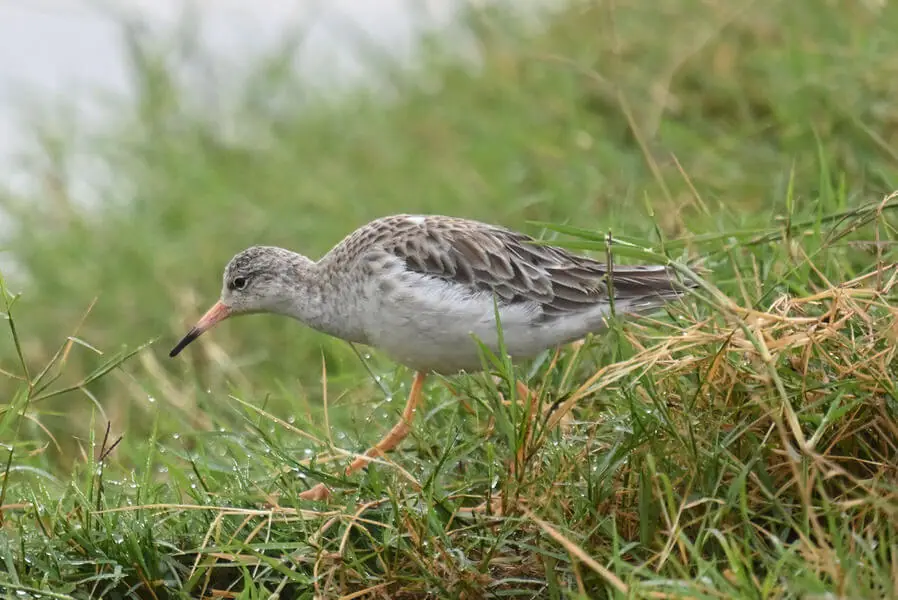 Ruff
When we arrived in Baringo, our Guide Wilson had a stake-out for Standard-winged Nightjar waiting – a rare species in Kenya and a top score for our Kenya Birding and Big Game Tour. Here we also added Gambaga Flycatcher, Beautiful Sunbird, Brown Babbler, Steel-blue Whydah, Senegal Thick-knee and Bristle-crowned Starling. In a nearby tree, a Grey-headed Bush-Shrike was busy eating a Northern Brownbul chick. We then drove to the cliffs where we saw a nice Verreaux's Eagle adult in a nest. At sunset, we enjoyed views of a Goliath Heron and Woodland Kingfisher at a different part of the lake shore.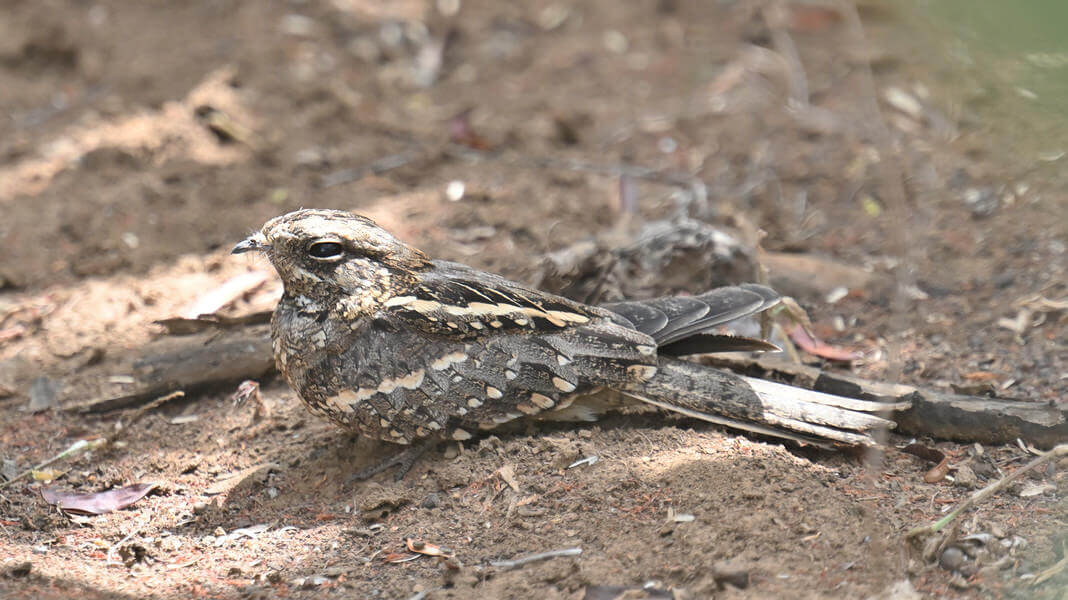 Slender-tailed Nightjar
Standard-winged Nightjar
DAY 8: 27/11/2021 – LAKE BARINGO
We had a whole day to explore the dryland around Lake Baringo. This fresh water lake is also a great habitat for waterbirds and we scored well there too. We started with a sunrise boat ride, scouting the edges of the lake. Here we enjoyed great views of Black Crake, Little Bittern, Lesser Swamp Warbler, African Swamphen, Western Osprey, African Fish Eagle, Greater Painted Snipe, Common Snipe and Northern Carmine Bee-eater.
Western Osprey
We then started our bushland exploration, and also visited several cliff sites. Here we added four owl species by close of the day Greyish Eagle-Owl, Spotted Eagle-Owl, Northern White-faced Scops-Owl and Pearl-spotted Owlet. We also visited a site where we enjoyed great views of roosting Slender-tailed Nightjars. At another site, we saw two Spotted Thick-knees. We continued scouting more bushes and managed to add Pygmy Batis, Jackson's Hornbill, Hemprich's Hornbill, Little Weaver, Northern Masked Weaver, African Pygmy Kingfisher, Green-winged Pytilia, Shining Sunbird and Mouse-coloured Penduline-tit.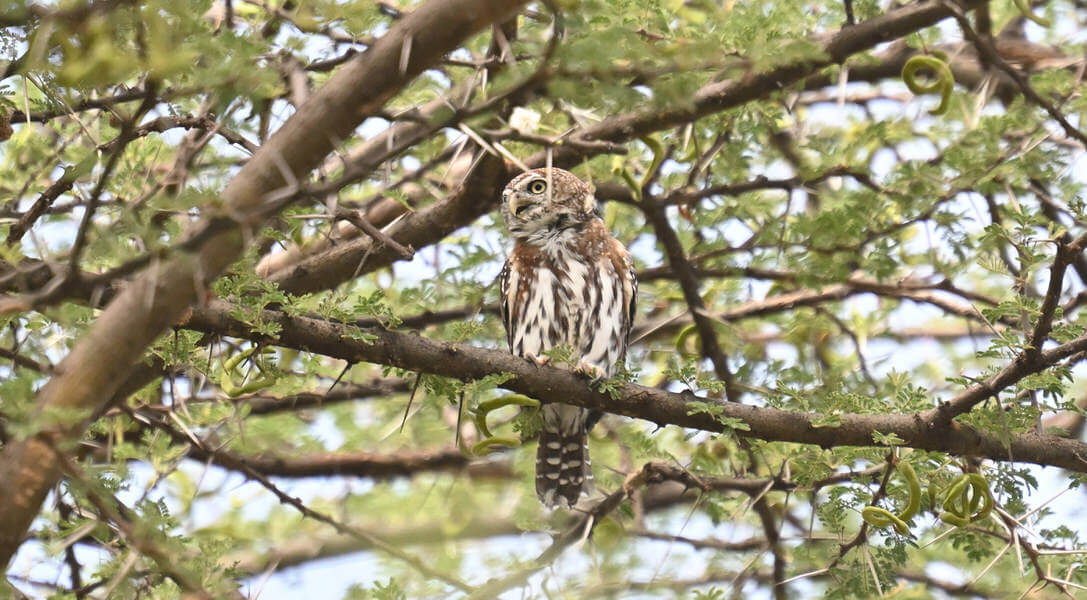 Pearl-spotted Owlet
At some of the cliff faces we visited, we added Rock Hyraxes and Common Dwarf Mongoose. We also saw Gambaga Flycatcher, Fan-tailed Raven, Brown-tailed Rock Chat and Mocking Cliff Chat. Some of the day's stunners included the Red-and-yellow Barbet and their cousins D'Arnaud's Barbet. A very obliging Red-fronted Tinkerbird was also seen well.
Nile Crocodile
The local Nile Crocodiles and Common Hippos kept us entertained too. We also enjoyed a Rufous Beaked Snake on one walk, resting under some bushes.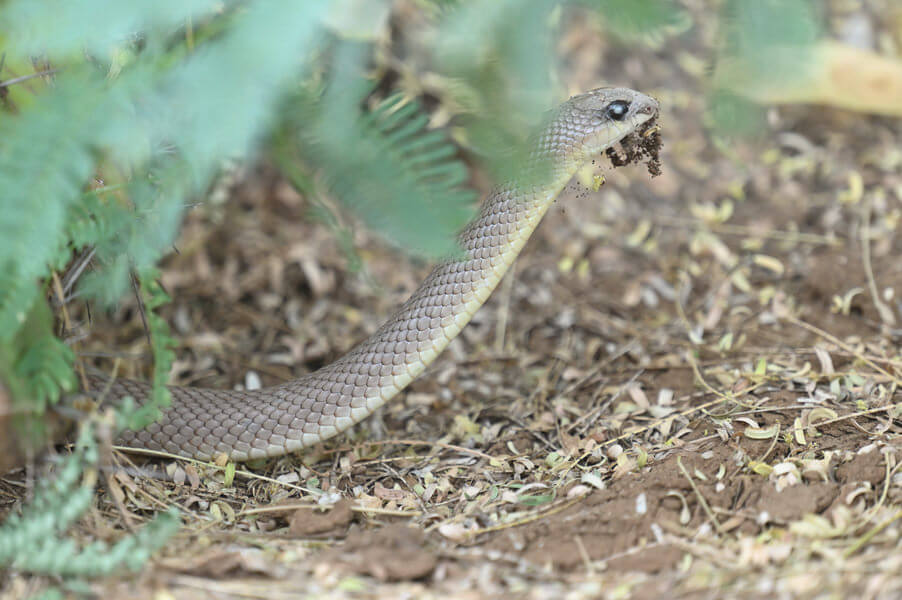 Rufous Beaked Snake
DAY 9: 28/11/2021 – LAKE BARINGO TO KAKAMEGA FOREST
After enjoying our breakfast by the shores of Lake Baringo, it was time to leave the Rift Valley and head farther West into Western Kenya. Our day had three planned stops for target species and two spots for general birding. It was rather dry overall so most sites were very quiet.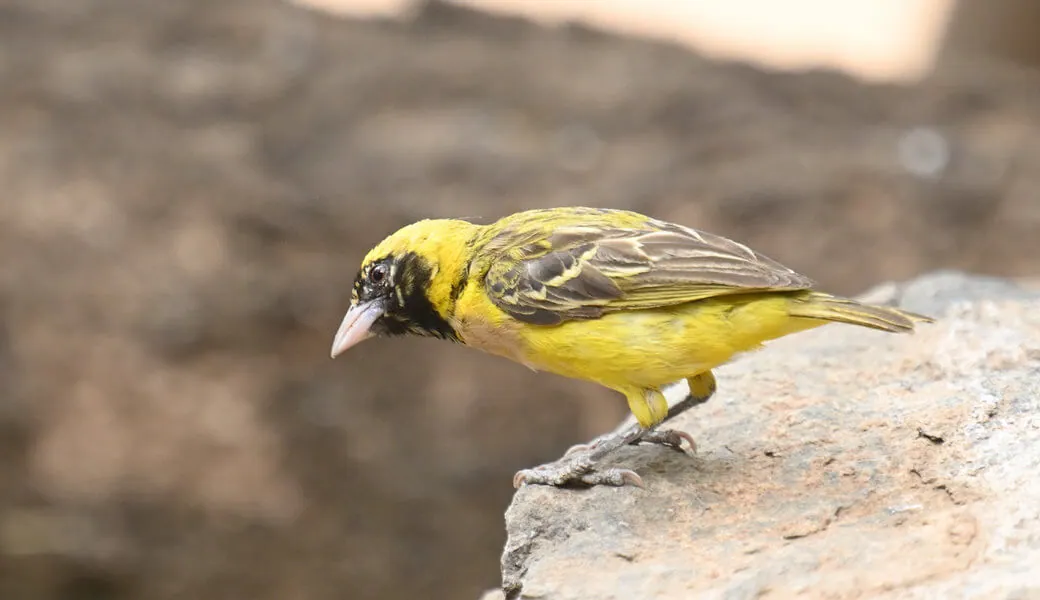 Little Weaver
We however got very lucky with two of our main Kenya Birding and Big Game Tour targets: stunning views at two White-crested Turacos and two Ross's Turacos. Boran Cisticola proved very hard only calling from a distance but refusing to come close.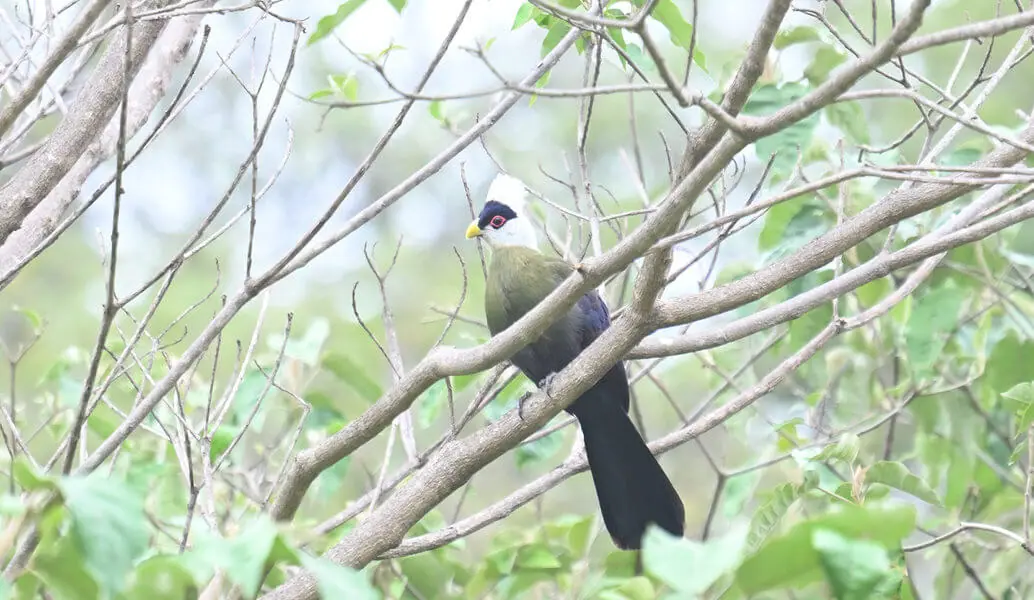 White-crested Turaco
When we arrived in Kakamega Forest, our local guide Nicholas was on standby to join us as we explored the forest. Grey-throated Barbet and Mackinnon's Shrike were our first birds here. We then drove to another section of the forest. Here we started very well with a rare European Pied Flycatcher seen briefly. Near here, we enjoyed Black-and-white-casqued Hornbill, Uganda Woodland Warbler, Sharpe's Drongo, Joyful Greenbul and Little Greenbul. We also had five Turner's Eremomelas feeding in the canopy, but seen well. A little farther down, we had two Toro Olive Greenbuls feeding near the road, two showy Pink-footed Puffbacks and an Olive-green Camaroptera. Near this site, we enjoyed two Blue-headed Bee-eaters, a mega bird for the tour.
Pink-footed Puffback
Mammals included Red-legged Sun Squirrel, Stuhlmann's Blue Monkey and Mau Forest Guereza.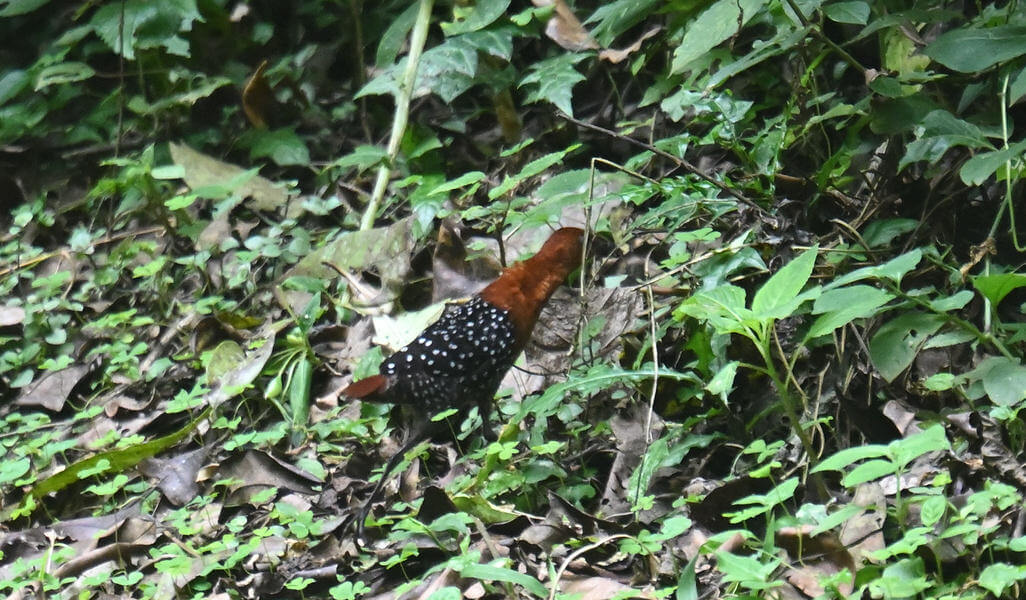 a shy White-spotted Flufftail

DAY 10: 29/11/2021 – KAKAMEGA FOREST
We had a full day to explore Kakamega Forest; a super location for our Kenya Birding and Big Game Tour. We started with a long morning session, scouting the rivers and forest glades. Here we targeted species that live in vines and moist habitats. We were very successful after scoring four White-spotted Flufftail crossings. This was two birds that crossed from left to right in front of us, then crossed back. Near here, we enjoyed White-chinned Prinia and Black-faced Prinia. Farther down the road, we had good views at Yellow-billed Barbet and Snowy-crowned Robin-Chat.
Black-faced Prinia
Blue-shouldered Robin-Chat gave us very brief views but we were consoled by great views at Black-billed Weaver, Luhder's Bush-Shrike, Bocage's Bush-Shrike, Chubb's Cisticola, Brown-throated Wattle-eye, Purple-throated Cuckoo-Shrike, Black-faced Rufous Warbler and Kakamega Greenbul.
Luhder's Bush-Shrike
We then drove to a new section of forest where we enjoyed six Great Blue Turacos. On our way out, we also scored Vieillot's Black Weavers. A Scaly-breasted Illadopsis teased us into lunch time.
Black-billed Weaver
The afternoon session saw us scouting some grasslands that produced Yellow-mantled Widowbirds and Fawn-breasted Waxbills. Along one of the forest trails, we had a family of Red-headed Bluebills feeding by the road. We then followed a calling Red-chested Owlet that teased us until a rain shower made us leave. Once the rain had stopped, we drove to another section of forest edge. Here we enjoyed a great view at Northern Yellow White-eye and Pale Flycatcher. We closed the day with a Crowned Eagle at the lodge compound.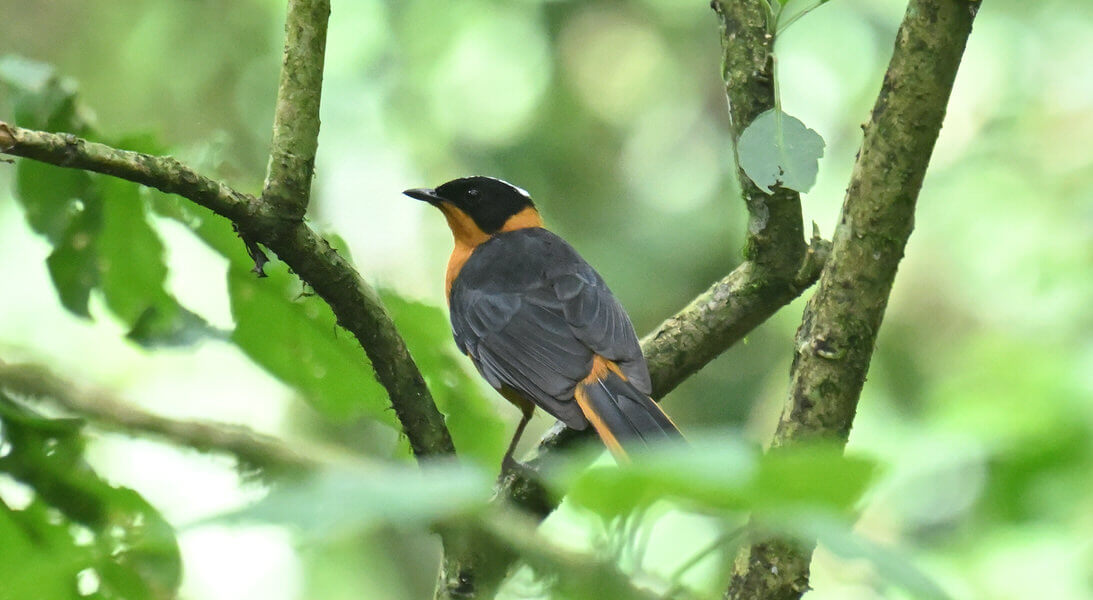 Snowy-crowned Robin-Chat
DAY 11: 30/11/2021 – KAKAMEGA FOREST TO LAKE VICTORIA
We enjoyed another morning of birding in Kakamega Forest, where we visited a different river and also several forest trails. At the river, we added Dusky Tit and Grey Wagtail. We then had great views of Brown-chested Alethe. Along another trail, we added Yellow-spotted Barbet, Klaas's Cuckoo and Olive-bellied Sunbird. We closed our forest birding with a showy Jameson's Wattle-eye, seen very well – a super species on the Kenya Birding and Big Game Tour.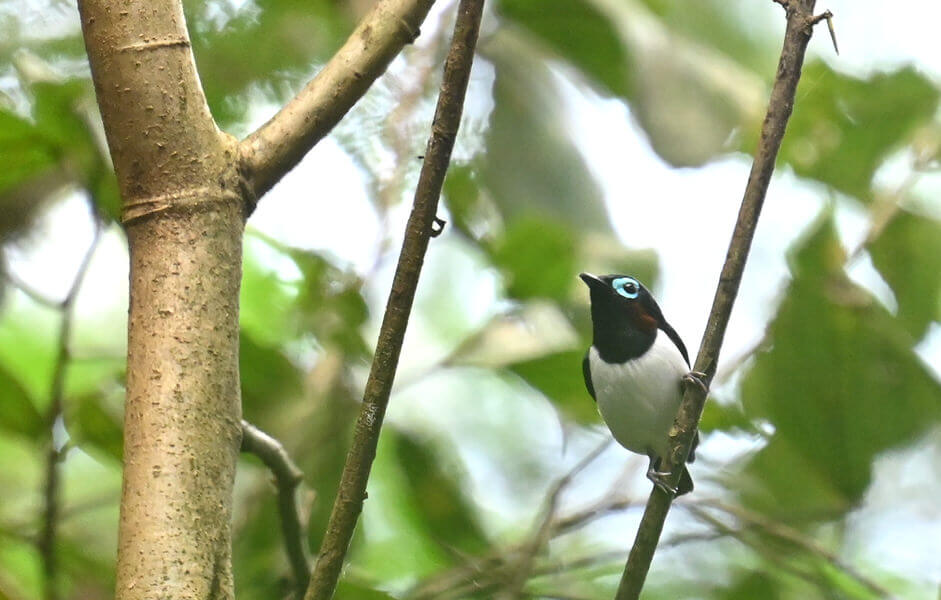 Jameson's Wattle-eye
We also enjoyed the rare Boulenger's Pygmy Chameleon and a Lichtenstein's Forest Night Adder feeding on what looked like a Kisolo Toad. This was a great day for reptiles and amphibians sightings indeed.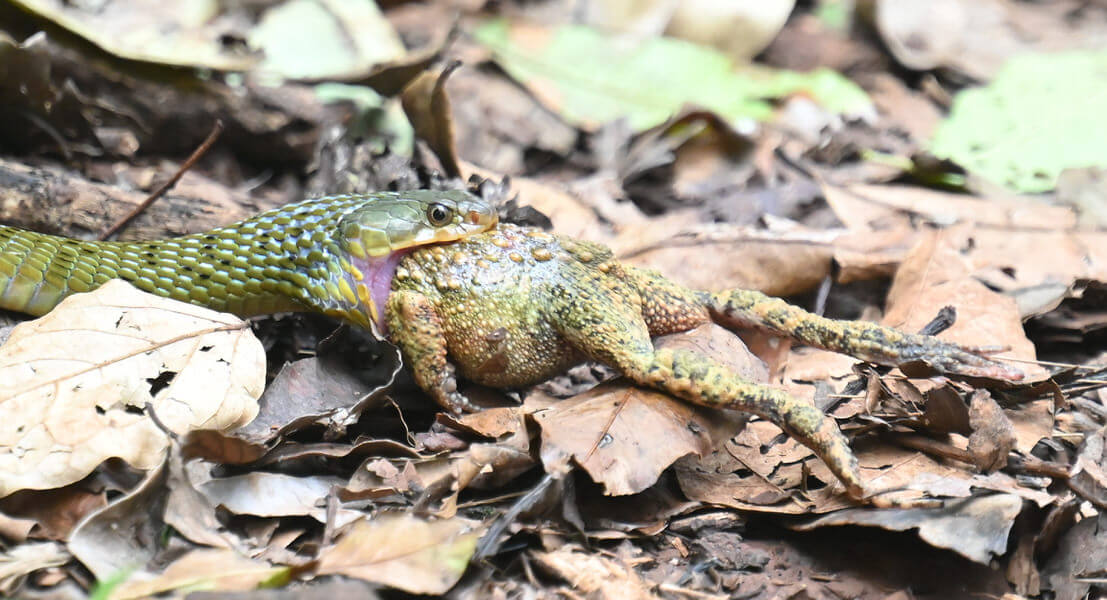 Lichtenstein's Forest Night Adder
At Lake Victoria, we birded the rice farms, where we had great views of Southern Red Bishop and Fan-tailed Widowbird. We also had a great look at Bare-faced Go-away-birds.
We then visited the papyrus swamps around the lake's edge. Here we enjoyed many new birds. Of note were Red-chested Sunbird, Slender-billed Weaver, Northern Brown-throated Weaver, Black-headed Weaver, Swamp Flycatcher, Papyrus Canary, Carruthers's Cisticola two Black-headed Gonoleks and three Papyrus Gonoleks. Here we also enjoyed stunning views of a Little Bittern, as it walked along the papyrus reedbeds. We closed the day with two Eastern Plantain-eaters at the lodge.
Southern Red Bishop
DAY 12: 1/12/2021 – LAKE VICTORIA TO LAKE NAIVASHA
We had dedicated a whole morning on the Kenya Birding and Big Game Tour to enjoy the birds of the Lake Victoria basin. Driving into the boat ride jetty, we spotted a Black Kite, of the migratory race and many African Thrushes. The boat ride proved to be very successful as we scored many special birds. We started with four Water Thick-knees resting along the shores of the lake. Next, we had a great view at a Sedge Warbler feeding below a colony of Village Weavers. Near here we added Meyer's Parrots feeding near a Broad-billed Roller; and a nice Purple Heron. A few minutes later a Golden-backed Weaver joined the same bush. Two very colourful Double-toothed Barbets came flying into the same tree and gave us wonderful views – we later saw two more. We then got our best views of Yellow-throated Leaf-Love at a fruiting tree.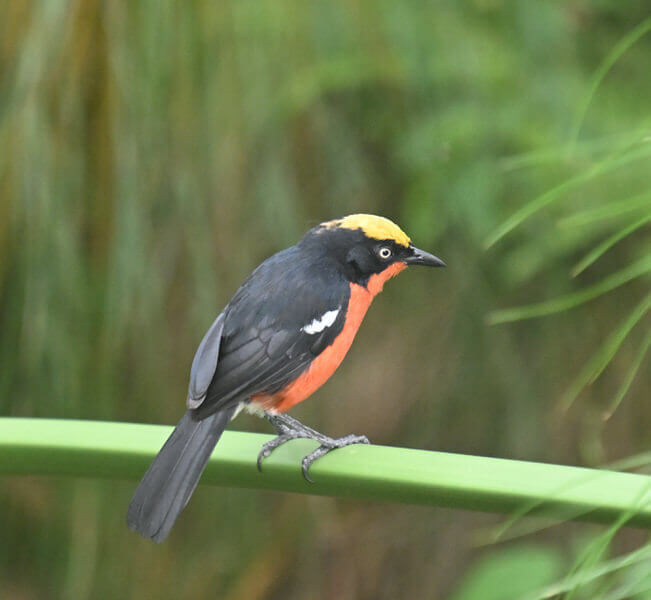 Papyrus Gonolek
We then drove to a different section of the lake, where we were welcomed by a Blue-headed Coucal. We enjoyed three Papyrus Gonoleks at close range; next to two Carruthers's Cisticolas. Here we also saw a very confiding Greater Swamp Warbler. White-winged Swamp Warbler teased us twice but we had a great look at an African Grey Woodpecker female before exiting.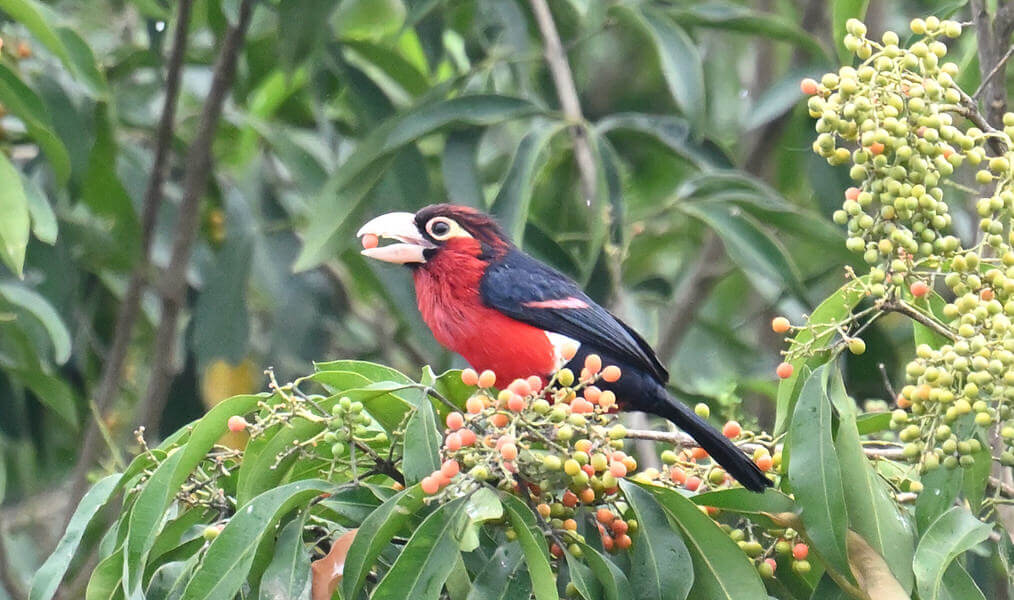 Double-toothed Barbet
We then drove to the shores of Lake Naivasha – where we were welcomed by a new mammal; the Maasai Giraffe.  
DAY 13: 2/12/2021 – LAKE NAIVASHA, KINANGOP GRASSLANDS AND ABERDARE NATIONAL PARK
We had a full day to explore these three neighbouring sites – seeking to add a great number of special birds for our Kenya Birding and Big Game Tour. We started with a boat ride on Lake Naivasha, which yielded some great waterbirds. Here we enjoyed Goliath Heron, Purple Heron, Long-toed Lapwing, African Fish Eagle, Yellow-billed Duck, Curlew Sandpiper and Black-tailed Godwit. Along the woodlands in Naivasha, we enjoyed a family of Grey-crested Helmet-Shrikes, Red-headed Weaver and Black Cuckoo-Shrike.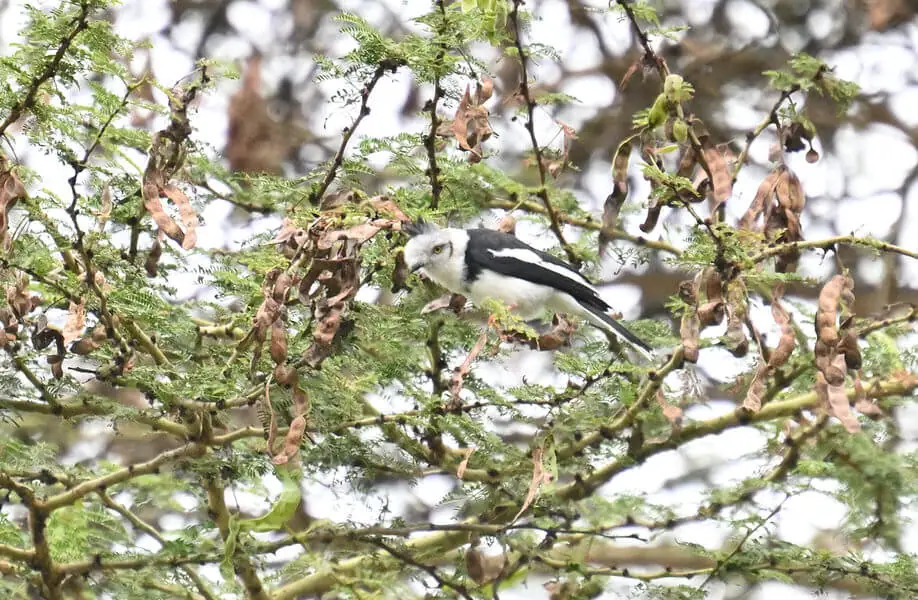 Grey-crested Helmet-Shrike
We then drove to the Aberdare Ranges, where we had a great time birding the montane forests, bamboo zone and moorlands. Here we added Golden-winged Sunbird, Malachite Sunbird, Aberdare Cisticola and Moorland Chat. We also had a Mountain Buzzard fly over. We enjoyed songs and views of Mountain Yellow Warblers and Cinnamon Bracken Warblers. Jackson's Francolins were highly abundant and we enjoyed all age groups; from chicks to adults.
Jackson's Francolin
We then concluded our day in the Kinangop Grasslands, where we scored all our target species: Montane Nightjar, Lesser Jacana, Wing-snapping Cisticola, Levaillant's Cisticola, Yellow-crowned Canary, Cape Wagtail, Sharpe's Longclaw and Long-tailed Widowbird.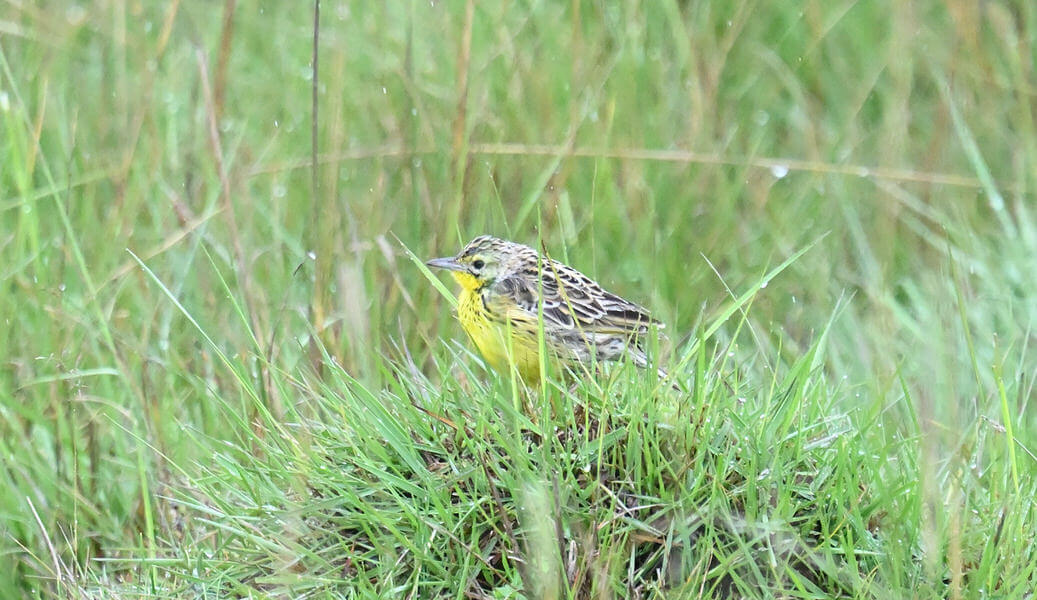 Sharpe's Longclaw
DAY 14: 3/12/2021 – MASAI MARA NATIONAL RESERVE
Our journey to Masai Mara was very productive as we added two new species at our first stop – Vitelline Masked Weaver and Hildebrandt's Starling.
Soon we were at the gate and ready to start our adventure in this wonderful place; which is always a major highlight on the Kenya Birding and Big Game Tours. Mammals were in great numbers and we saw thousands of Blue Wildebeests, Common Zebras, Maasai Giraffes, African Bush Elephants, Topi, Common Elands, Coke's Hartebeest and Thompson's Gazelles. Predators included one Black-backed Jackal, one Spotted Hyena, a Leopard and cub, and three Lions with three cubs – who had made a Blue Wildebeest kill.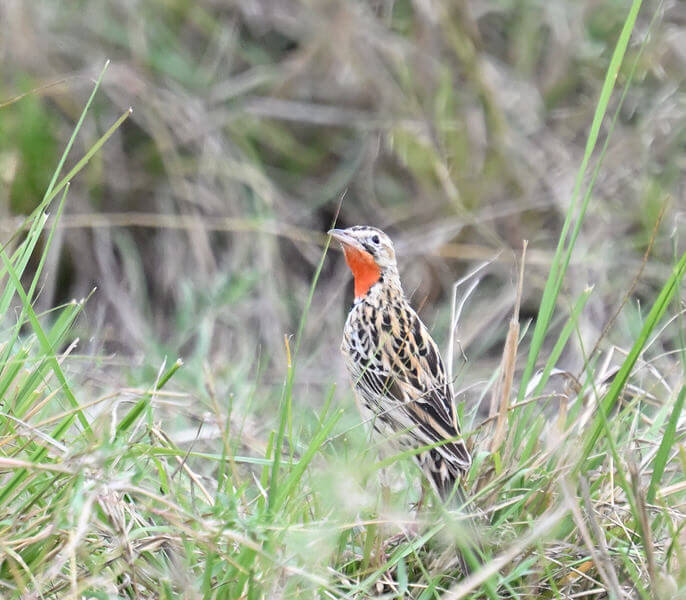 Rosy-throated Longclaw
Birds were great as we birded along the bushes that dot this vast savannah, along the edges of rivers and open grasslands. We started with a Black Stork, Montagu's Harrier and African Wattled Lapwing. We enjoyed many Hooded Vultures, White-backed Vultures and Ruppell's Vultures near the Lions, who had killed a Blue Wildebeest. Near here we had a nesting Lappet-faced Vulture. We also added Temminck's Coursers and Caspian Plovers near the Lions. Black-winged Lapwings were also recorded in multiple locations. Driving South, we added a Great Spotted Cuckoo, Banded Martin, Rosy-throated Longclaw and Kori Bustard. Sooty Chats flashed their white shoulders as we passed by. We closed the day with a solitary Athi Short-toed Lark.
Coqui Francolin
DAY 15: 4/12/2021 – MASAI MARA NATIONAL RESERVE
We had a whole day to explore the dotted plains of Masai Mara and seek new species. Emphasis was given to the carnivores of Masai Mara and we were keen to add a good number of these. Our day produced very well as we started with five Spotted Hyenas. More were seen across the day. Another highlight was Lions, where we had three separate encounters, including males and females. There were two Black-backed Jackals seen well. We also enjoyed two Leopard sightings; then closed with four male Cheetahs. Other mammal highlights included huge groups of African Bush Elephants and three Bohor Reedbucks. This was a great mammal day and made great memories for the Kenya Birding and Big Game Tour.
Hooded Vulture
Birds were great too and we added our first new species of the day right after entering the gate: Yellow-throated Sandgrouse. Other new species today included Pectoral-patch Cisticola, Croaking Cisticola, Black-bellied Bustard, Saddle-billed Stork, Grey-capped Social Weaver and Southern Ground Hornbill.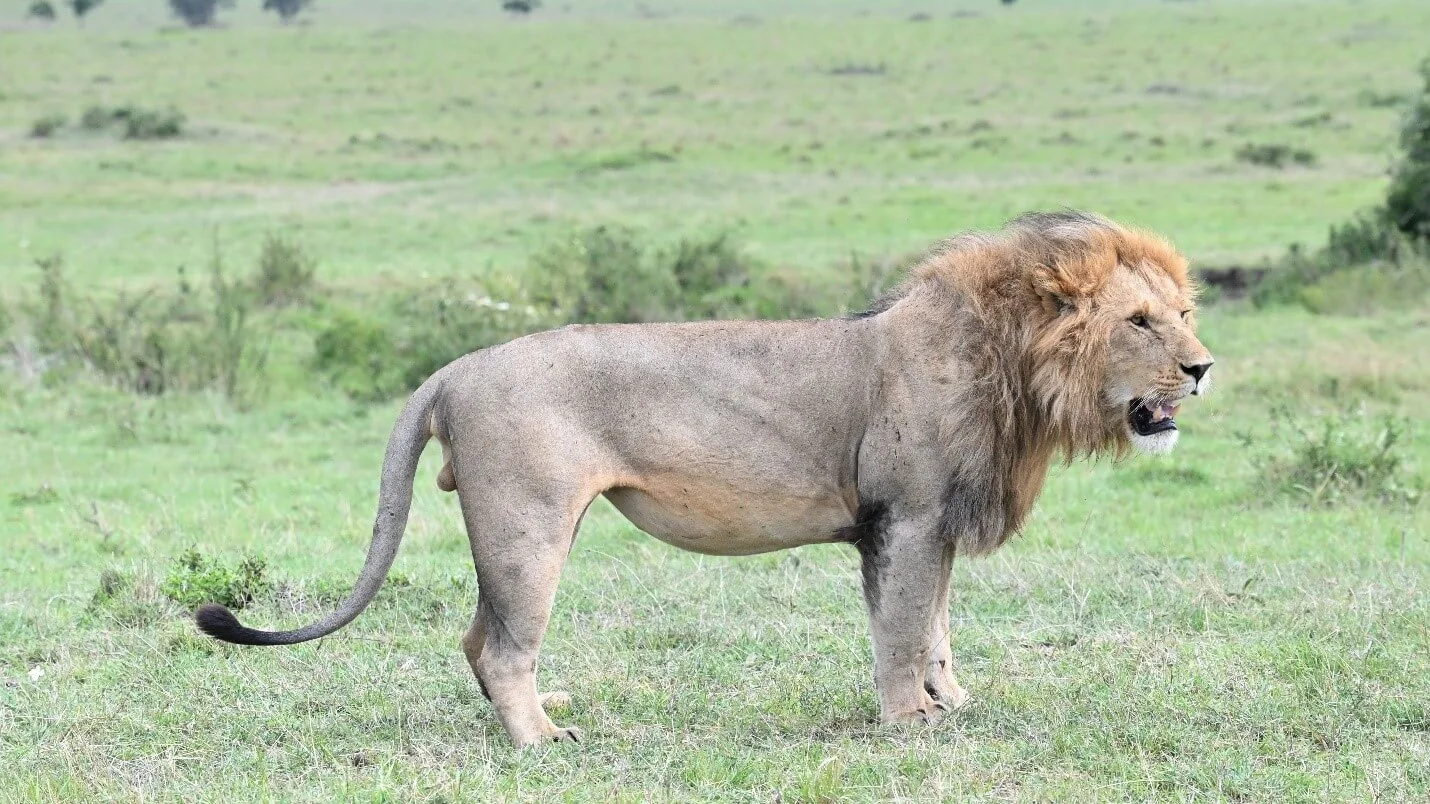 African Lion
DAY 16: 5/12/2021 – MASAI MARA NATIONAL RESERVE TO NAIROBI
We had a nice travel day from Masai Mara to Nairobi. At camp there was a very active Eastern Grey Woodpecker that entertained us at breakfast. It kept pecking into a dry tree next to our table, and gave us wonderful views. When boarding our vehicle, we enjoyed a pair of Usambiro Barbets busy singing in a duet. Grey-capped Social Weavers were plenty here too and we also scored a male Marico Sunbird.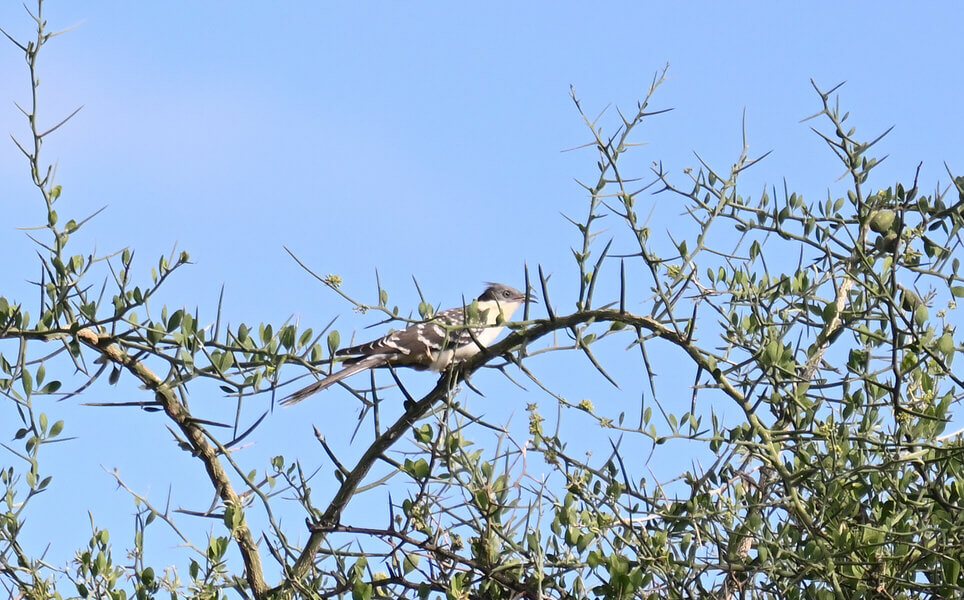 Great Spotted Cuckoo
We started with a morning game drive in Masai Mara, where we enjoyed flocks of Yellow-throated Sandgrouse flying around our vehicle. Here we also added two Kittlitz's Plovers feeding on the short grass plains. We also scored a Dark Chanting Goshawk, Common Rock Thrush, Northern Wheatear, Red-cheeked Cordon-bleu and Purple Grenadier.
We exited the park after enjoying a Lion pride that was resting inside some bushes.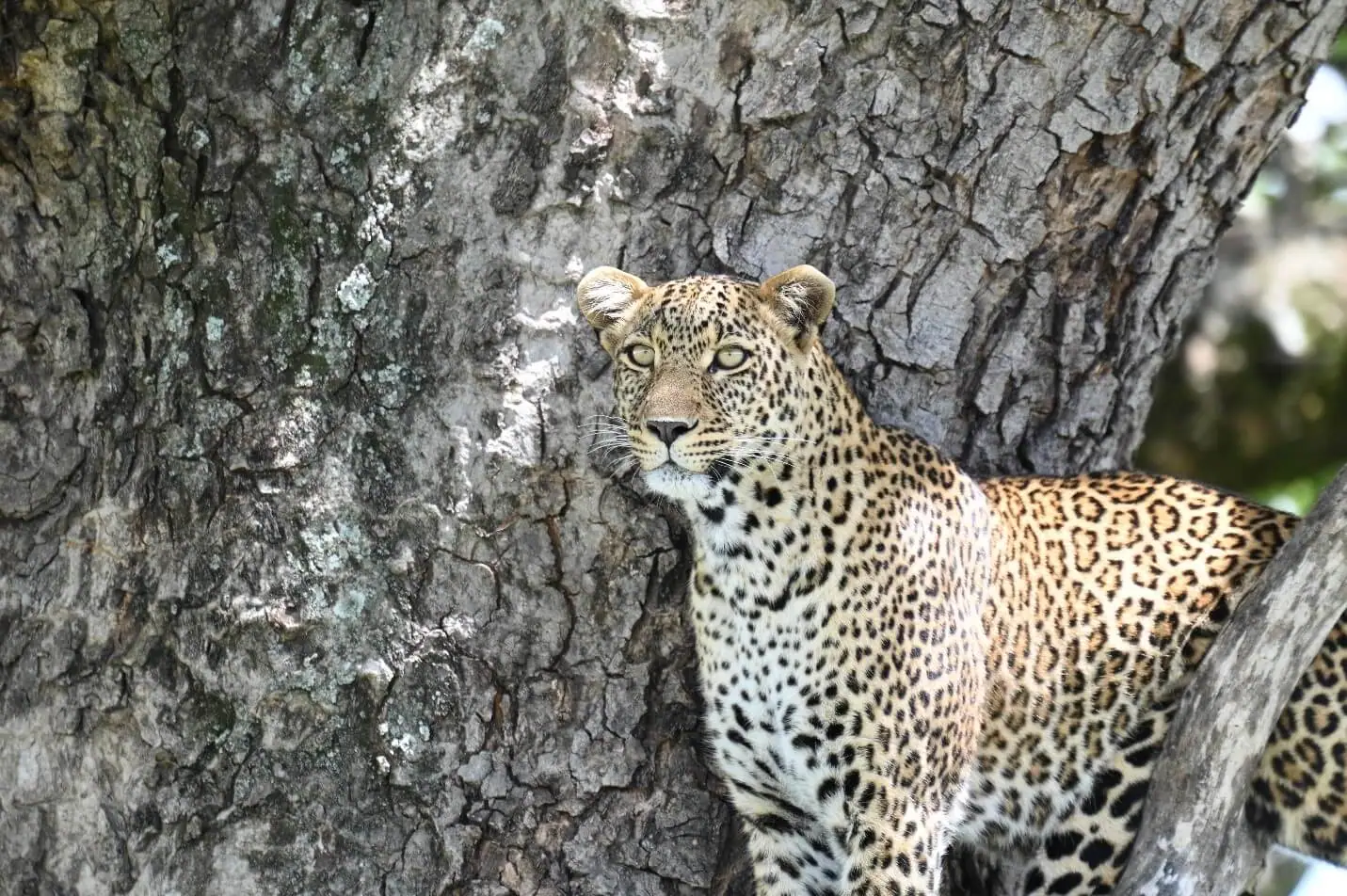 Leopard
DAY 17: 6/12/2021 – NAIROBI NATIONAL PARK; AND DEPARTURE
It was a great day to enjoy Nairobi National Park – one of Kenya's best birding sites. We birded the park's forest, then worked our way through the grassy plains. Several wetlands were also sampled to add waterbirds to our day list. We had some amazing bird sightings including Spotted Thick-knee, Water Thick-knee, Isabelline Wheatear, Common Kestrel, Banded Parisoma, Red-faced Cisticola, Stout Cisticola, Winding Cisticola, African Openbill, Little Stint, Long-tailed Fiscal, Common Nightingale, Thick-billed Weaver and Spot-flanked Barbet.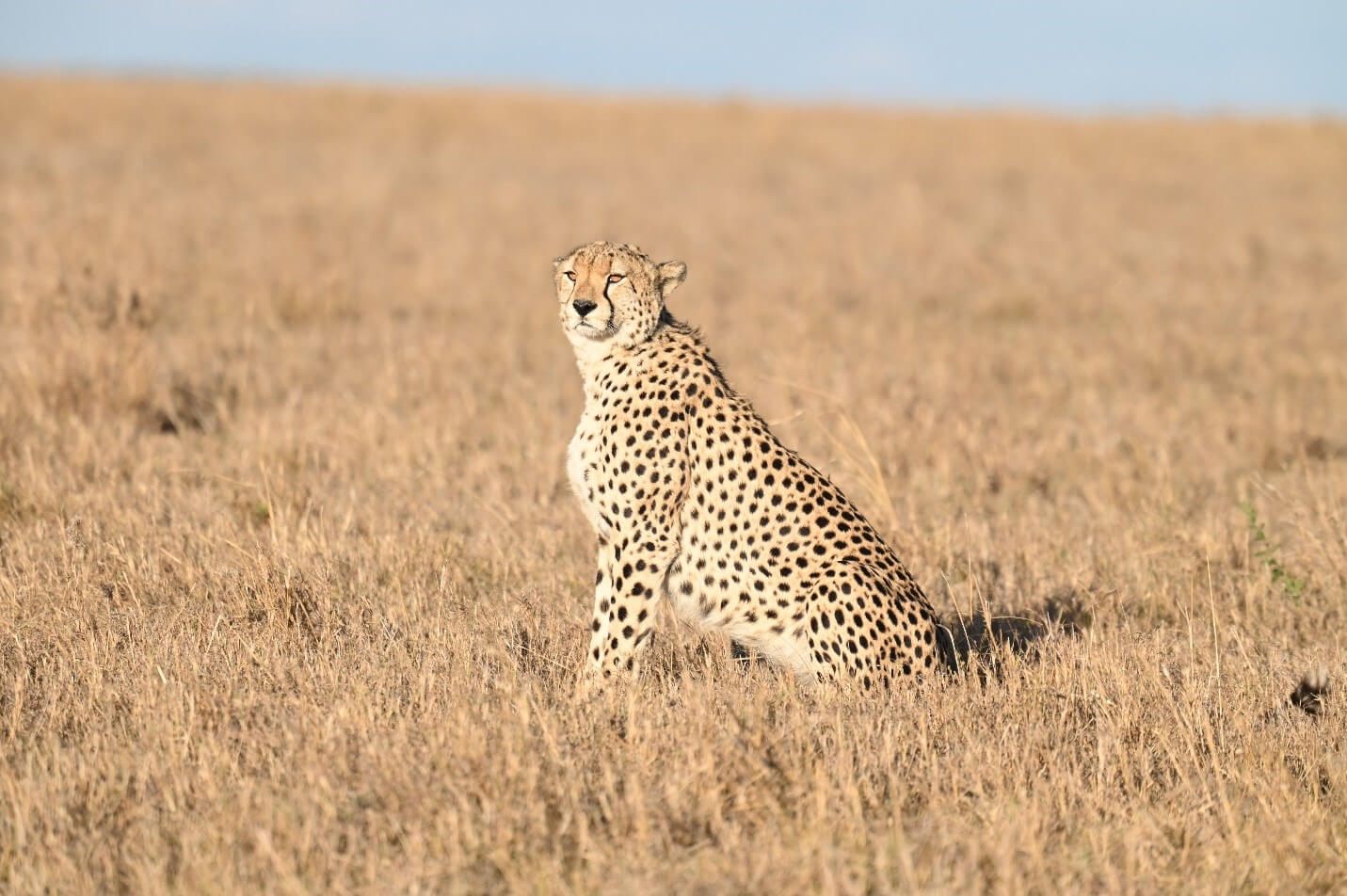 Cheetah
We had amazing mammals all day, with herds of Coke's Hartebeests, Common Impalas, Grant's Gazelles, Plains Zebras, Thompson's Gazelles and Maasai Giraffes. We also enjoyed one Lioness relaxing in the open plains. A trio of three Cheetahs were busy feeding on a kill they had made near the road.
Nile Crocodiles were the only reptile of the day, but we had many individuals in multiple locations.
This marked the end to our lovely Kenya Birding and Big Game Tour.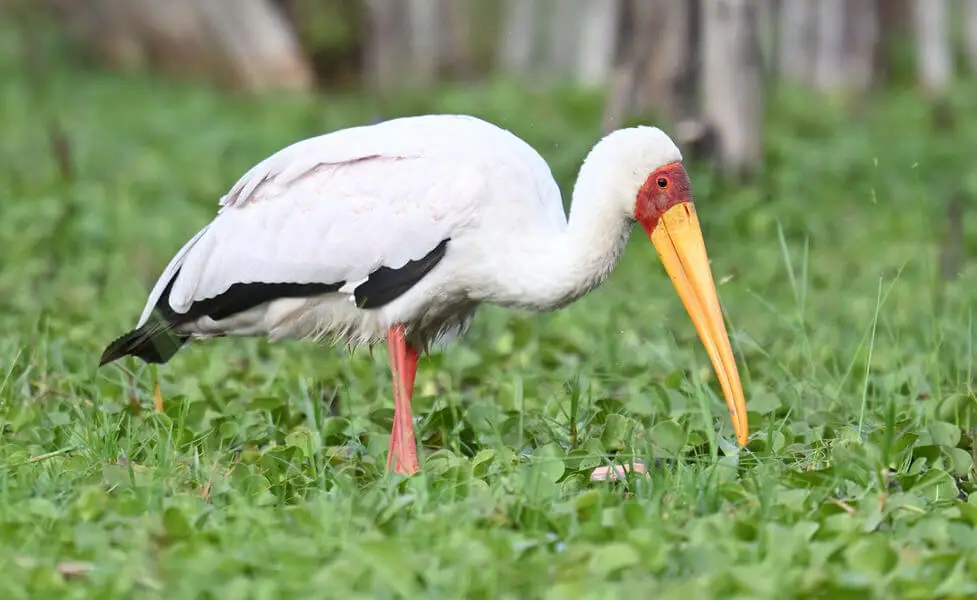 Yellow-billed Stork
Boulenger's Pygmy Chameleon
Moorland/ Alpine Chat
To book a custom Kenya Birding and Big Game Tour or our regular Kenya Birding Tour, please contact us today.