Coastal Kenya Birding and Wildlife Tour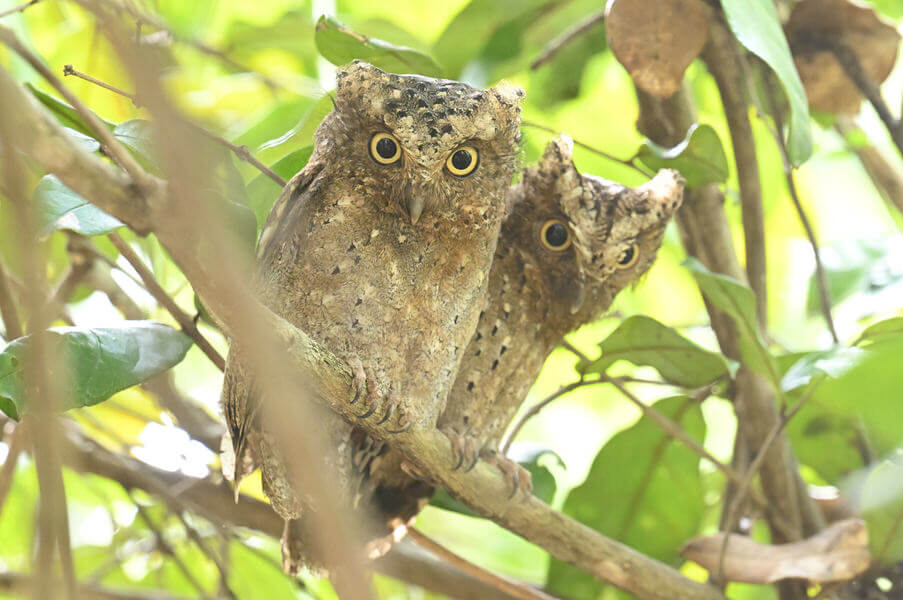 Sokoke Scops-Owls

Coastal Kenya Birding and Wildlife Tour
TOP BIRDS OF THE TOUR – AS VOTED BY GUESTS
Secretarybird
Spotted Eagle-Owl
Sokoke Scops-Owl
Southern Ground Hornbill
Long-tailed/ Eastern Paradise Whydah
TOP MAMMALS OF THE TOUR – AS VOTED BY GUESTS
African Lion
Leopard
Baby Grant's Gazelle
Lesser Kudu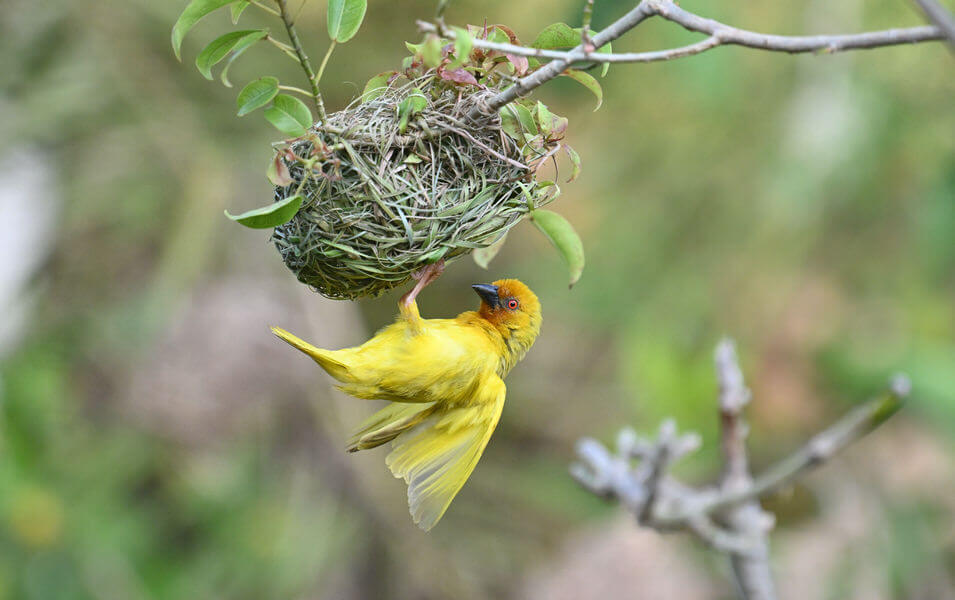 Eastern/ African Golden Weaver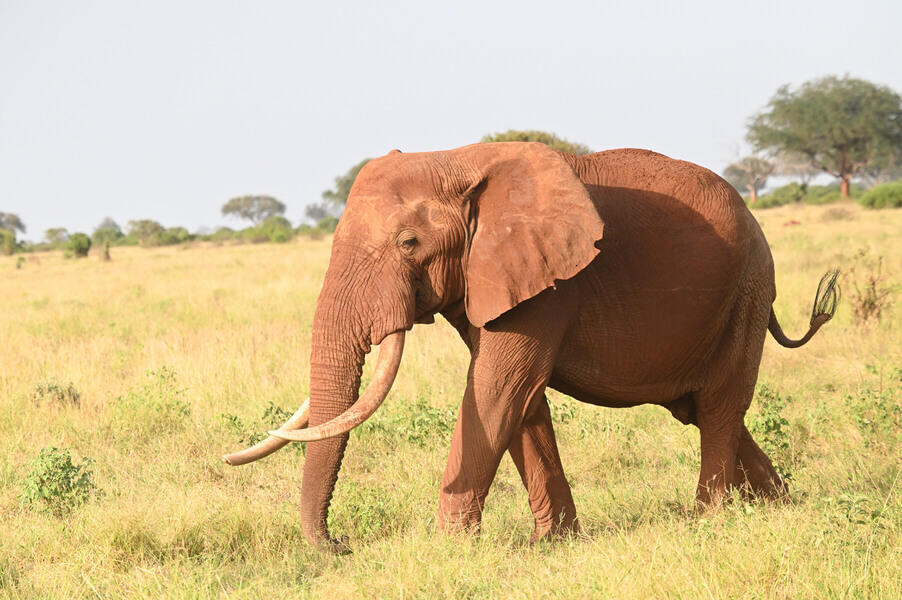 Savannah Elephant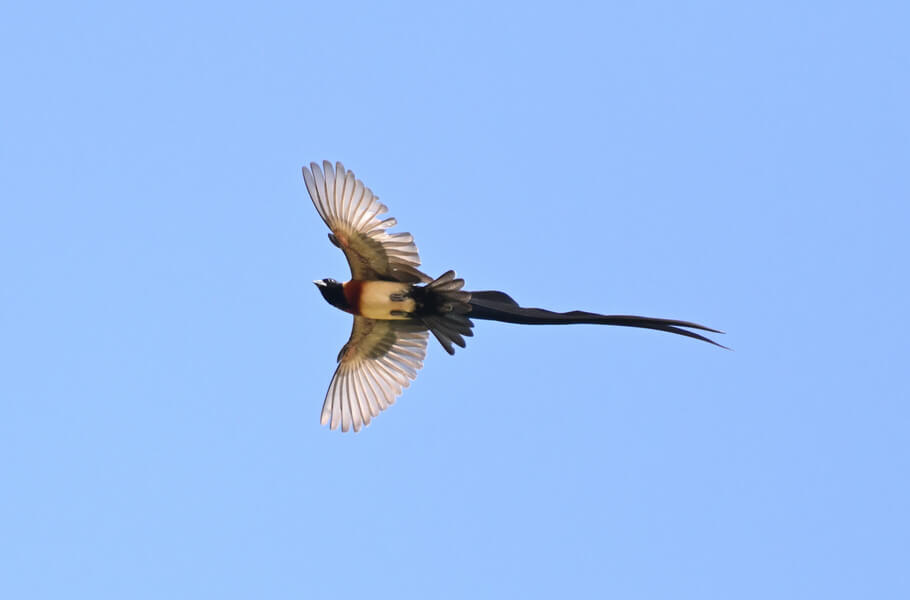 Long-tailed/ Eastern Paradise Whydah
DAY 1: 24/01/2022 – ARRIVAL IN NAIROBI
The tour hosted two guests from the United Kingdom, with Washington as the Tour Leader and David as the Safari Driver. The guests arrived a day earlier at the Jomo Kenyatta International Airport; where they spent the evening at a port hotel. We all met up in the morning eagerly anticipating a wonderful Coastal Kenya Birding and Wildlife Tour ahead.
We chose to enjoy some introductory birding in a local forest near the city center – Ngong Road Forest; where we birded all morning. We were able to enjoy our first birds here with many target species scored: Ruppell's Robin-Chat, Hartlaub's Turaco, Singing Cisticola, Pale Flycatcher, the endemic Snowy (Brown-and-White) Barbet, Kenya Sparrow, Black-collared Apalis, African Yellow Warbler, Ayres's Hawk-Eagle, Crowned Eagle, Long-crested Eagle, Black (Great) Sparrowhawk, Pale White-eye and the endemic Kikuyu White-eye.
Snowy (Brown-and-White) Barbet
Mammals were also well represented and we enjoyed great views of Ochre Bush Squirrel and Mt. Kenya Kolb's Monkey.
We then checked in to our hotel where we enjoyed a hearty meal for lunch. The afternoon was spent relaxing and taking in the nice weather in Nairobi.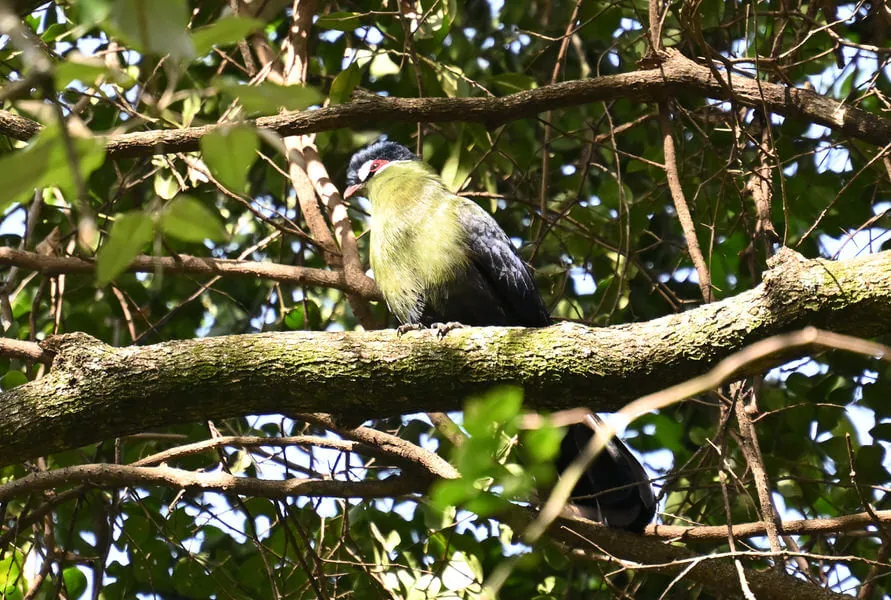 Hartlaub's Turaco
DAY 2: 25/01/2022 – NAIROBI TO AMBOSELI NATIONAL PARK (MT. KILIMANJARO)
We left Nairobi heading South to the magical Amboseli National Park – Kilimanjaro's Royal Court. This scenic park is located at the foot of Mt. Kilimanjaro and hosts some of the largest elephant herds in the entire World. We indeed enjoyed hundreds of elephants all day, feeding in the local swamps and grasslands. Other mammals included Common Hippo, Common Waterbuck, Maasai Giraffe, Thompson's Gazelle, Grant's Gazelle, Common Warthog, Plains Zebra, White-bearded Wildebeest and Silver-backed Jackal.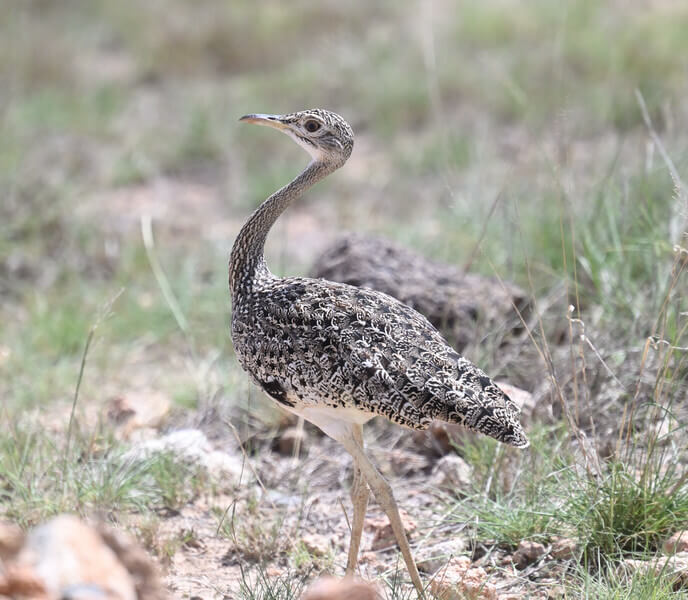 Hartlaub's Bustard
On the birding front, it was a major galore as we scored many specials: Taveta Weaver (a key target on our Coastal Kenya Birding and Wildlife Tours), Banded Parisoma, Long-tailed Fiscal, Long-tailed Paradise Whydah flybys, Goliath Heron, Fan-tailed Widowbird, Chestnut-bellied Sandgrouse, Kittlitz's Plover, Cape Teal, Lesser Flamingo, Greater Flamingo, Collared Pratincole and Double-banded Courser. We had three Bustard species on this day: White-bellied Bustard, Hartlaub's Bustard and Kori Bustard.
We closed the day with a beautiful Lioness that walked along the roadside, enjoyed drinking water from a pool and then lay down near our vehicle as the sun set behind her.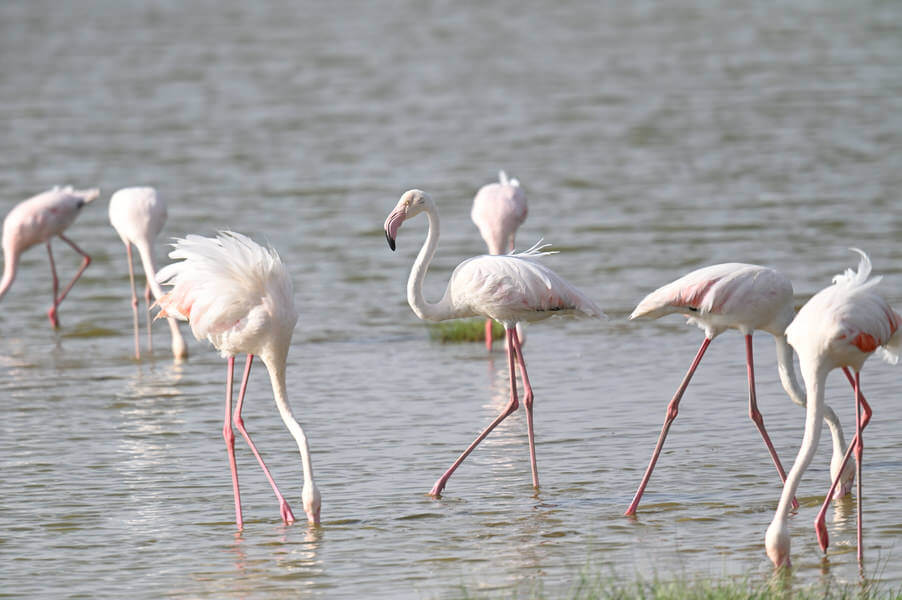 Greater Flamingos
DAY 3: 26/01/2022 – AMBOSELI NATIONAL PARK (MT. KILIMANJARO)
Our birding started right at the parking lot where we enjoyed a stunning Common Nightingale skulking along the hedge. We then enjoyed birding at several stops as we enjoyed the beauty of Amboseli National Park. At one bush, we enjoyed a Thrush Nightingale, Common White-throat and Grey Wren Warbler. Along the plains, we had great views of Secretarybird, several Kori Bustards, Booted Eagle, Peregrine Falcon, Yellow-necked Spurfowl and more. Waterbirds included Goliath Heron, Black-tailed Godwit, Garganey, Red-knobbed Coot and White-backed Duck.
Mt. Kilimanjaro was showing well with her snow caps for most of the day. In the later afternoon, a cloud covered the main peaks – Kibo and Mawenzi.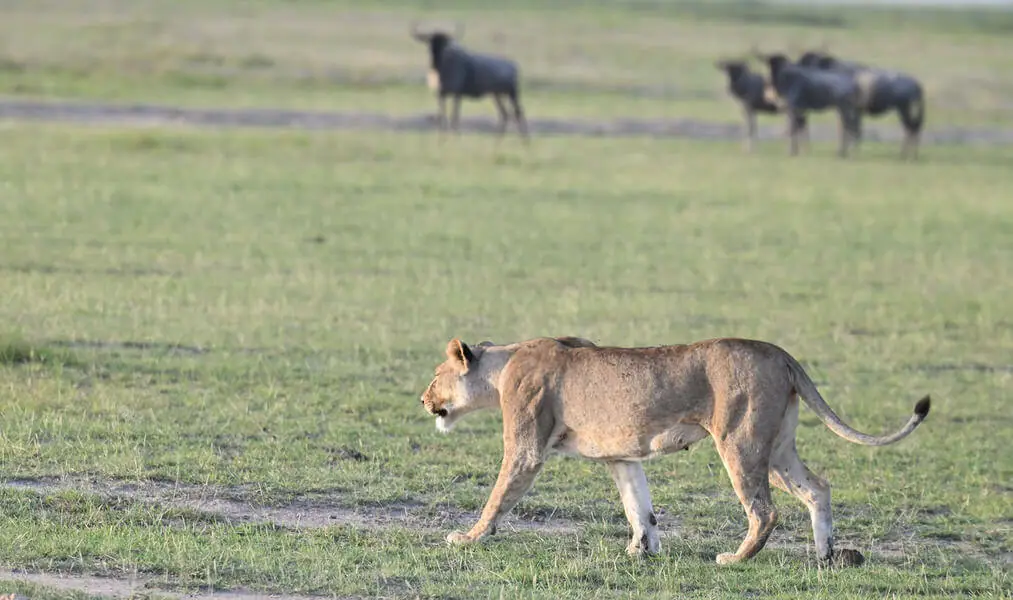 Lioness and Wildebeests
We completed the day with five stunning Lionesses basking in the sunset rays. They then got up and enjoyed a drink at a roadside pool before they started playing with each other. Indeed our Coastal Kenya Birding and Wildlife Tour was scoring very many highlights.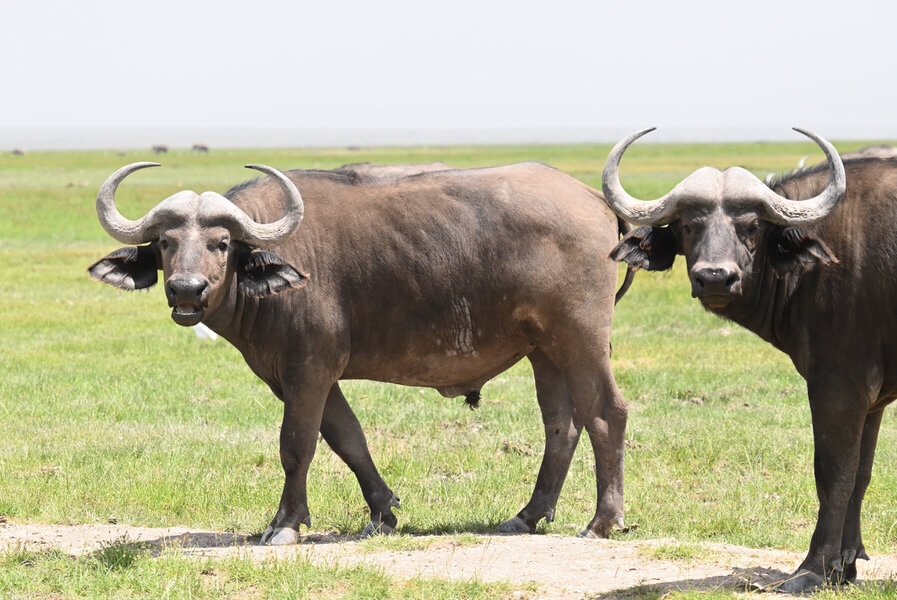 African Buffalo
DAY 4: 27/01/2022 – AMBOSELI NATIONAL PARK TO TSAVO WEST NATIONAL PARK
We left our lodge as we enjoyed a Black-backed Jackal feeding along the road; near some Taita Fiscals. Continuing down the road we had several great sightings, including a Hildebrandt's Starling, Purple Roller, Pygmy Falcon, Blue-cheeked Bee-eater and Northern Carmine Bee-eater.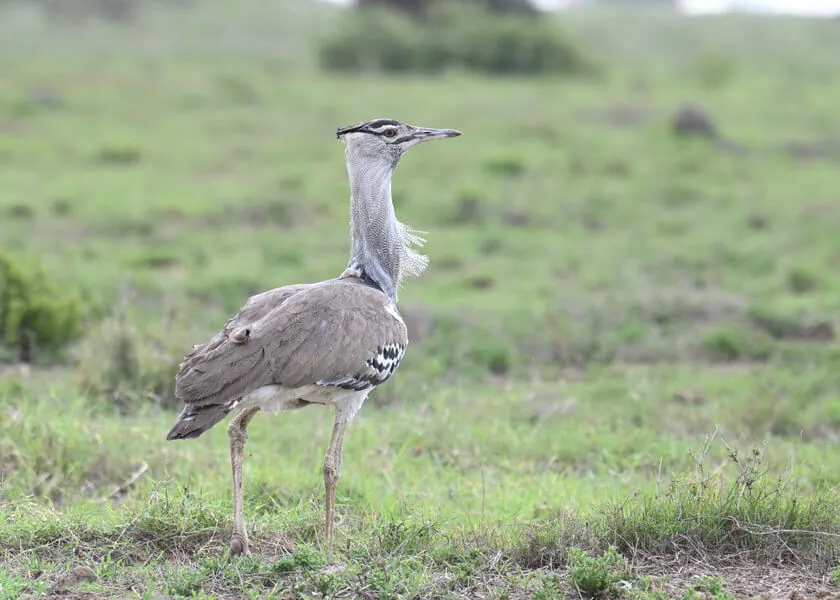 Kori Bustard
When we arrived at Tsavo West National Park, there were Lesser Masked Weavers and Vitelline Masked Weavers nesting at the gate. Near here we added Red-fronted Tinkerbird, Klaas's Cuckoo and Diederik Cuckoo. We then continued across the bushland in Tsavo West National Park, scoring many nice birds such as Pringle's Puffback, Somali Bunting, Vulturine Guineafowl, Bare-eyed Thrush, Black-headed Lapwing, Olive Bee-eater, Blue-capped Cordon-bleu, Verreaux's Eagle-Owl, Straw-tailed Whydah, Long-tailed Paradise Whydah and Tsavo Sunbird. One reservoir held a smart Greater Painted Snipe. This was one of our best birding days on the Coastal Kenya Birding and Wildlife Tour.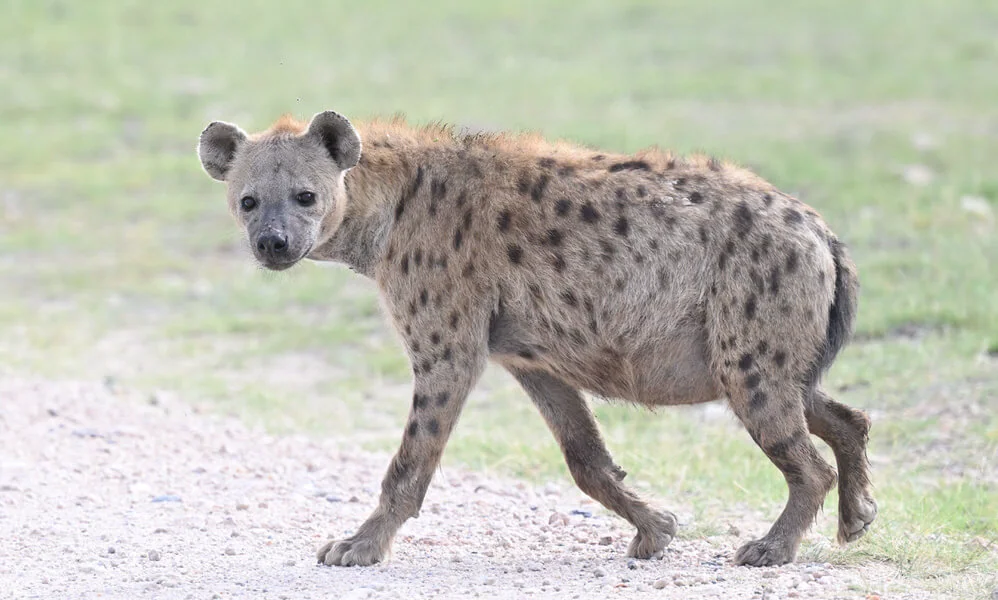 Spotted Hyena
Mammals included Savannah Elephants, Unstriped Ground Squirrel, Coke's Hartebeest, Kirk's Dikdik and a stunning Lesser Kudu male. We had smart reptiles such as Kenya Red-headed Rock Agama and Northern Stripe-bellied Sand Snake.
DAY 5: 28/01/2022 – TSAVO WEST NATIONAL PARK
Another fabulous day in Tsavo West National Park where we enjoyed loads of big game and birds all day. We explored the areas around the Eastern edge of the Ngulia Mountain, as well as the Mzima Springs area. We also enjoyed the North-Eastern end of the park towards Mtito Andei.
Leopard
We had many exciting birds all day including Golden-breasted Starling, Fischer's Starling, African Hawk-Eagle, White-winged Widowbird, Buff-crested Bustard, Purple Grenadier, Crimson-rumped Waxbill, Black-headed Oriole and Scaly Chatterer.
Continuing on, we had two Klipspringers at different spots along the lava rocks. We enjoyed a smart Leopard resting on a big tree before enjoying our lunch at the famous Mzima Springs. Here we also enjoyed a bird walk and scored African Darter.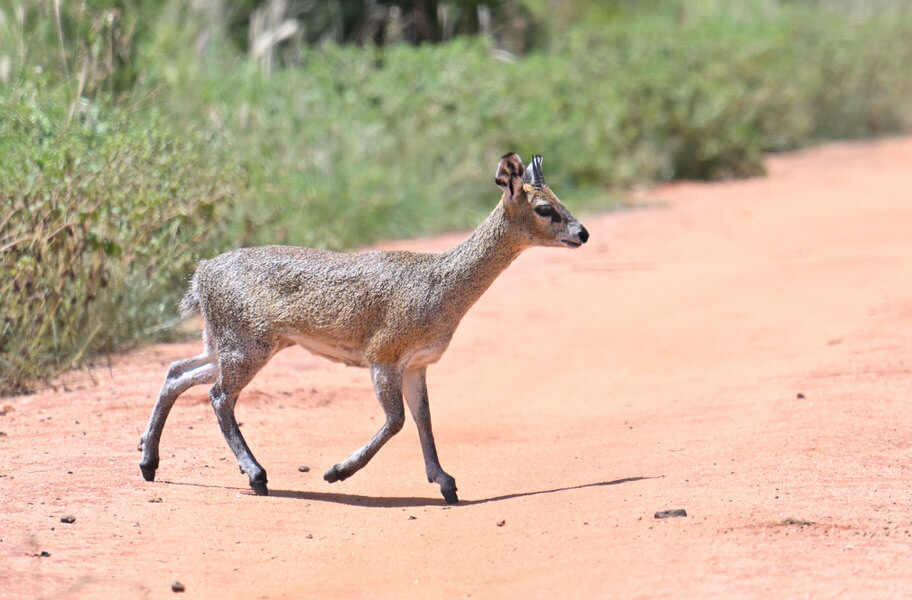 Klipspringer
We closed the day with two Black-backed Jackals and two Verreaux's Eagle-Owls at dusk. Slender-tailed Nightjars kept us busy at camp just before dinner. What a day!!! Our Coastal Kenya Birding and Wildlife Tour had much more in store for us.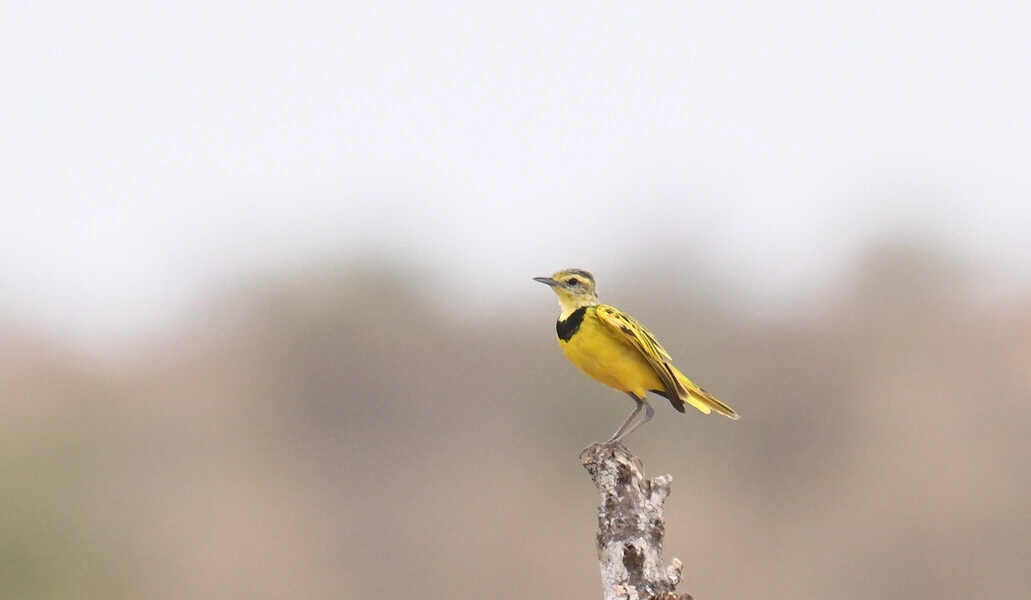 Golden Pipit
DAY 6: 29/01/2022 – TSAVO WEST NATIONAL PARK TO TAITA HILLS
After a short birding session in Tsavo West National Park, which yielded Verreaux's Eagle, Golden Pipit and Eastern Yellow-billed Hornbill; it was time to leave. We exited on our way to the scenic but less-visited Taita Hills forests; a key site for our Coastal Kenya Birding and Wildlife Tour.
Here our target was connecting with the three endemic birds species that live here. Taita White-eye was the first to encounter; where we enjoyed some great views. Near here, an Usambara Vine Snake was busy catching its prey; a Kilimanjaro Blade-horned Chameleon.
Usambara Vine Snake
We then carried on to a site where we had heard a Taita Apalis calling. Here we had two great birds and we enjoyed a good view. Our last quest was a Taita Thrush that we enjoyed from a distance but we all had wonderful views. It was indeed – three for three!!! Other species seen here included Striped Pipit, Placid Greenbul, Stripe-faced Greenbul and Usambara Double-collared Sunbird.
We enjoyed a night game drive at our lodge targeting nocturnal species. Here we had many and great views for each. Our top highlights included five Marsh Owls and two Spotted Eagle-Owls (one of them was busy feeding on a European Roller it had just caught). We also had three Lion cubs walking down the road and one Flap-necked Chameleon on a branch. White-tailed Mongooses were also seen hunting and Black-backed Jackals were patrolling near camp. This night drive was one of the main highlight experiences on the Coastal Kenya Birding and Wildlife Tour.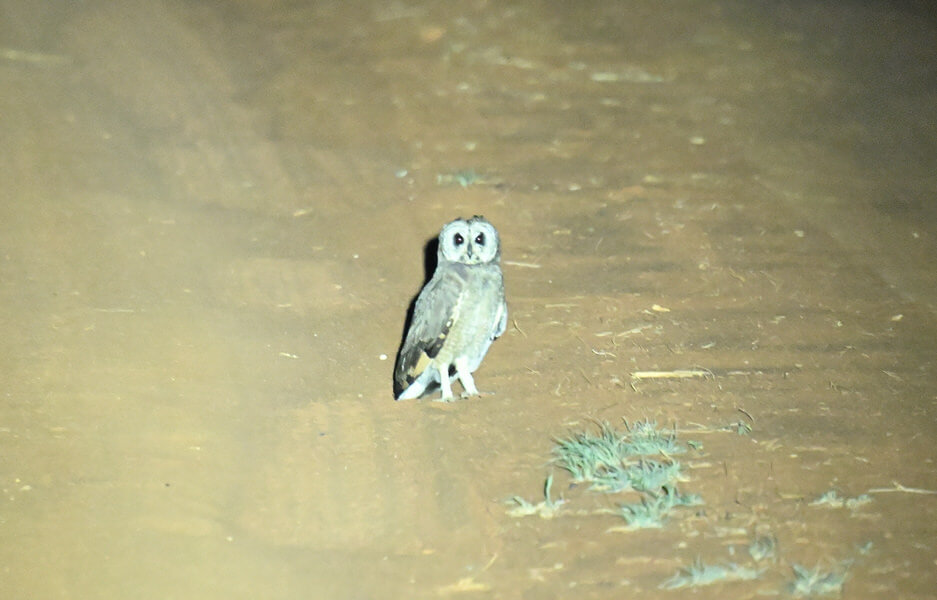 Marsh Owl
DAY 7: 30/01/2022 – TAITA HILLS TO SHIMBA HILLS
Our morning drive in Taita Hills was quite productive, as we had great views at some close-up species, such as Tawny Eagle feeding on a Coke's Hartebeest carcass. We also enjoyed four Southern Ground Hornbills patrolling the plains as they grabbed small prey items along the way. We closed the drive with a smart Lizard Buzzard at the gate.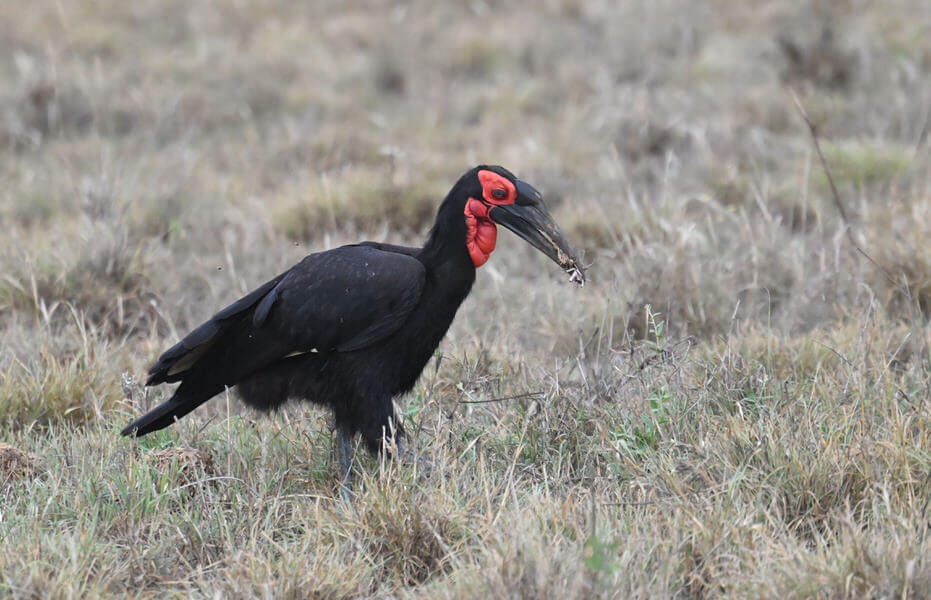 Southern Ground Hornbill
Moving onwards to Shimba Hills National Reserve, there were few roadside birds, including House Crows and Eastern Chanting Goshawks. We were at the beautiful Shimba Hills in good time to explore the forest on an afternoon game drive. The forest was particularly dry and windy, so birds were quite slow.
We however, managed to add some good species, such as Chestnut-fronted Helmet-Shrike, Black-headed Apalis, Silvery-cheeked Hornbill, Crowned Hornbill, Palm-nut Vulture, Yellow-fronted Canary and a brief sighting of two Fischer's Turacos that quickly disappeared onto the trees. This Turaco species is one of the most sought-after bird on all our Coastal Kenya Birding and Wildlife Tour. We also added Bushbuck to our mammals list. At the end of the day, we enjoyed a close view of the White-tailed Small-eared Galago.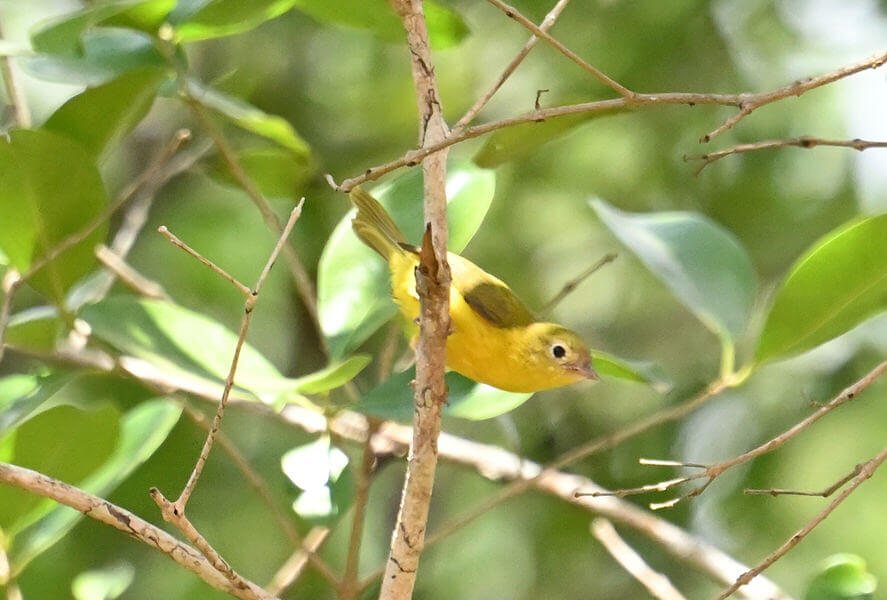 Little Yellow Flycatcher
DAY 8: 31/01/2022 – SHIMBA HILLS TO WATAMU
After some cups of tea and coffee, it was time to explore the forest. We started near the lodge where we had a great view at two Brown-hooded Kingfishers. A Trumpeter Hornbill flew over showing his characteristic features well. We were also greeted by some Angolan Colobus Monkeys feeding nearby; with their calls lighting up the air. We then scored a pair of Black-bellied Starlings and two White-eared Barbets.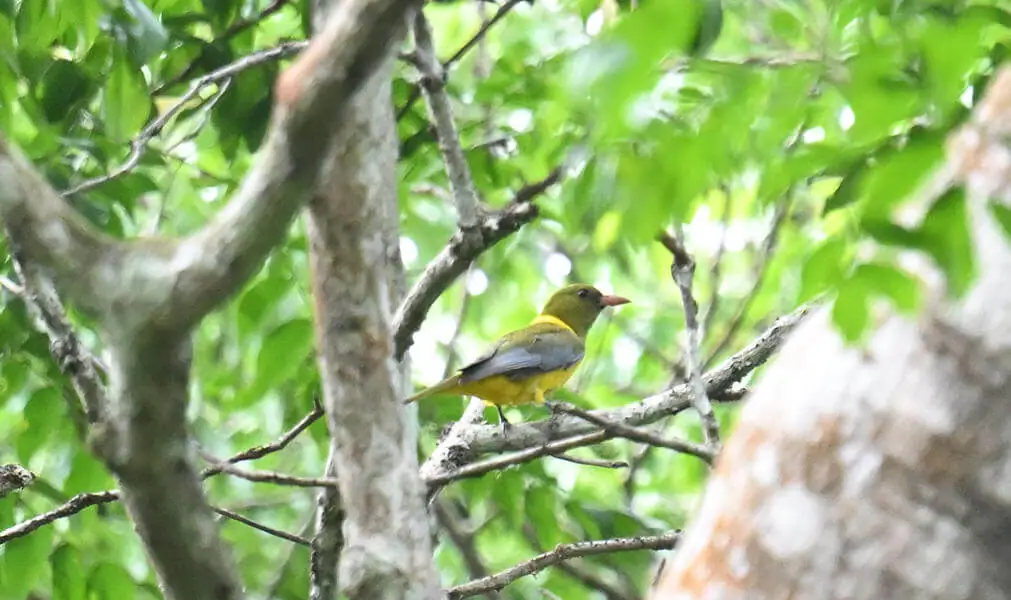 Green-headed Oriole
We later drove farther into the Shimba Hills National Reserve seeking our main quest: the Green-headed Oriole. We were fortunate to find a very productive tree that yielded four individuals. The same tree also hosted one African Golden Oriole and two Eurasian Golden Orioles. Other great birds of the morning included two Fischer's Turacos, two Little Yellow Flycatchers, one Mombasa Woodpecker and a small flock of Retz's Helmet-Shrikes.
A Nile Monitor Lizard and a Red-bellied Bush Squirrel joined us over lunch and provided great views. By this time the forest was very warm and since there had not been recent rains, we concluded our birding session here.
Golden Palm Weaver
We then drove up to Watamu, scoring two additional species: Golden Palm Weaver and Eastern (African) Golden Weaver. Here our Coastal Kenya Birding and Wildlife Tour was going to finally touch the Indian Ocean.
DAY 9: 01/02/2022 – ARABUKO SOKOKE FOREST AND SABAKI RIVER MOUTH ESTUARY
We started the day with a search for the special Sokoke Scops-Owl (one of the top targets on all our Coastal Kenya Birding and Wildlife Tours). This special owl is known to occur here reliably, but it took us a long walk to the first roosting site. When we arrived at the roost, we were treated to amazing views of a very obliging pair. After the owls, we soon connected with several East Coast Akalats, another stunner of this forest type. We also had great views of East Coast Boubou, Pallid Honeyguide, African Wood Owl and Amani Sunbird.
Forest Batis
In the afternoon, we birded grasslands and wetlands focusing on the special species that occur along the coast. We were quite successful and managed great views of Malindi Pipit and Ethiopian Swallow at the same spot. At the Sabaki River Mouth Estuary, we scored Sooty Gull (a key species on the Coastal Kenya Birding and Wildlife Tour), Grey Plover, Curlew Sandpiper, Coastal Cisticola and White-fronted Plover.
Malindi Pipit
Mammals of the day included several Golden-rumped Sengis (a super mammal on all our Coastal Kenya Birding and Wildlife Tours), Yellow Baboons and Jane met a smart White-bellied Hedgehog patrolling the lodge grounds.
DAY 10: 02/02/2022 – ARABUKO SOKOKE FOREST, MIDA CREEK AND SABAKI RIVER MOUTH ESTUARY
We had an amazing time in Arabuko Sokoke Forest as we worked hard to search for more species in this habitat. We started with a flock of Scaly Babblers along the forest edge. Here we also enjoyed a great view of a Forest Batis male, singing in the low bushes. A showy Bearded Scrub Robin was seen well; and soon after we connected with a smart Blue-mantled Crested Flycatcher. From here we drove deeper into the forest and added a Green-backed Woodpecker, Pale Batis and Plain-backed Sunbird. Before heading for lunch, we explored a part of forest where short trees hosted Eastern Black-headed Batis and Red-tailed Ant-Thrush. A Southern Banded Snake-Eagle also flew around several times, giving its characteristic calls.
East Coast Akalat
We later explored the marine wetlands all afternoon where we added Crab Plover (a top target on all our Coastal Kenya Birding and Wildlife Tours), Lesser Sand Plover, Eurasian Whimbrel, Eurasian Curlew and Terek Sandpiper at Mida Creek. At Sabaki River Mouth Estuary, we added Greater Sand Plover, Sooty Gull, Violet-breasted Sunbird and African Skimmer.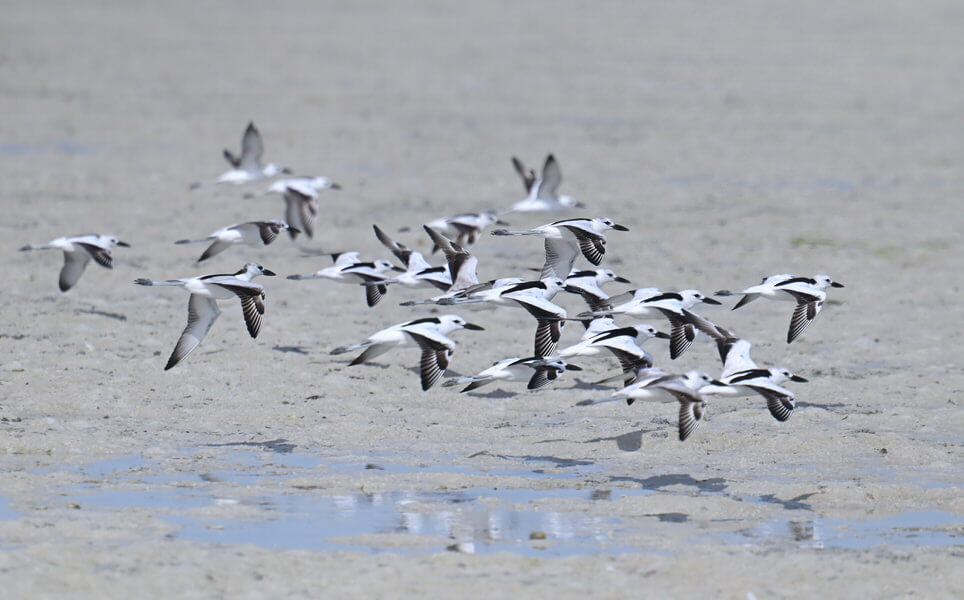 Crab-Plovers
DAY 11: 03/02/2022 – ARABUKO SOKOKE FOREST AND TSAVO EAST NATIONAL PARK
We had our last morning birding in Arabuko Sokoke Forest, where we were hoping to add some extra forest species. We were rewarded with wonderful views of a Common Scimitarbill, Terrestrial Brownbuls and a shy Fischer's Greenbul flock. A few other species were seen including a very obliging Golden-rumped Sengi.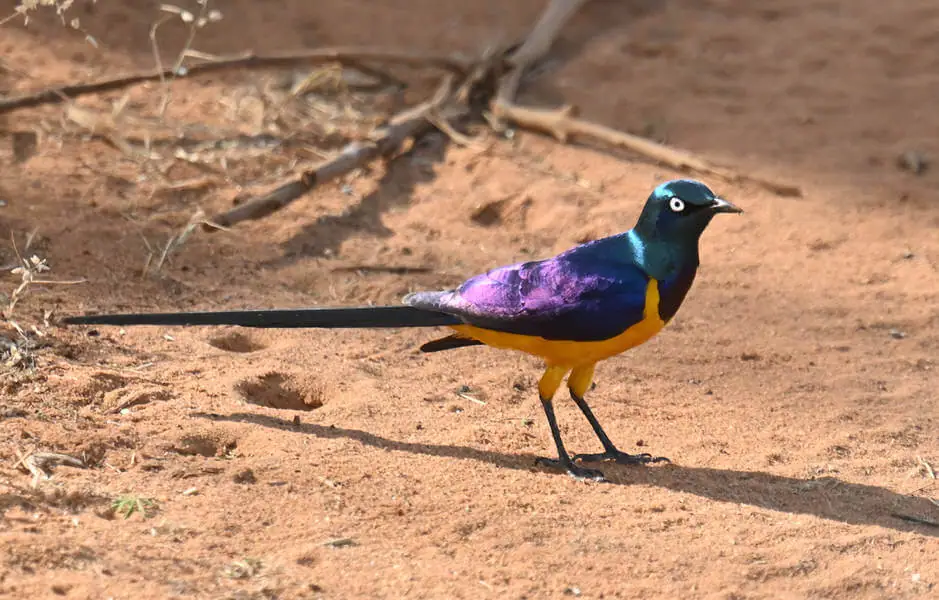 Golden-breasted Starling
We then made our way to Tsavo East National Park, where the dry lowlands were awaiting; for the next chapter on the Coastal Kenya Birding and Wildlife Tour. We enjoyed a smart Black-bellied Sunbird as our first bird inside this great park. Tsavo East National Park was a birding haven, and many exciting species were recorded here; such as Barred Warbler, Upcher's Warbler, Gambaga Flycatcher (a special bird on the Coastal Kenya Birding and Wildlife Tour), Pallid Harrier, Martial Eagle, Brown Snake-Eagle, Somali Crombec, Pale Prinia, Green-winged Pytilia, Somali Bee-eater, Somali Courser, Somali Ostrich and Grant's Wood-Hoopoe.
Rosy-patched Bush-Shrike
Mammals were great too – we enjoyed many elephants with their unique red coats, as painted by the red soils of Tsavo East National Park. Here we also added Gerenuk, Peter's or Tana Gazelle and Desert Warthog. We closed the day with three lionesses and their three cubs. At our lodge, a Spotted Hyena visited the lighted fence bushes, awarding us great views.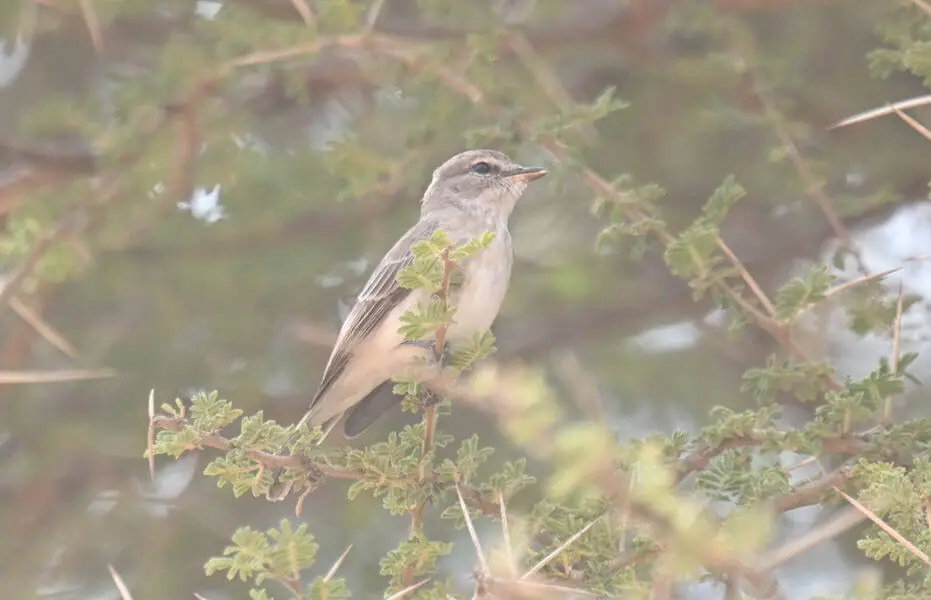 Gambaga Flycatcher
Jane and John had their night completed in a superb fashion: a Pearl-spotted Owlet on their way to the room. This small owl is always a treat to see on our Coastal Kenya Birding and Wildlife Tours.
DAY 12: 04/02/2022 – MOMBASA ROAD TO NAIROBI
Today was largely a travel day to return to Nairobi. We started by enjoying several species at the lodge, such as Parrot-billed Sparrow and Yellow-billed Stork.
Common Impala and Red-billed Oxpecker
We then drove towards Nairobi, with several roadside species such as European Roller and Lilac-breasted Roller.
At our lunch restaurant, we enjoyed two Common Moorhens, Eastern Golden Weavers nesting, a Black Crake and a male Giant Kingfisher.
We then carried on to Nairobi, where we completed our lovely Coastal Kenya Birding and Wildlife Tour.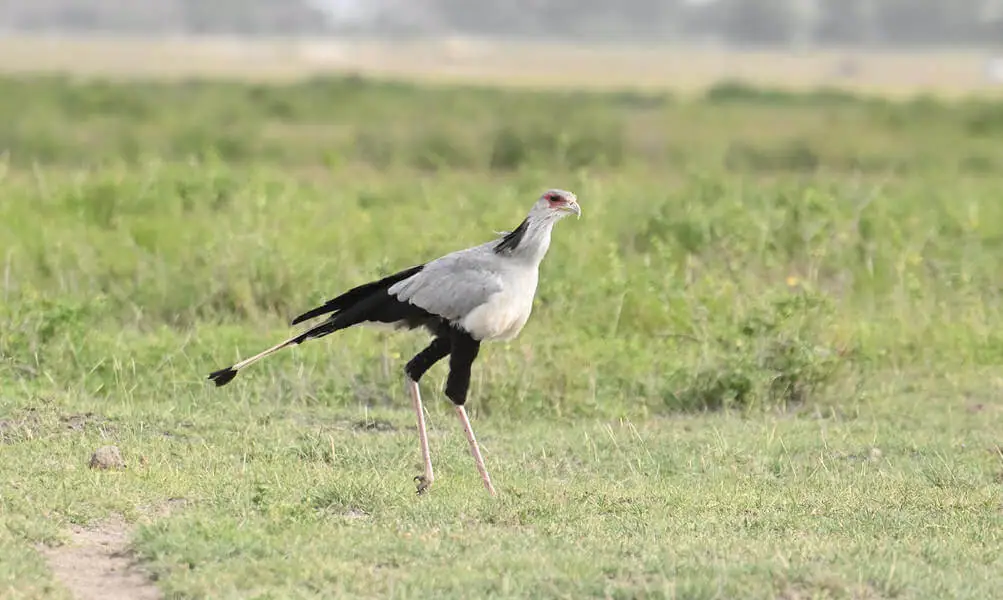 Secretarybird
Mt. Kilimanjaro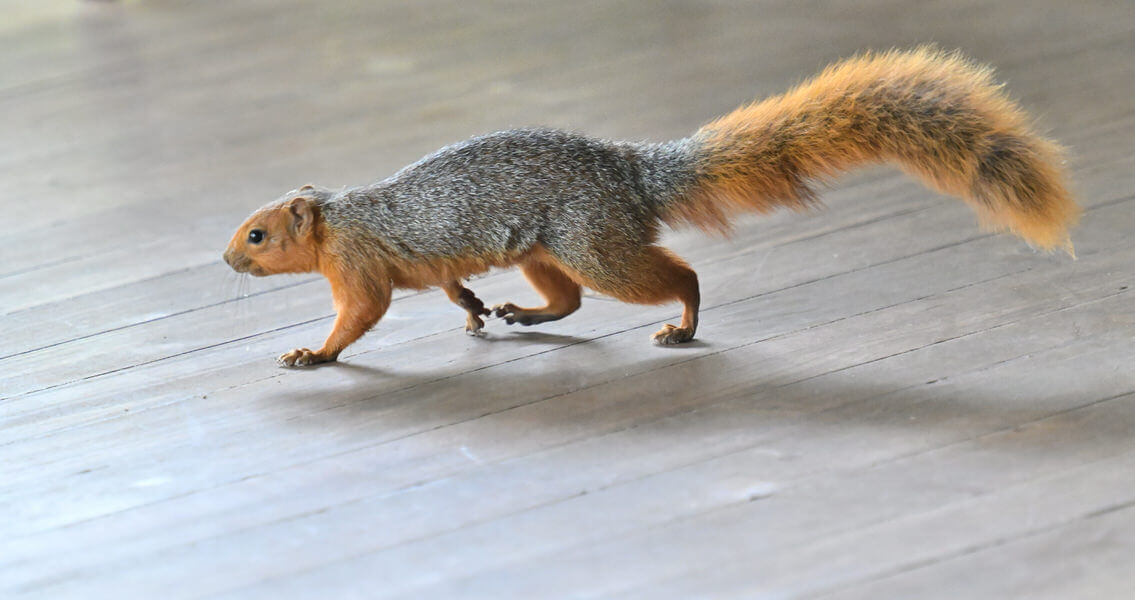 Red-bellied Bush Squirrel
To book a custom Coastal Kenya Birding and Wildlife Tour or our regular Coastal Kenya Birding Tour, please contact us today.