Uganda Gorilla Trekking Tour
UGANDA GORILLA TREKKING TOUR
Trip duration
3 days/ 2 nights
The Uganda Gorilla Trekking Tour can be combined with our Uganda Chimpanzee Trekking Tour to form our famous Uganda Great Apes Safari.
DAY 1: TO BWINDI
We shall start our Uganda Gorilla Trekking Tour early from Entebbe and head towards Bwindi on a very scenic journey. The landscapes on the way and the beautiful cultural experiences we enjoy on this route will make the drive very rewarding. We shall enjoy lunch midway and then continue to Bwindi. We shall arrive at our lodge in the afternoon, where we shall enjoy the local weather and beautiful sounds of birds and insects.
Night in Bwindi.
DAY 2: GORILLA TREKKING IN BWINDI IMPENETRABLE FOREST
Departing our lodge with packed lunch, we shall head to Bwindi Forest, where the gorilla trek will take place. We shall all meet for a briefing from the local rangers early in the morning. This day is definitely the most interesting part of our Uganda Gorilla Trekking Tour. We shall then venture into the forest following the nice trails through the dense forest. Soon enough, we shall meet our "hosts" for the day- the majestic Mountain Gorillas. Sometimes the hike takes longer depending on the local movements of these great apes; who live a very natural lifestyle in this great forest. We shall spend time enjoying these great apes and making the best photos. Most gorilla families are well composed of a dominant male, several females and young. Our trek may also produce more primates, including the amazing L' Hoest Monkey. We shall then hike back to our starting point and return to our lodge for a relaxed afternoon. There are also several optional afternoon activities around Bwindi that we can take part in before returning to our lodge.
We shall spend the night in Bwindi.
DAY 3: DEPARTURE
On this day we shall head to Entebbe after an early breakfast. We shall have lunch midway and then continue with our drive. We may encounter several wildlife species on the way. On the way too, we shall cross the Equator, and will have a brief but optional stop there.
Evening or following morning flights from Entebbe will mark the end to our lovely Uganda Gorilla Trekking Tour. For those staying overnight, we can organise local afternoon activities in Entebbe or the nearby Kampala City.
Habitats covered
Highland Forest, Rural Countryside
Photographic opportunities
Excellent
Special moments
Gorilla Trekking, Gorilla Conservation Talk
Entebbe
Bwindi Impenetrable Forest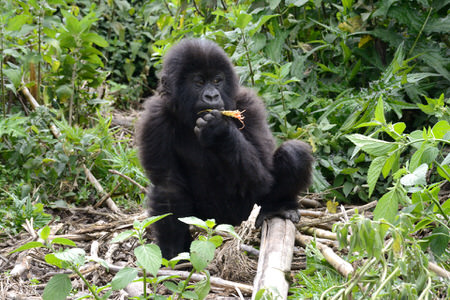 Let's plan your next adventure in East Africa.