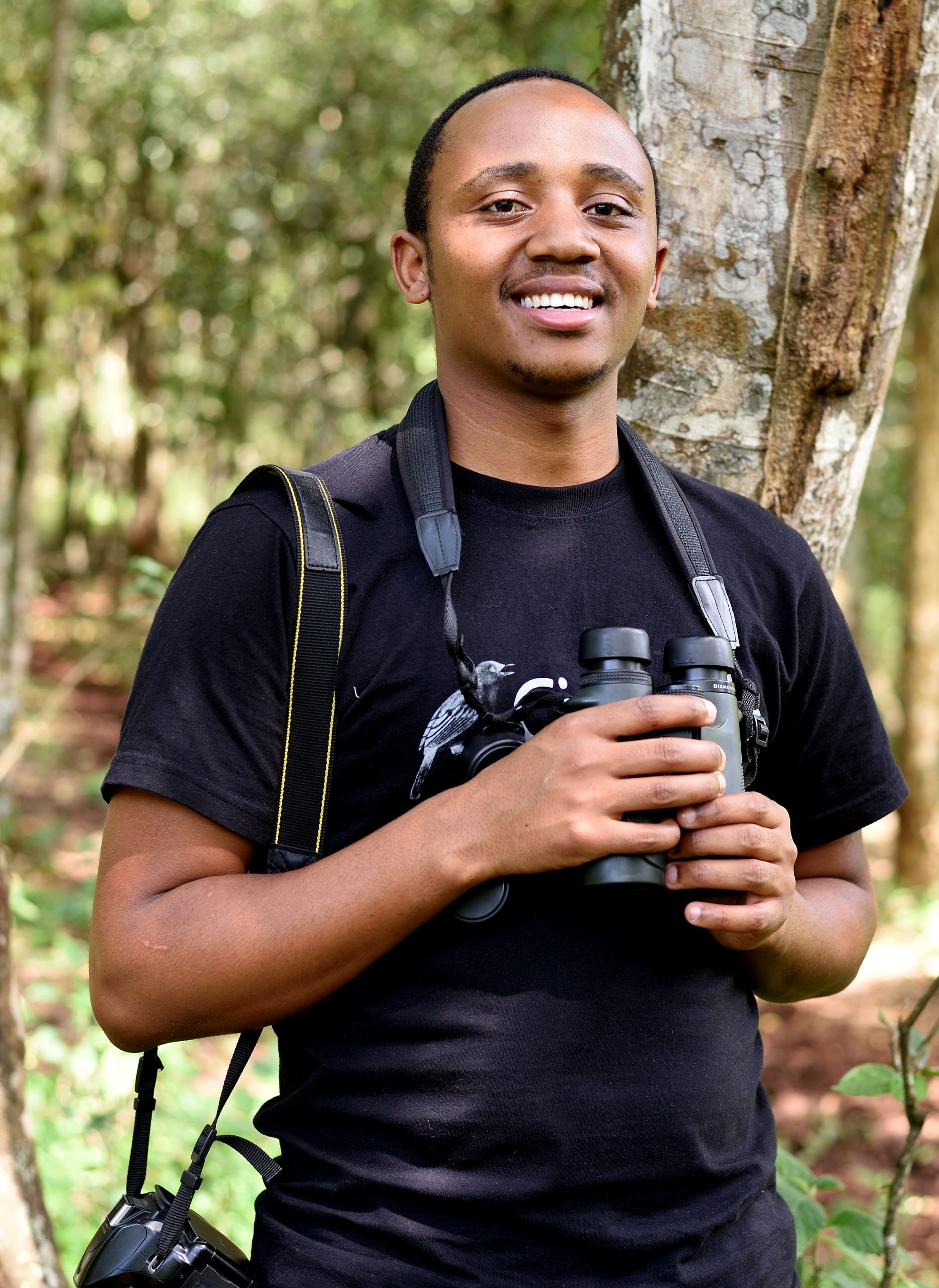 Washington Wachira
Washington was born and raised in Kenya. He has a taste for everything in nature, from the small to the big and everything in between. By age 14, he was already on a career path towards  nature interpretation and conservation. His education background is in Environmental Science (BSc.) and Animal Ecology (MSc.). He has continued to enrich his knowledge through many trainings, including the Certificate course in Fundamentals of Ornithology and Certificate course on the Biology of Amphibians and Reptiles. He is an experienced Safari Guide and currently holds a Bronze badge from the Kenya Professional Safari Guides Association. He was awarded the African Sustainable Tourism Fellowship Award in 2016. He is a member of the Kakamega Rainforest Tour Guides Association. He has been part of many research projects and has led many birding trips or expeditions across the entire East Africa. He is a passionate author having written articles in many local and international publications. He co-authored the Guidebook to the Birds of Dakatcha Woodland IBA. He wrote the first Checklists to the Birds of Eburu Forest; and the Birds of Kenyatta University. He founded the Kenyatta University Birding Club in 2014. Over the years, he has worked and interned with many organisations; including the Ornithology Section of the National Museums of Kenya and Giraffe Center. He previously served as the Manager for the Kenya Bird Map Project. He is a member of the Bird Committee of Nature Kenya, and chairs the National Bird of Kenya Sub-committee. He is a member of the East African Rarities Committee. He is also a member of the Kenya Wildlife Conservation Forum. He serves as the Country Representative for Kenya at the Youth Africa Birding. He is a National Geographic Explorer, on his work with African Crowned Eagles. He is a dedicated film maker, and released his first documentary, "Urban Crowns", in 2017. He is also an experienced nature photographer and has won many awards, including First Position in the Underwater Category of the 2016 East African Wild Life Photo Competition. He is a featured photographer in the ON THE ROAD INITIATIVE by NIKON. He is also a member of the African Primatological Consortium for Conservation. He is the Chairperson of the Kenya Herpetofauna Working Group. He is a member of the Environment Institute of Kenya. He is a certified Associate Environmental Impact Assessment and Audit Expert. He is also a TED Speaker, and gave a TED Talk titled "For the love of birds" in 2017.
Wilson Tiren
Wilson was born in Kenya, and has been a passionate nature interpreter all his life. Having grown up by the shores of Lake Baringo, Wilson is one of the leading authorities on bird identification and distribution in the Baringo region of Kenya. He participated actively in supplying the necessary data regarding the bird species check-list development of Lake Baringo. He brings with him vast experience in bird spotting and identification gained from working with World leading ornithologists who visit his home area frequently.  He recently undertook the Fundamentals of Ornithology course at Elsamere Field Study Centre and a Certificate Course on the Biology of Amphibians and Reptiles. He has actively participated in conservation efforts undertaken by Lake Baringo Biodiversity Conservation Group (LBBCG) of which he is a member. He has expanded his knowledge on birds by taking part in expeditions to many other parts of Kenya. He has been taking part in the annual waterfowl census organised by the National Museums of Kenya. Wilson enjoys birding just like he enjoys leading birding tours. His interests span beyond birds to other aspects of flora and fauna. He has perfected his biodiversity handling and study skills by working with many leading ornithologists, zoologists, botanists and other researchers. Over time, he has expanded his guiding knowledge beyond Kenya, and has now gained great experience in countries such as Tanzania and Uganda. His passion and jovial mood in the field has made him one of the clients' favourites on each tour. He is also a passionate nature photographer and has been very instrumental in making our photography tours a success.
John Gitiri
John was born in a small village in Central Kenya next to the major catchment Aberdare Ranges. He developed high interest in nature by joining environmental clubs in both primary and secondary school. He later joined Friends of Kinangop Plateau for Biodiversity Conservation where his quest for nature interpretation was nurtured through bird walks and nature walks. He then travelled to the Kenyan Coast and worked with A Rocha Kenya; where he interacted with coastal birders. While there, he worked with the research and monitoring department at A Rocha and contributed to ornithological data collection in Coastal Important Biodiversity Areas (IBAs). He has been an intern with the National Museums of Kenya, Ornithology Section. He regularly takes part in the annual waterfowl census hosted by the National Museums of Kenya and Nature Kenya. He currently serves as a community representative official at Friends of Kinangop Plateau. He holds a Diploma in Tour Guiding and Administration. He is also a Bronze Level Guide with the Kenya Professional Safari Guides Association (KPSGA). He has done a first Aid course with St.John Ambulance. John has travelled to almost all regions in Kenya; doing avian research or conducting tours. He leads groups; doing his number one hobby (birding), hiking, camping, mountaineering, rock climbing among other outdoors' activities. He is also a passionate environmental educationist and travel/environmental blogger. He is an experienced bird ringing expert and often joins ringing sessions across Kenya.
Jack Kiiru
Jack was born and brought up in the central highlands of Kenya; at the foothills of the mighty Aberdare Ranges and National Park. He has been a keen wildlife enthusiast all his life. His love for nature begun after joining the Friends of Kinangop Plateau, a local community conservation organisation that works towards the conservation of these unique highland grasslands. He has since lived and worked in the Kinangop Plateau; serving tour groups as a local guide to this vast area. Jack is one of the few people who can easily show you the rare Kenyan-endemic; the Sharpe's Longclaw. He has for a long time worked in many research projects on birds in different parts of Kenya and Tanzania. He is a member of the Nairobi Ringing Group, and often takes part in bird ringing activities across Kenya. He has also taken part in the Ringing Course conducted by A Rocha Kenya, at the Mwamba Field Study Centre, along the Indian Ocean Coast. He is a regular volunteer at the Annual Waterfowl Census conducted by the National Museums of Kenya and Nature Kenya. He is a passionate Driver-Guide; and is highly skilled in the cities and national parks across Kenya and Tanzania. He is also a passionate vehicle mechanic, a skill that gives him a huge advantage when driving in the remote areas of East Africa. He is a beneficially of the Canada World Youth- Young Leaders International Exchange Programme. He is a keen contributor to the Kenya Bird Map Project; and is also an active member of Nature Kenya.
Alex Mwangi
Alex was born and raised at the foothills of Mt. Kenya; where his interest in nature and animals began. Today, he is one of the top naturalists in the beautiful Mt. Kenya region, Africa's second highest mountain. During his childhood days, he would spend his leisure time watching National Geographic films. He continued his passion for nature through his school days. He enrolled as a member of the Wildlife Clubs of Kenya and begun practicing as a tour guide while still in high school. He later joined Dedan Kimathi University of Technology for a Tourism Management degree course. After completing his university education, he joined the Mt. Kenya Biodiversity Conservation Group; a local Site Support Group affiliated with Nature Kenya. Through the group, he has managed to engage local community members in birds' conservation and regularly leads bird walks at the Mt. Kenya Forest and its environs. He is passionate in research and biodiversity profiling projects. While in campus, he conducted a research project on the population of Hinde's Babblers in the Mukurwe-ini region; an endangered species that is also endemic to Kenya. He has also completed a certificate course in Fundamentals of Ornithology at Elsamere Field Study Centre. He is a member of Nature Kenya- the East Africa Natural History Society. He is also very passionate in plants and insects, and often engages his tour groups in amazing fun facts about the flora and insects of East Africa. He has continued to enrich his skills by traveling across many parts of Kenya, making him an all rounded and resourceful guide. His passion and humble personality in the field makes him one of the most exciting people to enjoy a safari with.
Dorothy Mkala
Dorothy is a Kenyan who lives and works in Nairobi. Like the Swahili language itself, she was born and raised in the Kenyan Coast, so her proficiency in Swahili comes naturally. Her experience with languages and culture since childhood, has been a major contributor to her undisputed passion in Swahili, a language with its roots in the interaction of Arabic culture with the numerous communities at the coast. Furthermore, she studied Marketing and Communications and is currently pursuing a degree in Sociology. She has helped a number of people of all ages to learn Swahili, both formally and informally. Whether a beginner, intermediate level or at any age, you will certainly enjoy the series of flexible classes that are tailored to suit your needs.
Wilfred Savali
Wilfred was born and raised in Ukambani, Eastern Kenya. He has always been passionate about environmental awareness creation and poverty eradication. He holds a Bachelors degree in Environmental Science. He also has a Certificate in Leadership Development and Mentorship from Kenyatta University. Wilfred became passionate about the environment at a tender age, participating in activities such as tree planting and clean ups during his primary school days. He later became a Wildlife Club Chairperson in Maranatha School where he spearheaded conservation activities and environmental awareness creation. He has participated in environmental activities in the National Museums of Kenya, Kenya Organisation for Environmental Education and Kenyatta University. Wilfred has been part of many research projects especially at National Museums of Kenya. He is a member of the Kenya National Committee for World Wetlands Day preparations. He formerly served as a Project Leader at Imagine IMC LTD. Wilfred is also a talented writer and has published many environmental blog articles that have reached many people across the world. Wilfred is a licensed Environmental Impact Assessment and Audit (EIA/EA) Associate Expert and also has a keen interest in Occupational Health and Safety.
Let's plan your next adventure in East Africa.