Southern Tanzania Birding And Wildlife Safari Tour


Rubeho Warbler (formerly Mrs. Moreau's Warbler)

Southern Tanzania Birding And Wildlife Safari Tour

TOP BIRDS OF THE TOUR
Tanzania/ Kipengere Seedeater
Bohm's Bee-eater
Ruvu Weaver
Uluguru Bush-Shrike
Winifred's Warbler
Rubeho Warbler
Livingstone's Flycatcher
Kilombero Cisticola
Pel's Fishing Owl
Rufous-winged Sunbird
Swynnerton's Robin
White-winged Apalis
TOP MAMMALS OF THE TOUR
Udzungwa Red Colobus Monkey
Striped Bush Squirrel
African Lion
Greater Kudu
Savannah Elephant
Marsh Mongoose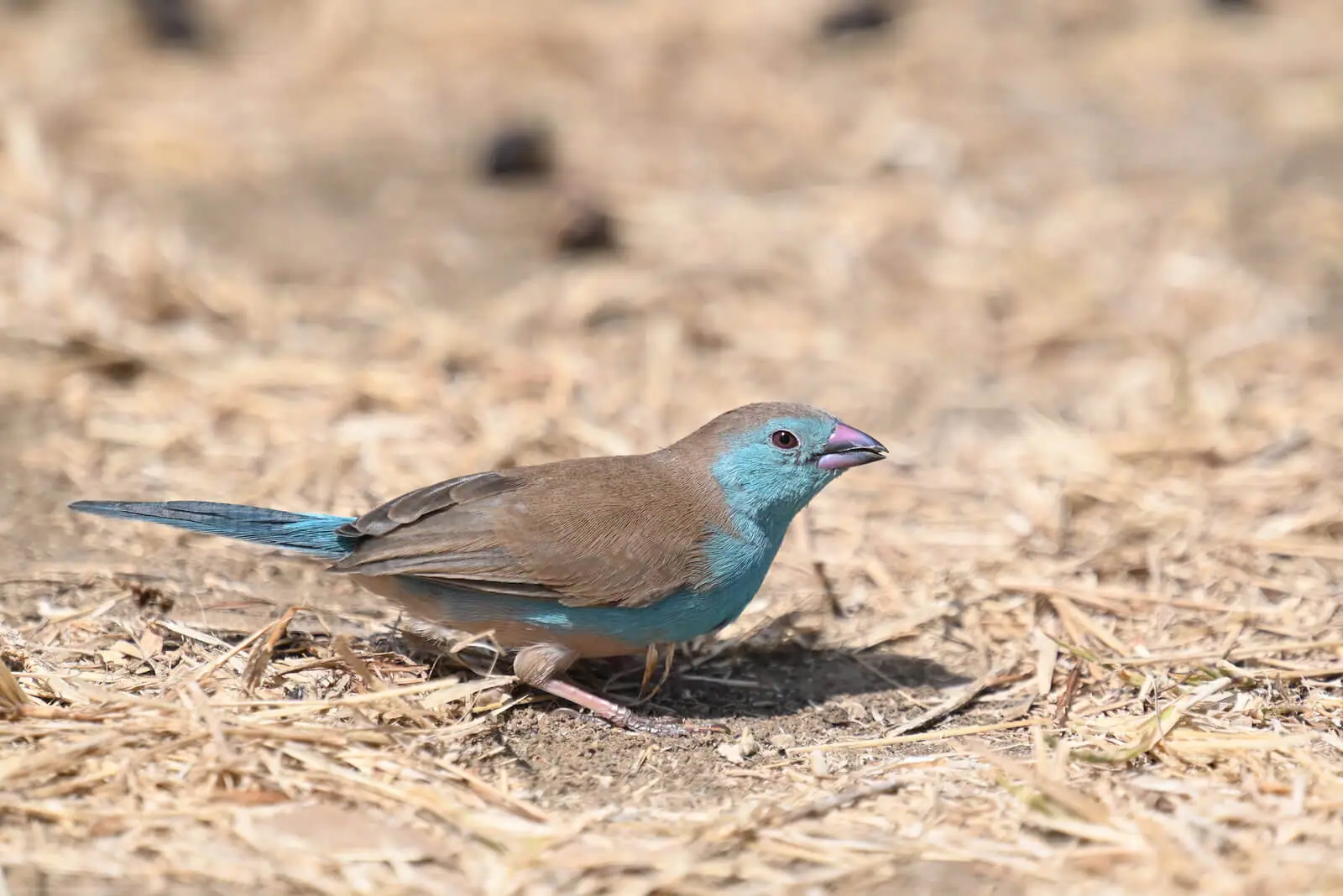 Southern Cordon-bleu/ Blue Waxbill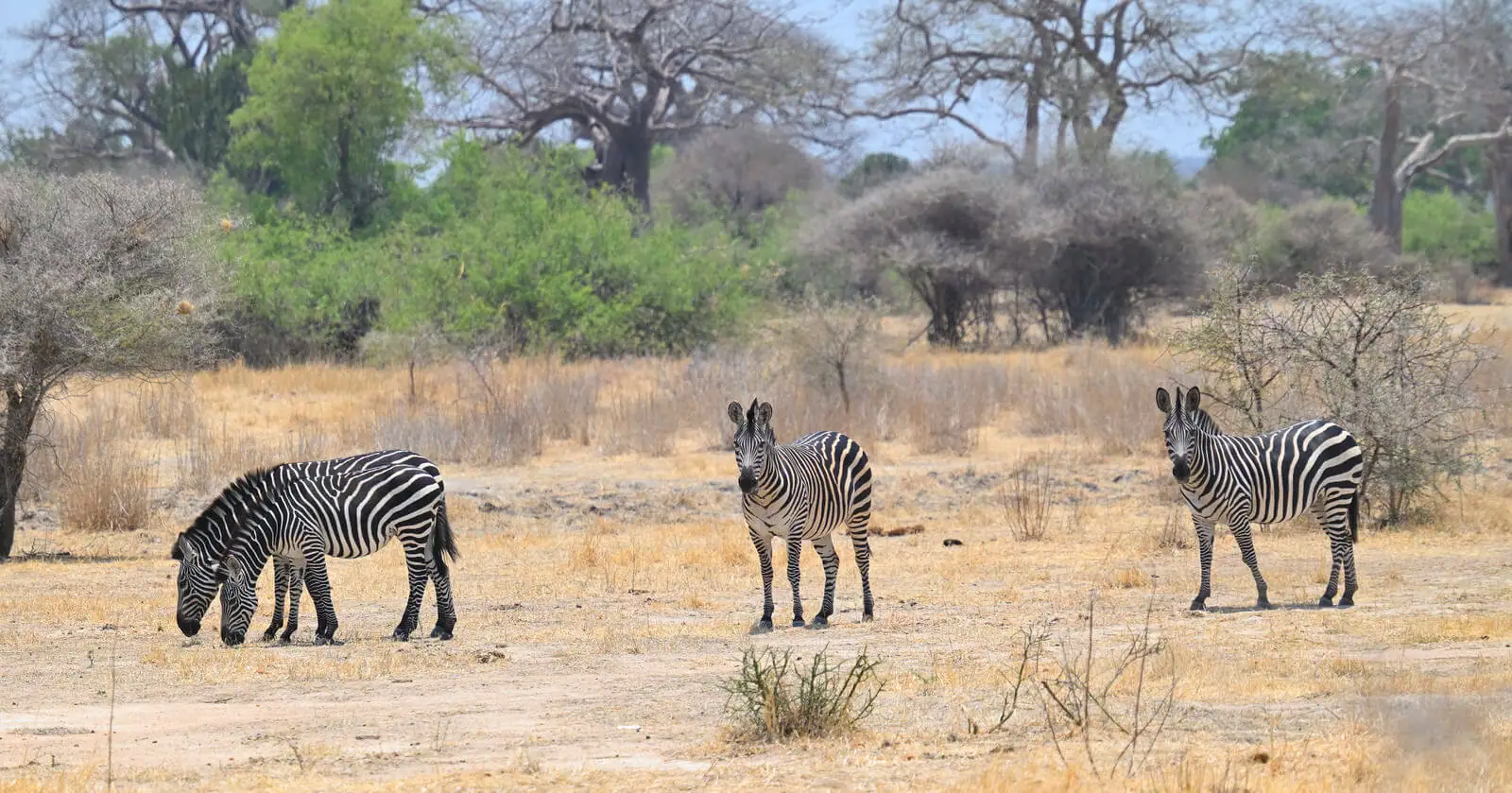 Common Zebras in Ruaha National Park
ARRIVAL IN DAR ES SALAAM, TANZANIA
Our tour started in the city of Dar es Salaam. We spent the night here as we prepared for the adventure ahead.
Dar es Salaam is the largest and busiest city in Tanzania with well-established tourism infrastructure. The rhythm of the city of Dar es Salaam represents amazing African culture as this vibrant city is always buzzing with life.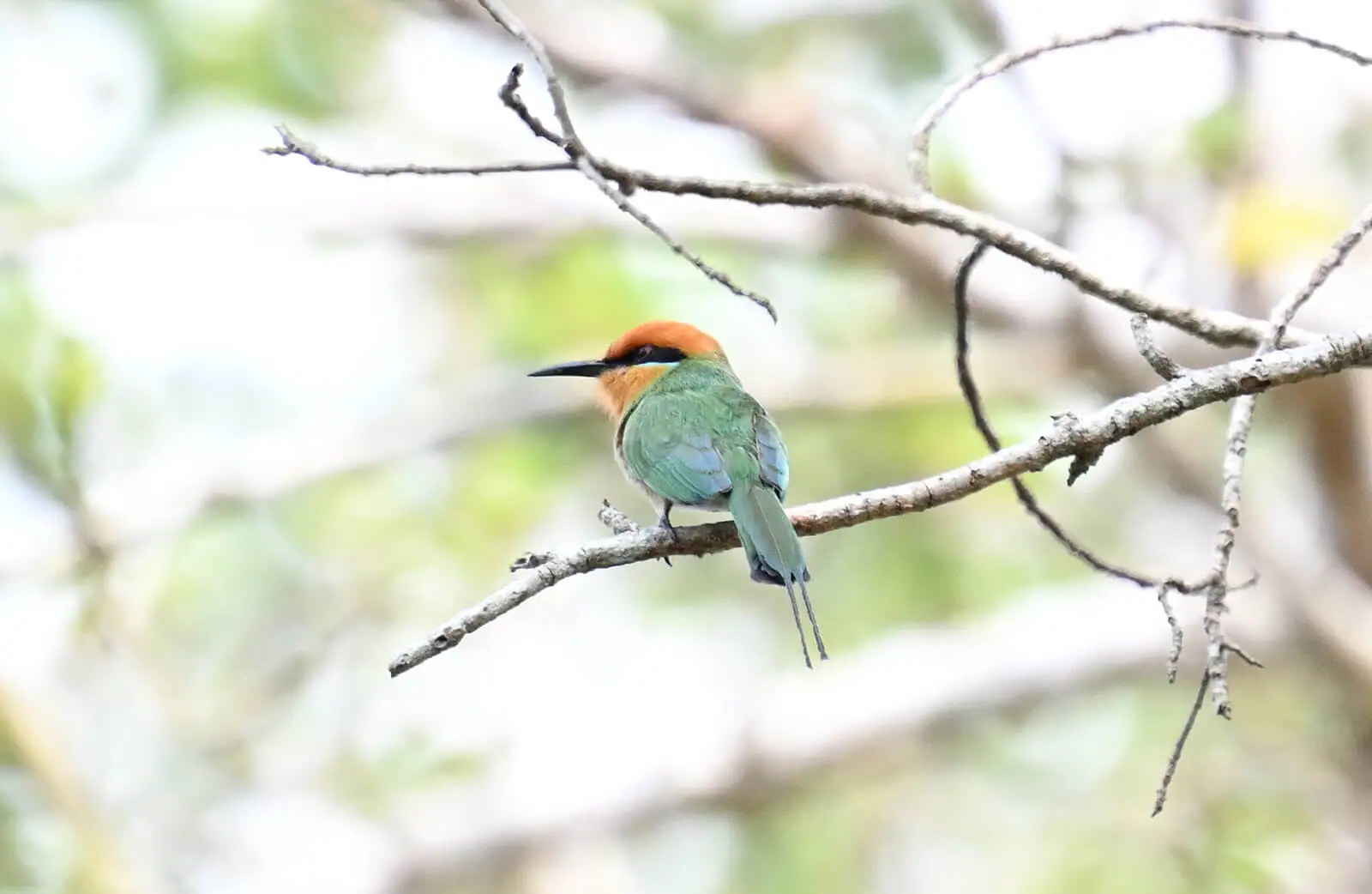 Bohm's Bee-eater
JULIUS NYERERE NATIONAL PARK (SELOUS GAME RESERVE)
We left Dar es Salaam and continued to the mighty Julius Nyerere National Park. This park was recently re-classified as the Northern part of the largest Game Reserve in Africa i.e. Selous Game Reserve.
We enjoyed some great roadside birding sampling some local wetlands, bushes and roadside forests. We managed to add some great species such as Burchell's Coucal, Broad-billed Roller, African Openbill/ Open-billed Stork, Coastal Cisticola, Yellow-bellied Greenbul, Ruvu Weaver (formerly classified with African/ Eastern Golden Weaver), Malagasy/ Madagascar Pond-Heron, and Collared Palm Thrush.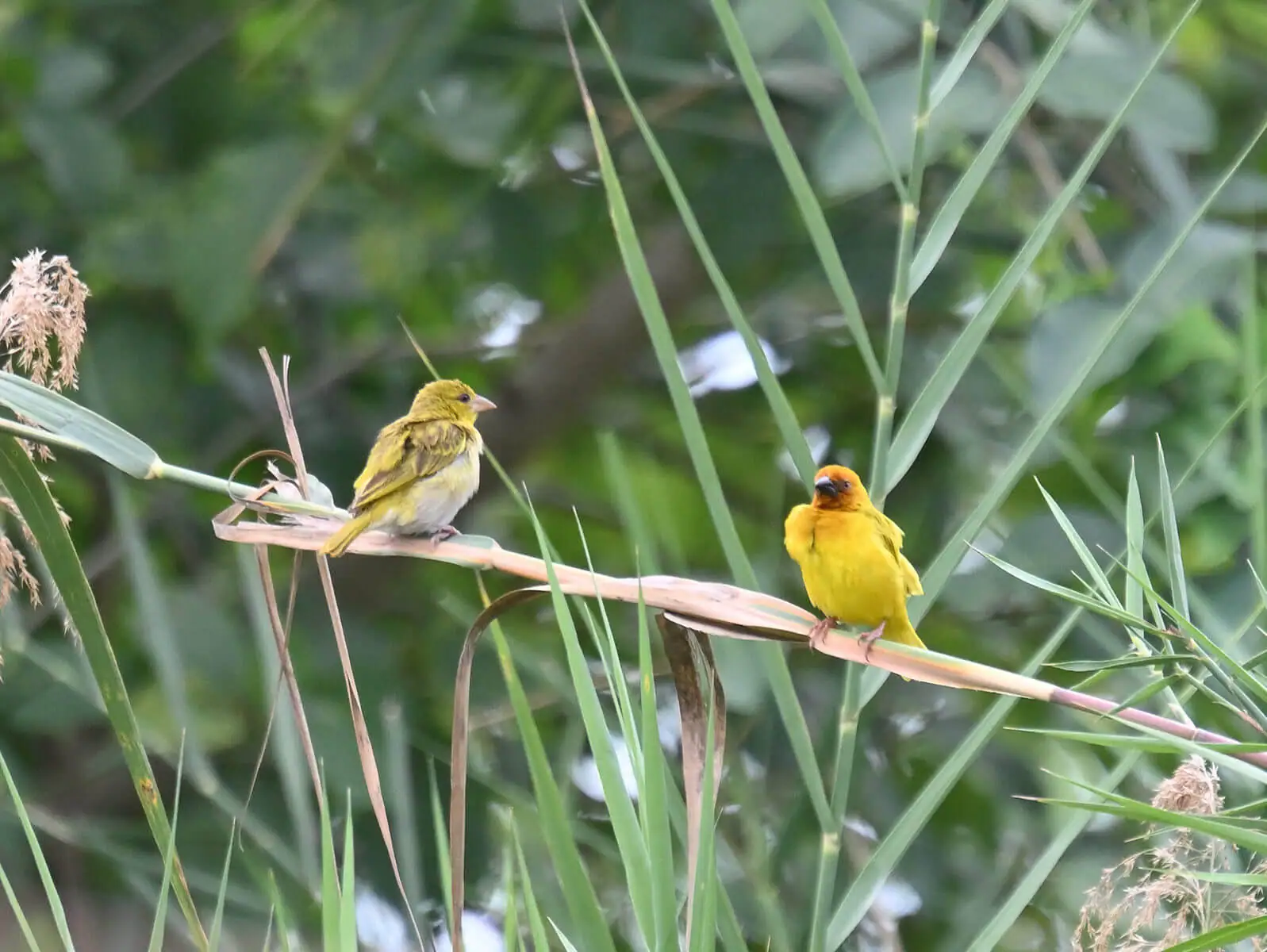 Ruvu Weavers
On reaching Julius Nyerere National Park, we started our game drive by driving along the mighty Rufiji River, a habitat that has, for many years, made Selous Game Reserve very famous. It was quite dry in the whole park with most trees having shed their leaves. This made great animals concentrations along the Rufiji River. We enjoyed many Savannah Elephants, Tanzania Syke's Monkeys, Common Impalas, Southern Yellow Baboons, Common Warthogs, Striped Bush Squirrels, Common Waterbucks, Bushbucks, Maasai Giraffes, Common Zebras and Common Hippos. We also had great views of Greater Kudu and a Yellow-winged Bat. Along the river, Nile Crocodiles were plenty; as they enjoyed basking by the sandy banks.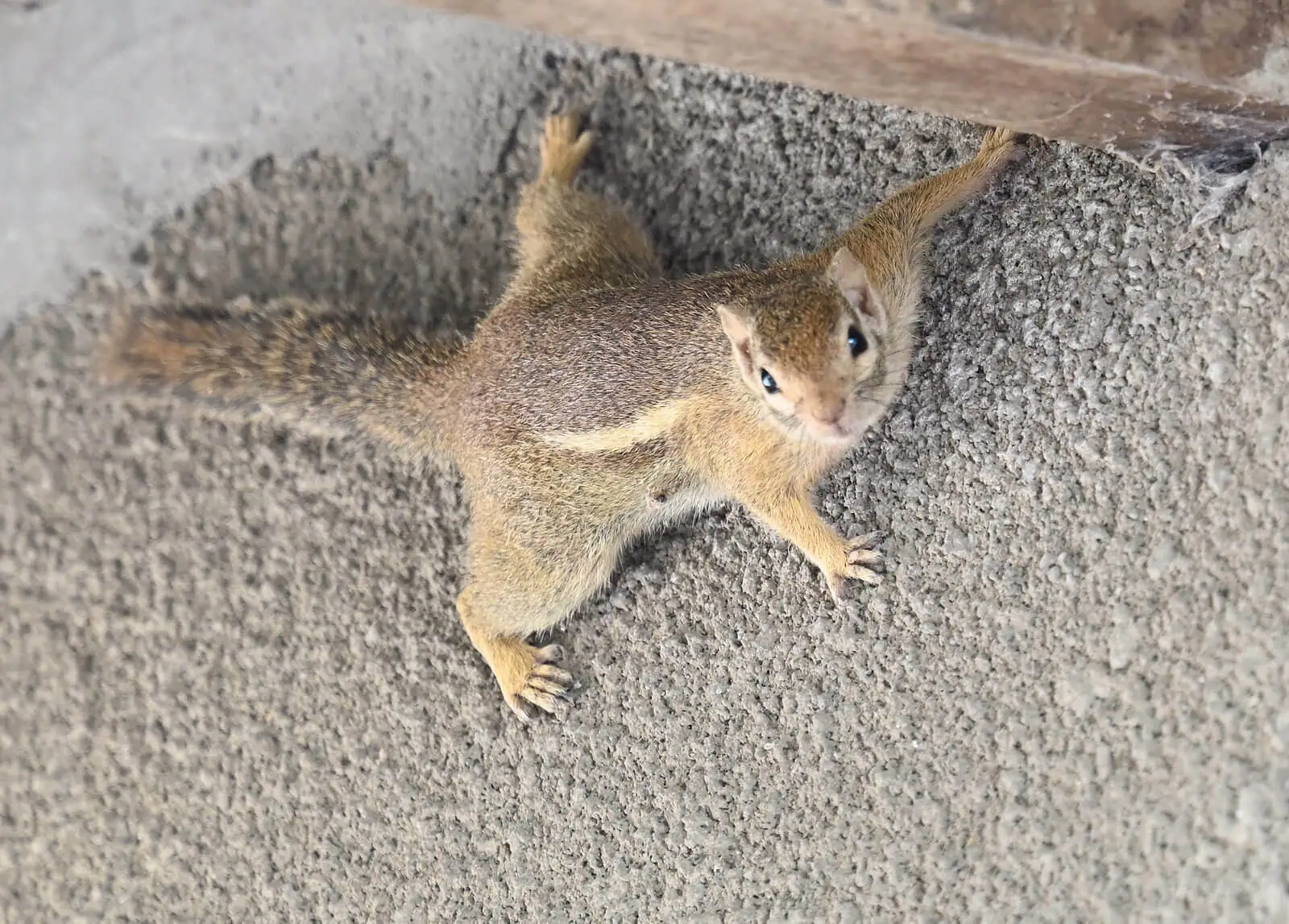 Striped Bush Squirrel
Birds were also plentiful all across Julius Nyerere National Park. Some of the highlights included Brown-headed Parrot, Grey Go-away-bird, White-headed/ crowned Lapwing, Fasciated/ Southern Banded Snake-Eagle, Common Scimitarbill, Southern Ground-Hornbill, Trumpeter Hornbill, Brown-hooded Kingfisher, Long-tailed Fiscal, Crested Barbet, Brown-breasted Barbet, Greater Honeyguide, Eastern Black-headed Batis, Retz's Helmet-Shrike, Miombo Blue-eared Starling, (Southern) Red-headed Weaver, Eastern Nicator, Bohm's Bee-eater, White-fronted Bee-eater, Green-backed/ Little Spotted Woodpecker, Southern Cordon-bleu/ Blue Waxbill, Goliath Heron and Black Heron.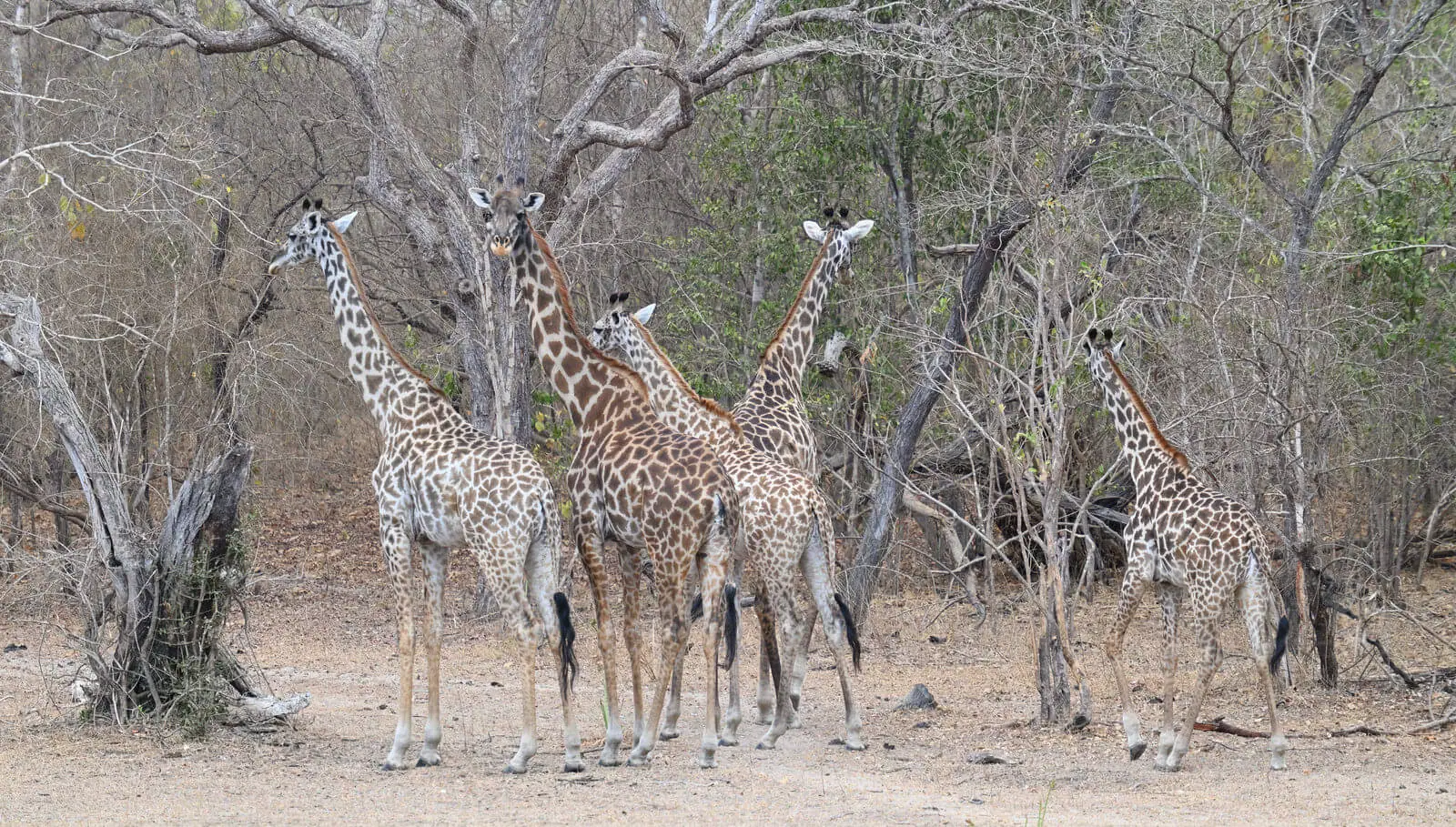 Maasai Giraffes
ULUGURU MOUNTAINS
Our next destination was the expansive Eastern Arc Mountain block known as Uluguru Mountains. This remote site is known for its endemic species, some bearing the name Uluguru. We dedicated enough time here to sample different locations, where we birded three forest blocks; around Tegetero and Bunduki.
Uluguru Bush-Shrike
On the Eastern Uluguru Mountains, we focused our attention on finding the elusive endemic i.e. Uluguru Bush-Shrike. We managed to get at least five individuals during our time here. Three were rather shy, but two showed very well. The two Uluguru Bush-Shrikes put on a great show, and we enjoyed them exchanging food for gifts.
We then dedicated time in the Western Uluguru Mountains where we searched for the Winifred's Warbler (formerly Mrs. Moreau's Warbler) and Uluguru (Mountain) Greenbul. We enjoyed wonderful views of both species at multiple sites.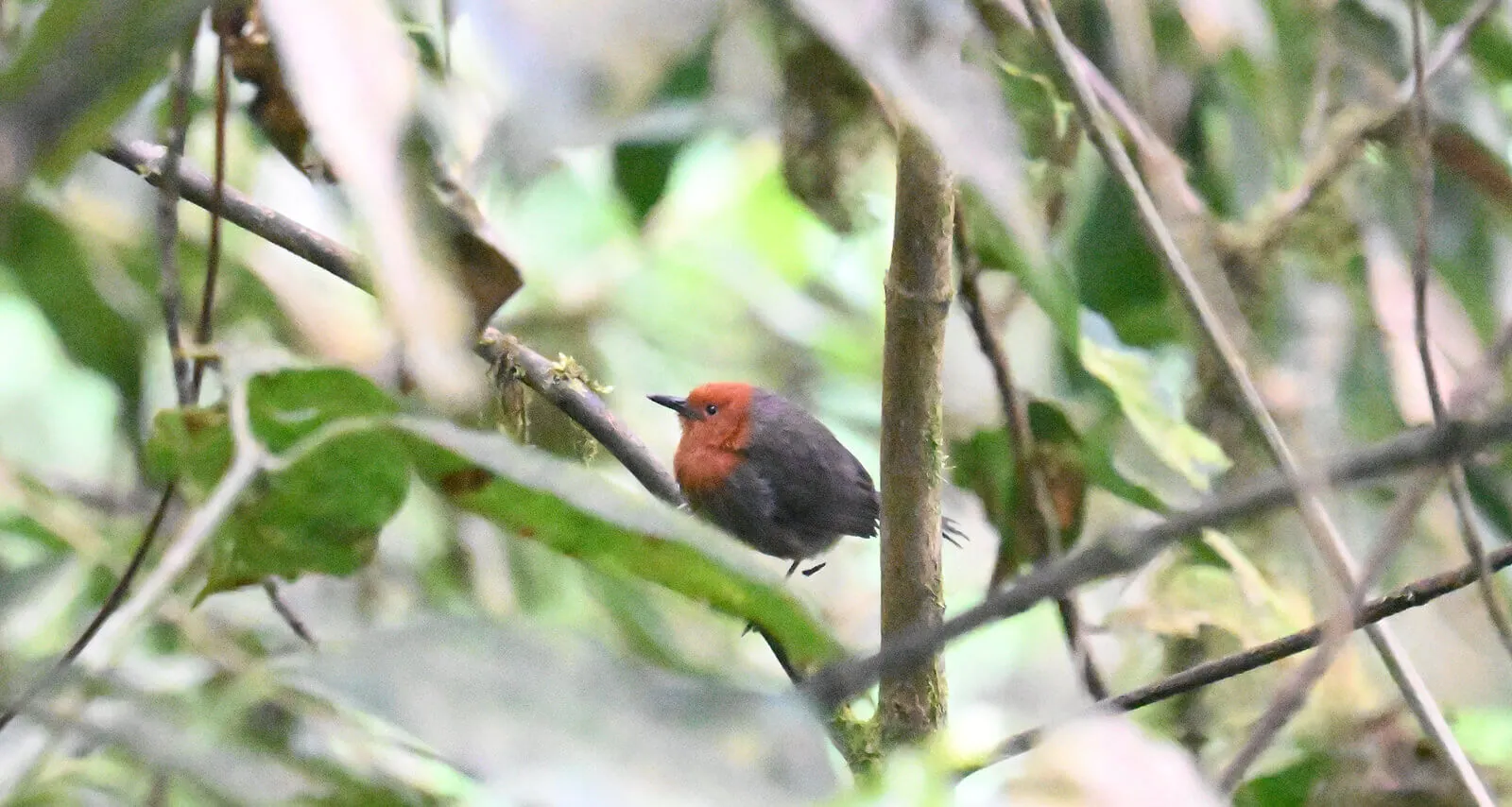 Winifred's Warbler (formerly Mrs. Moreau's Warbler)
Other exciting birds that we enjoyed in the Uluguru Mountains included Livingstone's Turaco, Bar-tailed Trogon, Green Barbet, Moustached Tinkerbird, African Broadbill, Dark Batis, Black-throated Wattle-eye, Green-headed Oriole, White-tailed Crested-Flycatcher, Moustached Grass-Warbler, White-winged Apalis, Evergreen-forest Warbler, Shelley's Greenbul, Brown Woodland-Warbler, Yellow-throated Woodland-Warbler, Sharpe's Akalat, Waller's Starling, Orange Ground-Thrush, White-chested Alethe, African Hill Babbler, Southern Yellow White-eye, Red-faced Crimsonwing, Uluguru Violet-backed Sunbird, Loveridge's Sunbird, Bertram's Weaver, Usambara Weaver, Trilling Cisticola and Cabanis's Bunting.
Loveridge's Sunbird
Mammals were also interesting in the Uluguru Mountains; especially a rare sighting of a leucistic Peter's Angola Colobus Guereza Monkey. We also enjoyed many Tanzanian Syke's Monkeys and Ochre Bush Squirrels. On our last walk, we had a great record of a Bearded Pygmy Chameleon and Olive Marsh Snake.
RUBEHO MOUNTAINS (UKAGURU MOUNTAINS)
After enjoying the great Uluguru Mountains, we headed North through the busy town of Morogoro to another remote destination – Rubeho Mountains. We explored the very productive Ukaguru Mountains section. These mountains are famous for hosting several Rubeho-endemic species.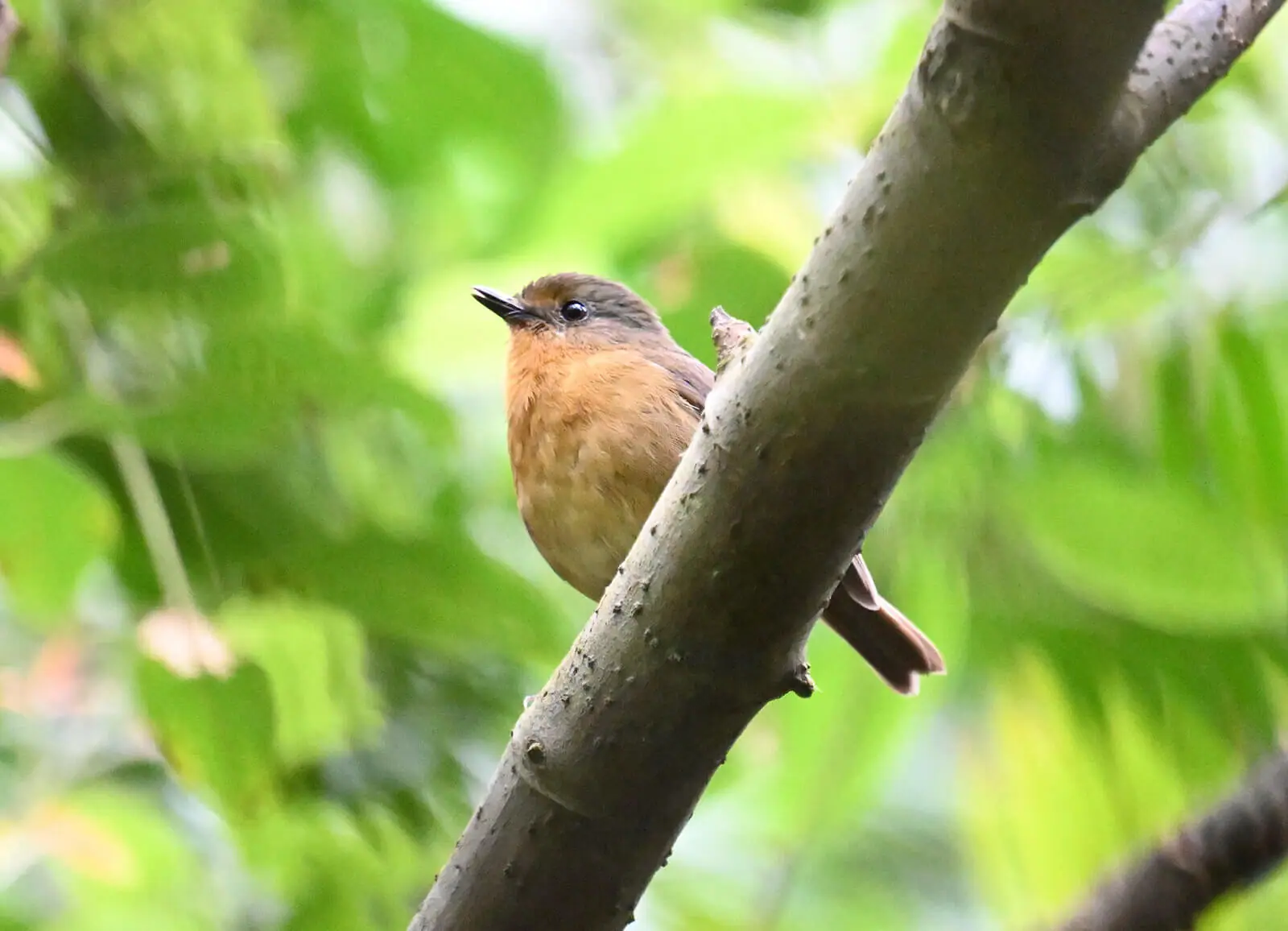 Rubeho Akalat
The forest was quite foggy as we approached but it soon cleared up and we had great walks. Along the main forest track, we scored Chapin's Apalis, Oriole-Finch, Kenrick's Starling, Rubeho Warbler (formerly Mrs. Moreau's Warbler), Southern Citril and Moreau's Sunbird. Moving deeper along the smaller trails, we added Yellow-throated Mountain Greenbul, African Tailorbird/ Red-capped Forest Warbler, Fulleborn's Boubou and Common Square-tailed Drongo.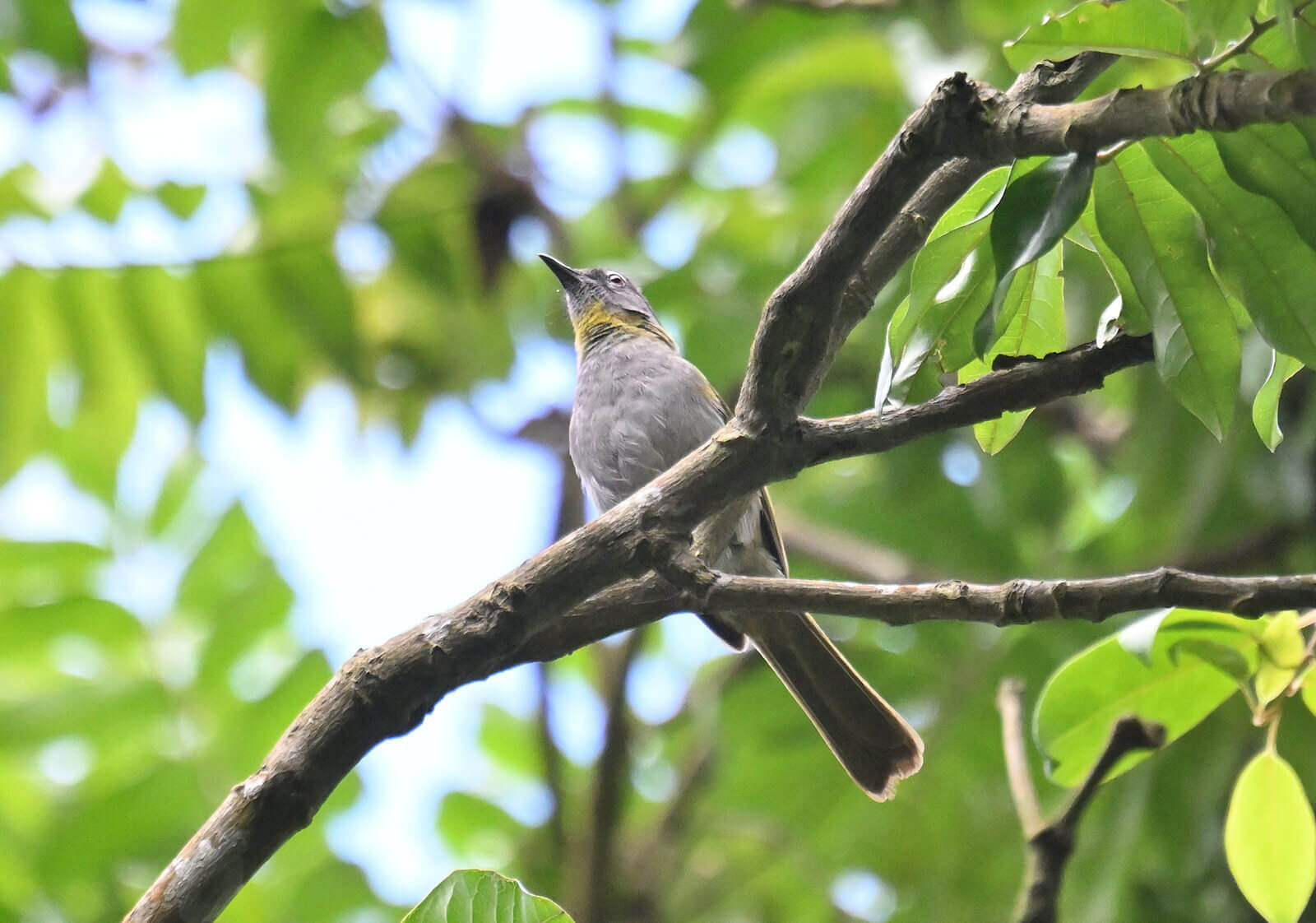 Yellow-throated Mountain Greenbul
We then enjoyed birding along a small wet glade deep inside the forest. The path here was buzzing with bird sounds. Soon, we managed to track down some great species; including Rubeho Akalat and Olive-flanked Robin-Chat/ Ground Robin.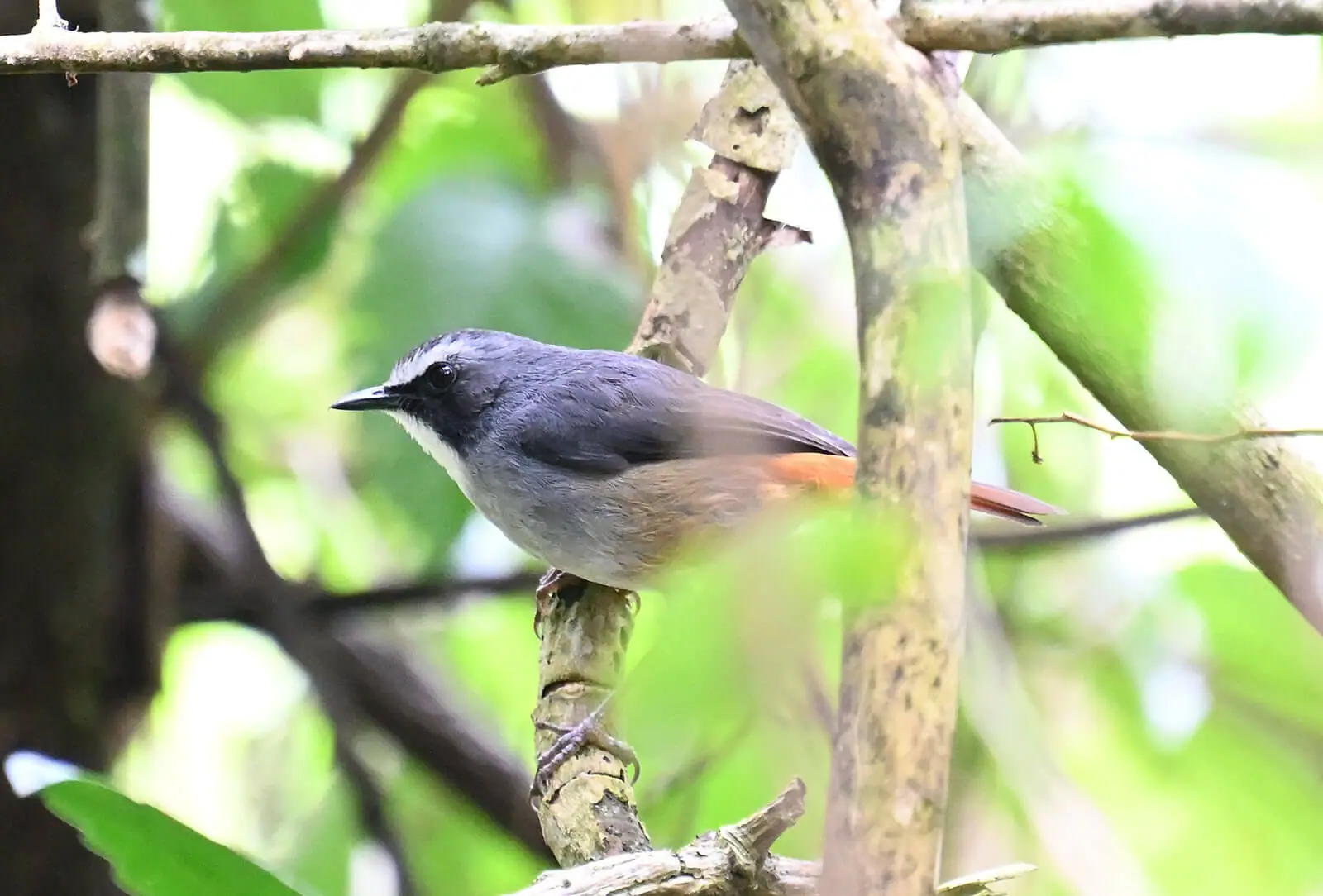 Olive-flanked Robin-Chat/ Ground Robin
MIKUMI NATIONAL PARK
We continued our tour from the Rubeho Mountains (Ukaguru Mountains) into the expansive Mikumi National Park. Here we sampled different habitats to increase our chances of finding more species. We enjoyed some wonderful savannah grasslands and small wetlands; although most wetlands were dry. We also spent a good amount of time birding the unique Miombo Woodland habitat; where the forest was quite dry and trees had shed most leaves.
Racket-tailed Roller
We enjoyed many wonderful birds here such as Saddle-billed Stork, Northern Pied Babbler, Black-bellied Bustard, Desert Cisticola, Brown-backed/ Wahlberg's Honeybird/ Honeyguide, Pale Batis, Yellow-throated Bush Sparrow/ Petronia, Miombo Blue-eared Starling, Racket-tailed Roller, Neddicky/ Piping Cisticola, Arnot's/ White-headed Black Chat, Green-backed Camaroptera, Livingstone's Flycatcher, Hofmann's Sunbird (formerly tied in with Shelley's Sunbird), Kurrichane Thrush, Cinnamon-breasted/ Rufous-bellied Tit, Lead-coloured/ Grey Tit-Flycatcher, Green-capped Eremomela, Ovambo Sparrowhawk and Long-tailed Fiscal.
Hofmann's Sunbird (formerly tied in with Shelley's Sunbird)
Mammals were abundant and we had wonderful views of African Lions, Common Zebras, Common (Johnston's or Nyasa) Wildebeest, Southern Yellow Baboon, Peter's Angola Colobus Monkey, Tanzanian Syke's Monkey, Common Eland, Bushbuck, Common Warthog, Bohor Reedbuck, Maasai Giraffe, Common Impala and Savannah Elephants. We also added the Blue-headed Tree Agama to our reptiles list.
African Elephant
KILOMBERO SWAMP
We enjoyed a day visit to the beautiful Kilombero Swamp; near Ifakara. This expansive wetland and floodplain hosts three recently described species – all of which are endemic to Tanzania. Our quest here saw us score all three species, with Kilombero Cisticola and White-tailed Cisticola being the best birds of the day. Kilombero Weavers were abundant too, although the area was quite dry and most birds were not breeding.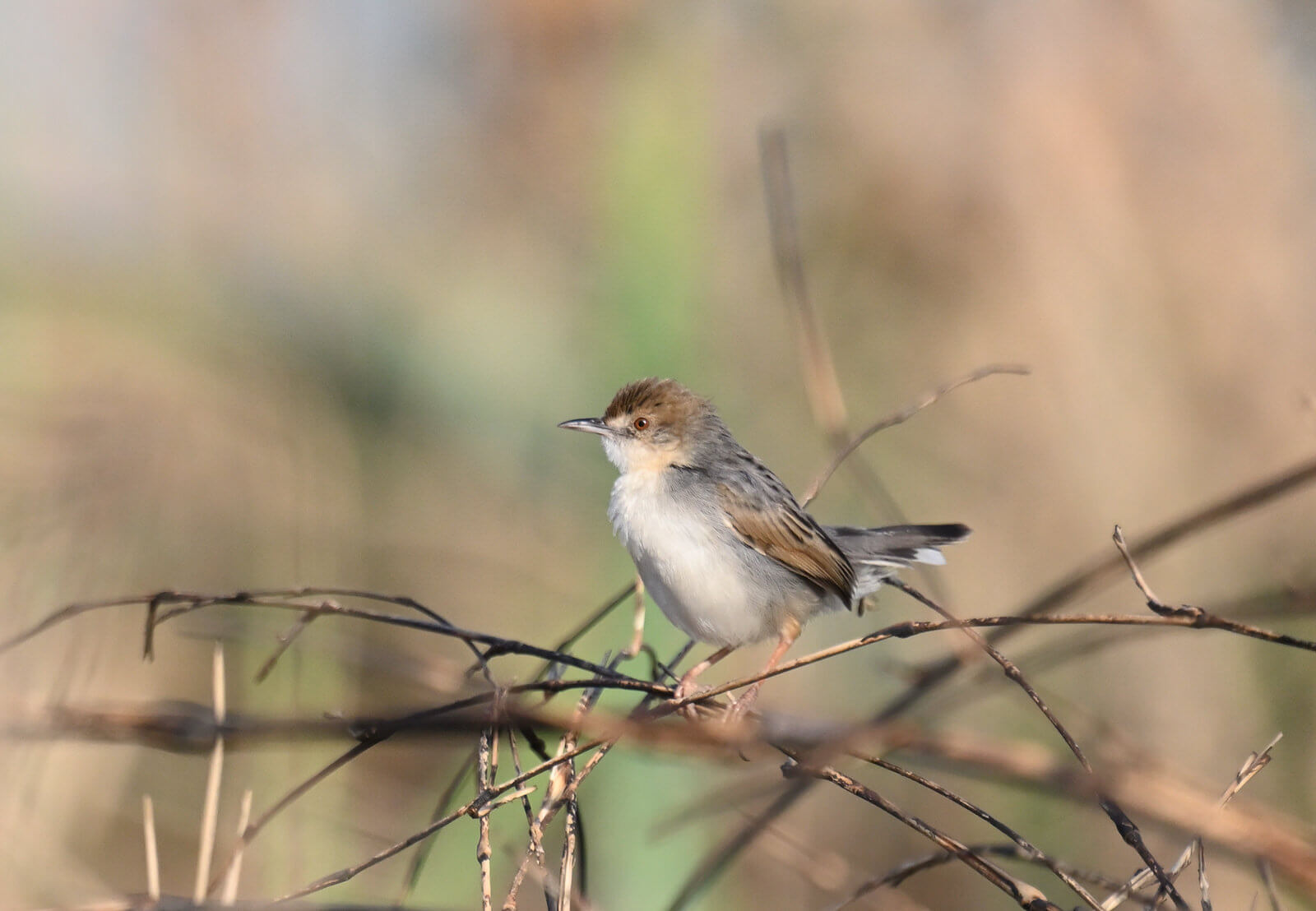 White-tailed Cisticola
Other birds seen here included Coppery-tailed Coucal, Slender-tailed Nightjar, African Wattled Lapwing, Marsh (Anchieta's) Tchagra, African Reed Warbler, Fan-tailed Widowbird, Zebra/ Orange-breasted Waxbill and Collared Pratincole.
Kilombero Cisticola
UDZUNGWA MOUNTAINS
After our time at Kilombero Swamp, we explored the Udzungwa Mountains in three stages. We spent a good amount of time for every site to maximize our sightings.
Our time in the East Udzungwa Mountains was spent at low elevation, as we sought local species in small farms around Sanje. We then explored the nearby sections of the wider Udzungwa Forest. Here we also sampled a few glade reservoirs and local streams. Some of the highlight birds seen here included African Cuckoo and Magpie Mannikin. On one evening, we went out for a night search and recorded two Pel's Fishing Owls.
Pel's Fishing Owl
We then enjoyed the West Udzungwas, birding at both low and high elevations. Our hike in the West Udzungwa Mountains took us to Luhala, sometimes known as Luwala/ Luala. The highlands of Udekwa were very kind to us as we went up and afforded us some great species. We hiked above 2,000m altitude for some of the species. The forest was quite dry but that meant the roads were much more passable. We birded a variety of habitats to maximize our species; including montane grasslands, primary forest, wetlands and forest edges.
Usambara Weavers
Some of the highlight birds included Spot-throat, Yellow-browed Seedeater, Black-lored Cisticola, Kipengere/ Tanzania Seedeater, Yellow-streaked Greenbul, Yellow-throated Mountain Greenbul, Olive-flanked Robin-Chat/ Ground Robin, White-chested Alethe, Moreau's Sunbird, Malachite Sunbird, Jameson's Firefinch, Udzungwa Forest Partridge, Olive Woodpecker, Dark Batis, African Broadbill, Sharpe's Akalat, Iringa Akalat, Usambara Weaver, Lemon Dove, Rameron/ African Olive Pigeon, Delegorgue's/ Eastern Bronze-naped Pigeon, Chapin's Apalis and White-winged Apalis. During the night searches we added African Grass Owl, Rwenzori/ Usambara/ Montane Nightjar and Freckled Nightjar.
Udzungwa Red Colobus Monkey
Sharpe's Angola Colobus Monkeys and Tanzanian Sykes's Monkeys were plenty along the trails. On our hike down we added a beautiful Udzungwa Red Colobus Monkey. At one camp, two Marsh Mongooses joined us at the campsite. Eastern Tree Hyraxes also entertained us at night, with their unique sounds.
Here we also found Variable Skinks at two spots.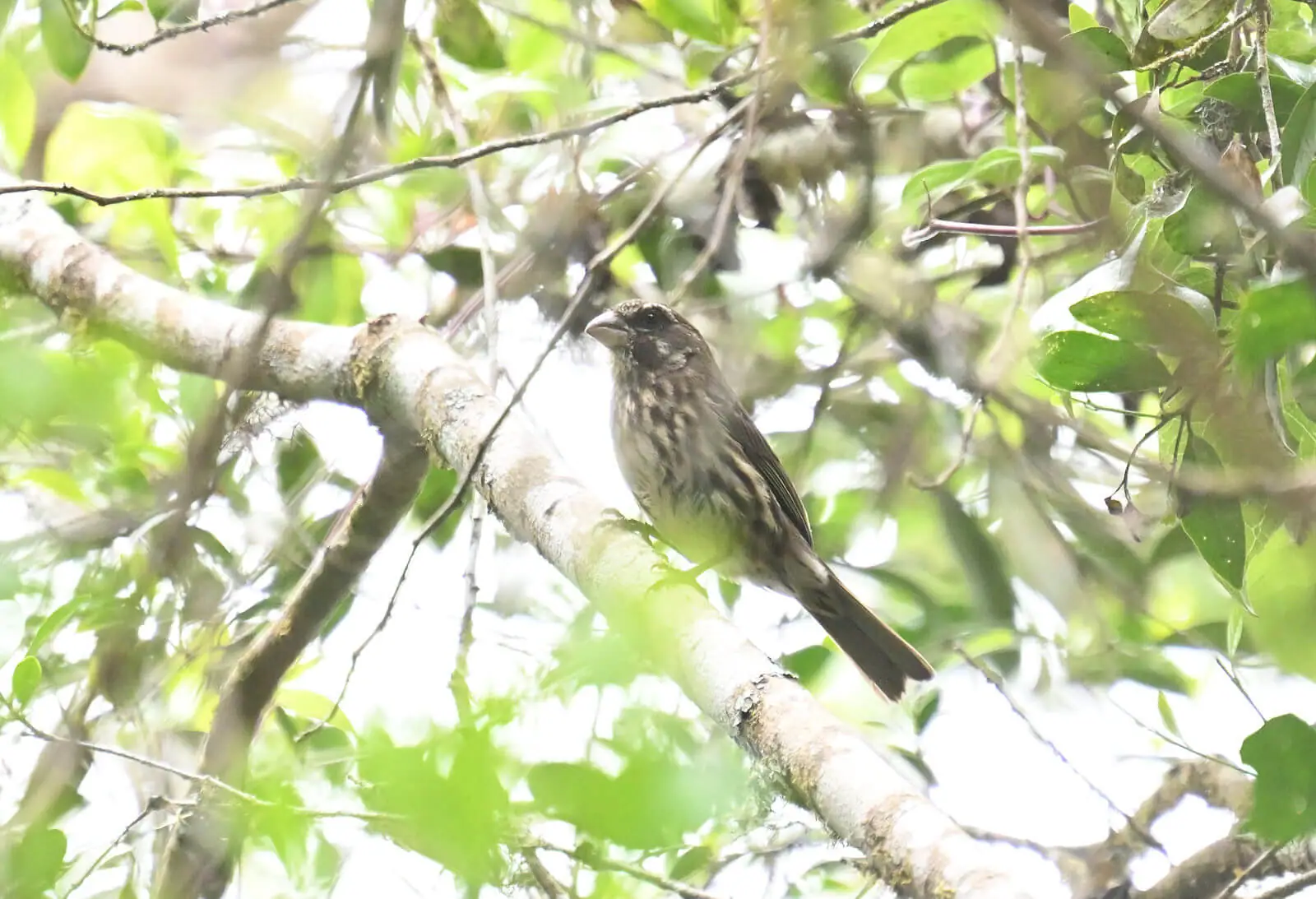 Kipengere/ Tanzania Seedeater
WEST UDZUNGWA SCARP NATURE FOREST RESERVE (ULUTI FOREST)
We then enjoyed the West Udzungwa Scarp Nature Forest Reserve, also known as Uluti Forest. This is a great destination for beautiful forest walks, located near the Highlands of Iringa. The forest was quite dry too but the birds were very active.
Bertram's Weaver
Our main targets here were two amazing birds i.e. the Tanzanian endemic Rufous-winged Sunbird and the rare Swynnerton's Robin. We had amazing success with both species offering us great views.
Other exciting birds seen in the forest and forest edges included Iringa Akalat, Crowned Eagle, Angolan Swallow, Green-backed Camaroptera, Common Square-tailed Drongo, Forest Weaver, Grey Cuckoo-Shrike, Dapple-Throat/ Dappled Mountain-Robin, Spot-throat, Bertram's Weaver, Yellow-browed Seedeater, White-winged Apalis, Black-headed Apalis and Black-lored Cisticola.
Rufous-winged Sunbird
The dawn chorus here is one of the best African "bush choir". As expected, the African Wood-Owl was first, followed by a trio of African Broadbills competing for who would be loudest. One individual literally displayed over our tents. A Bar-tailed Trogon pair was also at it. The Livingstone's Turaco was next. Then other species joined, and soon there were dozens of birds calling in every direction.
During the day, we enjoyed Tanzanian Sykes's Monkeys. Then, Eastern Tree Hyraxes entertained us at night.
On our way out, we took some detours and stops to search for the Njombe/ Churring Cisticola, Forest Double-collared Sunbird and Uhehe/ Southern Fiscal. We managed to score all species with wonderful views of each.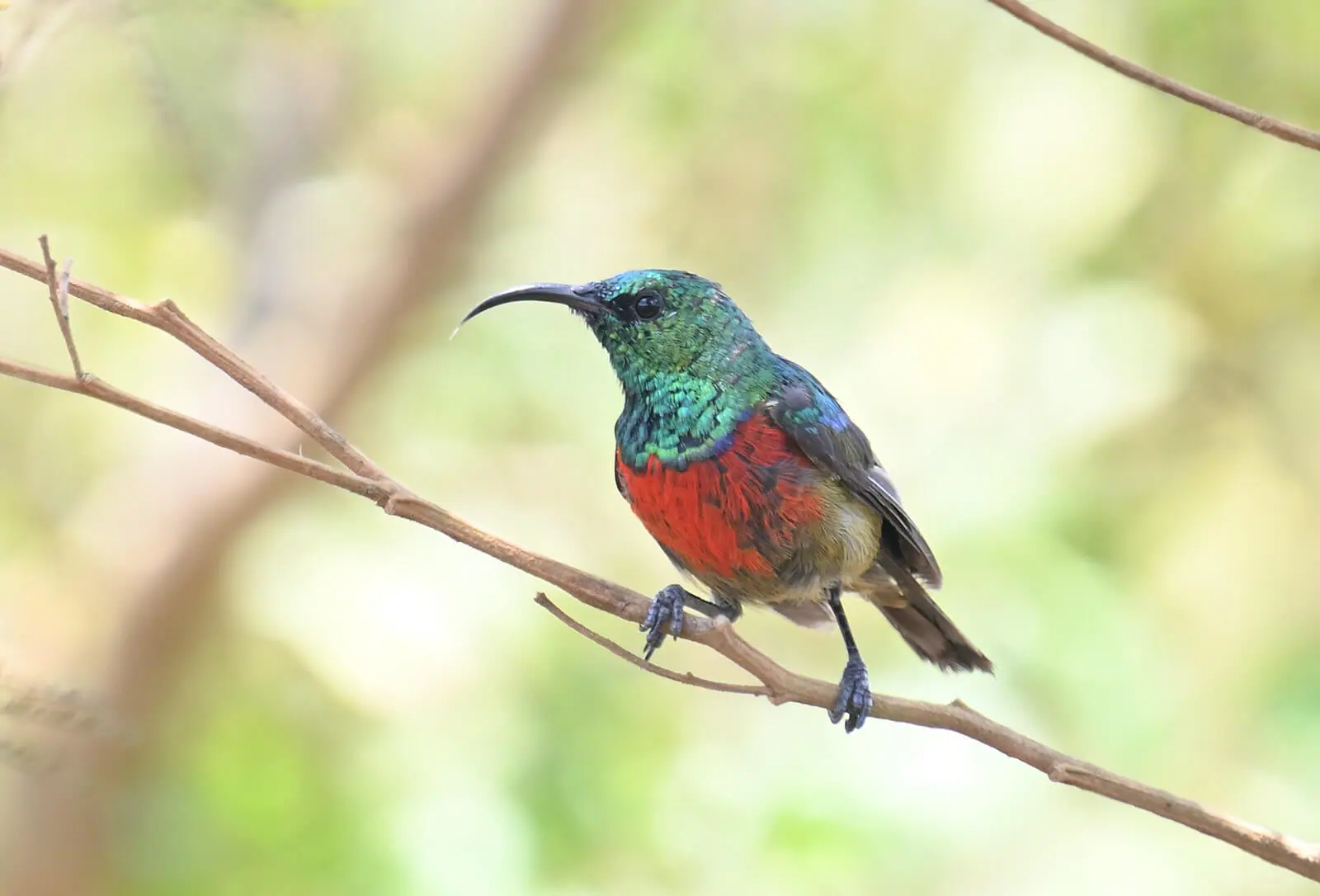 Forest Double-collared Sunbird
KISOLANZA – MAFINGA AREAS
We then took a short detour to the Kisolanza – Mafinga area where we were hoping to target the Western Miombo Sunbird. Most trees had shed their leaves, but flowers were abundant, especially on the Erythrina species.
After a dedicated search, we connected with a beautiful male Western Miombo Sunbird and spent a good amount of time observing it. It was later joined by another individual and they chased around the trees for a few minutes.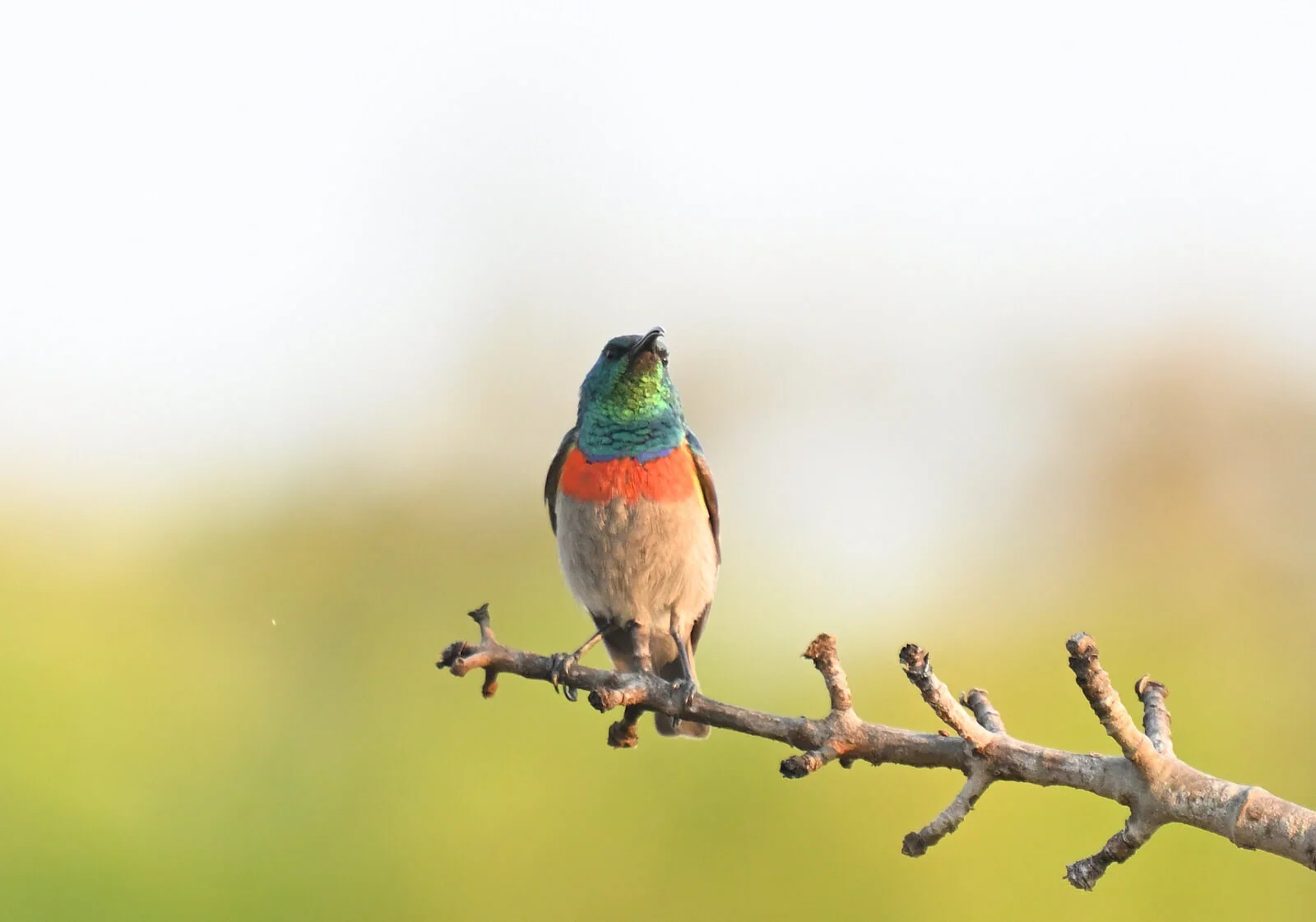 Western Miombo Sunbird
Here we also enjoyed Ashy Flycatcher, Pale Batis, Cardinal Woodpecker, Kurrichane Thrush, Miombo Wren-Warbler, Marico/ Mariqua Sunbird, Square-tailed Nightjar, Brimstone Canary, Baglafecht Weaver of the race sharpii and African Marsh-Harrier.
Baobab trees
RUAHA NATIONAL PARK
We concluded our adventure in Southern Tanzania by visiting the expansive Ruaha National Park. Ruaha National Park is Tanzania's largest national park. This massive park is bathed by the Great Ruaha River, which serves as the lifeline of the ecosystem. Being the dry season, most of the park was dry and therefore animals congregated around the Great Ruaha River, offering great viewing opportunities. The iconic Baobab trees illuminated our journey across the park.
African Lions
We enjoyed many mammals here. These included a pride of African Lions that had killed a Maasai Giraffe, African Elephants, Common Hippos, Greater Kudus, Maasai Giraffes, Common Impala, Ugogo/ Thomas's Dik-dik, Banded Mongoose, Black-backed/ Silver-backed Jackal, Yellow-spotted Rock/ Bush Hyrax, Common Zebras and Defassa Waterbuck.
Tanzanian/ Ruaha Red-billed Hornbill
Birds were abundant here and we scored Tanzanian/ Ruaha Red-billed Hornbill, Southern Ground-Hornbill, Bearded Woodpecker, Bare-faced Go-away-bird, Water Thick-knee, White-crowned/ headed Lapwing, Green Sandpiper, Saddle-billed Stork, Goliath Heron, Hooded Vulture, Grey Kestrel, Emin's/ D'Arnaud's Barbet, Nubian Woodpecker, Meyer's/ Brown Parrot, Brown-crowned Tchagra, Black-faced Sandgrouse, Magpie Shrike, Miombo Wren-Warbler, Yellow-bellied Greenbul, Western Violet-backed Sunbird, Grey-headed/ capped Social-Weaver, Black-necked Weaver, Swahili Sparrow, Cinnamon-breasted Bunting, White-bellied Bustard, Superb Starling and Ashy Starling.
From here we enjoyed our flights home, marking the end to a wonderful tour.
Bearded Pygmy Chameleon
Greater Kudu
Olive Marsh Snake
To book a custom Southern Tanzania Birding And Wildlife Safari Tour or our regular Southern Tanzania Birding Tour, please contact us today.