Cisticola Tours Guide, Washington Wachira, exceeds 1,000 species in one East African Birding Big Year (2022)
Birding is a great passion and a career base for all Tour Guides at Cisticola Tours LTD (https://www.cisticolatours.com/). We have, for many years, successfully shown world birders most of the birds of East Africa, through our different tours and safaris. "It always gives us much joy when we take birding guests to spots where rare birds occur; but the greater joy is achieved when we finally find these rare species and show them to the guests", commented Washington Wachira.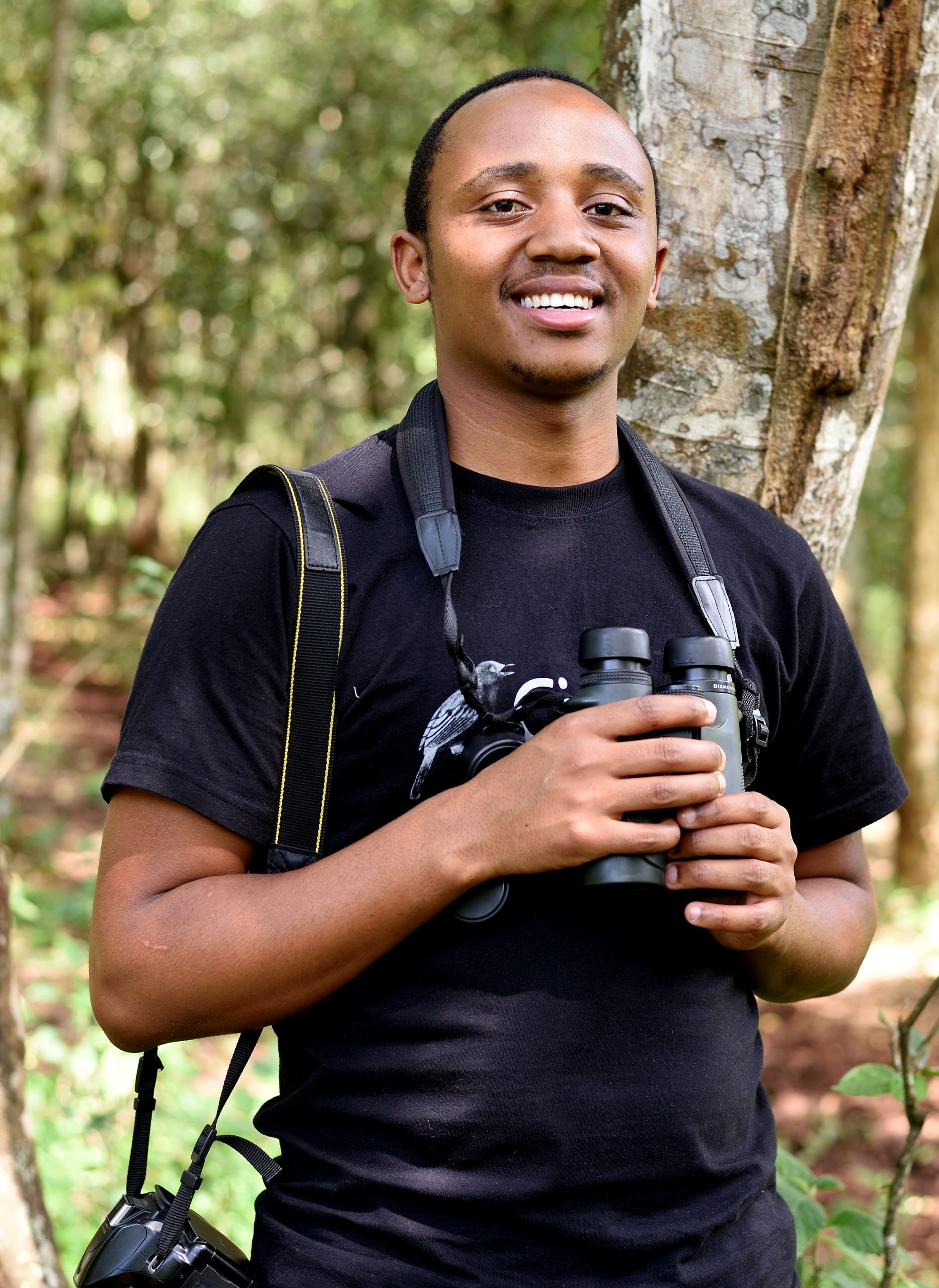 The concept of a Big Year has been in the birding arena for many decades and to some people it is a life goal to conquer an existing record. Basically, a Big Year involves spending one calendar year birding a specific geographical region; and looking to find as many birds as possible. This can be a single state/ county, country, continent or even the globe. The American Birding Association (ABA) Big Year record is 840 species and this was set by John Weigel (in the year 2019). The Big Year World record stands at 6,852 species; which was set in the year 2016 by Arjan Dwarshuis. The earliest recorded continent-wide birding Big Year record was set by Guy Emerson in 1939 (497 species). He was a businessman who timed his business trips to coincide with the best birding seasons across different areas in North America.

We at Cisticola Tours LTD have been running birding tours and safaris across East Africa; covering the countries of Kenya, Tanzania, Uganda and Rwanda. This is the region, with the addition of Burundi, which is covered by the region's renowned field guide – Birds of East Africa by Stevenson and Fanshawe. We decided to target this region and track one of our guides to see how many species we could record in one calendar year (2022). Every Big Year has a set of rules that guide the process. This includes the specific species checklist to use for the year, the region and how species qualify to be added to the final list. With the global style of Birding Big Years, the ABA rules often take precedence.
We therefore tried to work with these rules and match them as much as was logistically possible. On the same front, we decided to only use the eBird Checklist and App for all records across the entire year. All species that were to be included needed to also be from an actual birding group session, so that meant if the species was only seen during a private activity, that list would not count. Therefore, we included only birds seen on a tour, a group bird walk or a session involving a team of birders.
The record as at midnight 31st December 2022 stood at an impressive 1,002 Species.       

The locations birded and the missed sites
In the year, several great locations were visited. The expeditions visited all national parks in Rwanda. In Kenya, most sites visited were in Central, Southern, Western and Eastern (mainly around the Coast and Tsavo) regions. For Tanzania, the trips were mainly in the Central and Northern parts of the country. In Uganda, regions visited included sites surrounding the Lake Victoria basin, Southern and Western Uganda (with Pian Upe Game Reserve, Budongo Forest and Murchison Falls National Park added in Northern Uganda).
However, many key birding locations were never visited because during the year, there were no tours to those sites. These included:-
Northern Uganda, all regions North of Gulu, including the entire Kei-Kidepo region
Semuliki/ Semliki and Rwenzori/ Ruwenzori regions of Western Uganda
The Echuya-Mgahinga Region of Uganda
The entire Western and South-Western regions of Tanzania
Tanzania – localities West of Lake Victoria
Southern Tanzania – all regions South of Ifakara
Usambara Mountains and the entire North-Eastern Tanzania
Deserts of Northern and North-Eastern Kenya
Kenya's Southern Coast
The entire country of Burundi
All islands in the Indian Ocean
All islands in Lake Victoria

The species in summary
Across the year, many wonderful species were recorded, of varying rarity contexts. Some species were not what birders would consider a rare bird, but the moment was special for other reasons. This also included finding the first records of a species in a given geographical area. Some of the memorable ones included:-
Seeing a Bearded Vulture (sometimes called Lammergeyer or Lammergeir) at 3,655 metres while hiking Mt. Kilimanjaro, Tanzania
Being within metres of the rare Kipengere/ Tanzania Seedeater in the Udzungwa Mountains, Tanzania
Finding the stunning Olive-flanked Robin-Chat or Ground Robin ("Mbulu" type), Tanzania
Finding the first Cassin's Hawk-Eagle for the Aberdare Mountains, Central Kenya
Finding a displaying party of Somali Short-toed Larks (race megaensis) in Samburu, Kenya
Enjoying the rare Kungwe Apalis right over our heads while our group walked in Nyungwe Forest, Rwanda
Watching parents feeding their young, a case of the Grauer's/ African Green Broadbills in Bwindi Forest, Uganda
Watching the display flight of the Green-breasted Pitta in Kibale Forest, Uganda
Watching the nesting behavior of the endemic Fox's Weaver in Pian Upe, Uganda
The first ten species seen in the year 2022 were (in exact sequence):
Streaky Seedeater
African Citril
Kenya Rufous Sparrow
Pin-tailed Whydah
Grosbeak Weaver
Baglafecht Weaver
Variable Sunbird
Northern Double-collared Sunbird
Bronze Sunbird
Amethyst Sunbird
These first ten species were all seen in Ngong Road Forest, Nairobi, Kenya. The Big Year started on 24th January, 2022.

The final ten species seen in the year 2022 were (in exact sequence):
Rufous-necked/ Red-throated Wryneck
Little Rock-Thrush
Red-fronted Parrot
Abyssinian Ground-Thrush
Abbott's Starling
Boran Cisticola
Somali Short-toed Lark
Gray Wagtail
Brown-headed Apalis
Gray-olive Greenbul
All the final ten species were seen in Tanzania and Kenya across different locations.

The 2022 East African Big Year Record
The record as at midnight 31st December 2022 stood at an impressive 1,002 Species. These are all the species that were accepted by the eBird Checklist. All these species were recorded by one Tour Guide, Washington Wachira, on all his tours and expeditions.
This record was extrapolated onto larger geographical regions:-
Washington Wachira was ranked

number 5

across the entire African continent by species, in the year 2022
Washington Wachira was ranked

number 34

in the Global Eastern Hemisphere by species, in the year 2022
Washington Wachira was ranked

number 504

in the World by species, in the year 2022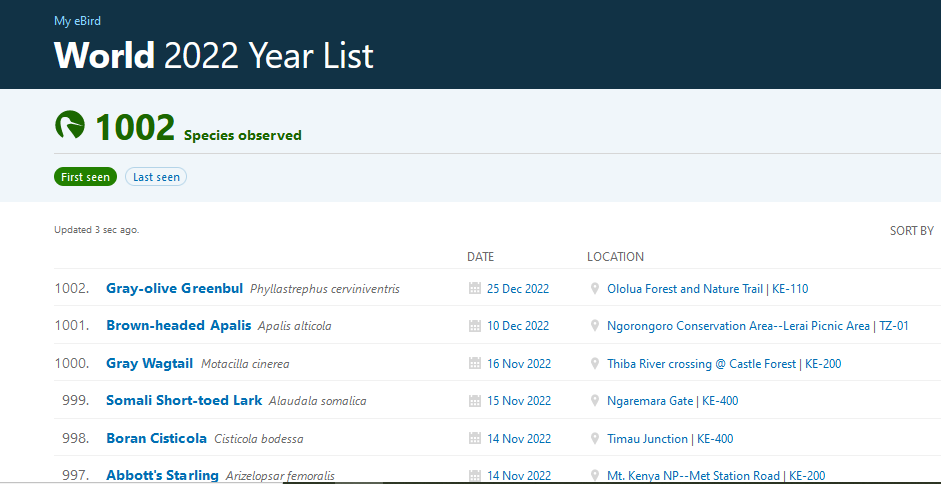 Potential species splits
Some species splits are not recognized by eBird; but are acceptable on other checklists such as IOC and the official Kenyan Birds Checklist. During the year, these species were also recorded, but did not count towards the final tally. Some of these species or potential splits include:
Placid Greenbul
Dodson's Bulbul
Kakamega Greenbul
Olive-breasted Greenbul
Yellow-billed Kite
Snowy or Brown-and-white Barbet
Usambiro Barbet
All the debatable splits on Francolins and Spurfowls
The inconclusive "Lesser Black-backed Gulls" of the inland lakes of the Great Rift Valley
Hybrid Lovebird
Burchell's Coucal
The inconclusive Montane Nightjar (Rwenzori Nightjar or Usambara Nightjar) complex of the Udzungwa Mountains, Tanzania
African Hoopoe
Thick-billed Honeyguide
Athi Short-toed Lark
Potential "Athi" or "Sentinel" Lark
Eastern Saw-wing
Rwenzori Hill Babbler
Ruaha Chat
African Reed Warbler
Eastern Crombec
"Kakamega" Hyliota
Grey-backed Camaroptera
Brown-tailed Apalis
Potential "Nanyuki or Mt. Kenya Babbler"
Gorgeous Sunbird
"Southern" Red-headed Weaver
Red-backed Mannikin
Notes:
Some species names in this article are given with alternate names from different books or other sources.
Some of the possible splits are proposed, so they may take some time before being fully accepted by all checklists.
No birds were twitched during the entire year.