A report by Sidney Shema (Tour Leader) – CisticolaTours
The day started early as our driver Charles and I picked up 3 of our clients (Raj, David and Pär) from their homes between 5.30 am and 6.15 am. We arrived at the park gate at 6.30am where we met our 4th client (Caroline) and proceeded to pay the entrance fees. There was a long queue at the payment office but processing was swift and we were in the park by 7 am.
We began with a slow drive through the forest where we had a great close-up sighting of a Tambourine Dove foraging on the forest floor, along with a female Bushbuck browsing nearby. We also got views of Yellow-breasted Apalis and Grey-backed Camaroptera as well as Cardinal Woodpecker, Slate-coloured Boubou, Barn Swallow and various other birds on the forest edge. On arriving at the Ivory Burning Site, we parked and birded on foot for about 40 minutes, adding about 30 new species to our list. Chin-spot Batis, Holub's Golden Weaver, Cape Robin Chat, African Darter, Tropical Boubou, Red-cheeked Cordon-bleu, Scarlet-chested Sunbird, Black Saw-wing and various other birds all gave us great views.
We proceeded to Nagolomon Dam where we spotted a juvenile Gabar Goshawk, sub-adult Great Sparrowhawk, an African Fish Eagle and numerous waterbirds including Black Crake, Reed Cormorant, African Spoonbill, Common Moorhen and the migrant Common Sandpiper. Other Palearctic migrants seen during the safari included Wood and Green Sandpipers, Common Greenshank and Little Stint. On the plains just east of Nagolomon Dam, there was a large gathering of White-backed Vultures, Black Kites and Pied Crows scrapping over a carcass of an unidentified animal. We had another similar sighting not far from Leopard Cliffs where about 40 White-backed Vultures were being dominated by a pair of Lappet-faced Vultures on an Impala carcass as a Ruppell's Vulture and four Tawny Eagles awaited their turn on the sidelines.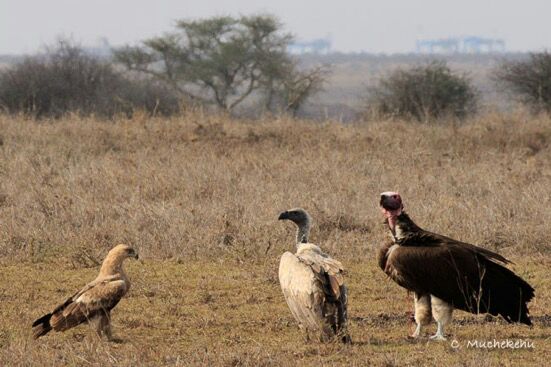 We had a snack break at the Hyena Dam as we enjoyed watching the antics of 5 pairs of Egyptian Geese squabbling over a short stretch of the dam's shoreline and each pair taking breaks to court each other in amusing ways. Meanwhile a single African Jacana waded by. Our final sighting at the dam was of a Great Egret diligently hunting small fish and exhibiting great patience while at it.
We then slowly made our way to Olomanyi Dam, recording Emerald-spotted Wood Dove, Buff-bellied Warbler, Helmeted Guineafowl, Banded Martin, Kori Bustard, Common Ostrich and a plethora of other savannah birds along the way. At the dam, we added African Black and Scarce Swifts, White-bellied Go-away Bird, White-browed Scrub Robin and Common Drongo to the list. A non-breeding Yellow Bishop, a stunning male Hartlaub's Bustard and a lone Mottled Swift were recorded as we slowly made a long loop to the Kingfisher Picnic Site. A pleasant surprise just before reaching Kingfisher was an immature Bat Hawk that briefly circled slightly above the tree line before swiftly diving into the Hyrax Valley, where we lost sight of it.
At Kingfisher, we spotted a beautiful Red-fronted Barbet just before settling down briefly for lunch. After a quick lunch, we took the loop back eastwards and proceeded to slowly drift towards Mokoyeti Picnic Site. We snapped some quick shots of a Black-shouldered Kite and just as we approached the Maasai Gate junction, a Malachite Kingfisher perched above a small pool caught our attention. As we stopped to appreciate the tiny beauty, a Yellow-throated Longclaw and White-browed Coucal appeared in quick succession. And then, to our surprise, a striking Egyptian Mongoose (Ichneumon) emerged from the dense vegetation and walked out into the open, taking long pauses as if to give us adequate time to photograph it. Camera shutters went off like machine gunshots!The small carnivore then disappeared back into the vegetation and we took a moment to savour what we had just seen. We continued eastward and soon had another unusual sighting: a Woolly-necked Stork soaring above the Mbagathi Gorge! This was somewhat unexpected as this is a bird more often seen in the eastern Kenya lowlands and the coast, and sometimes the Mara.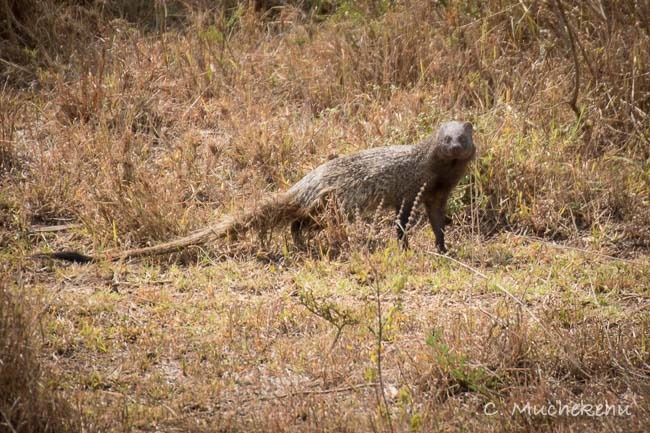 Nearing Leopard Cliffs, we came upon our second sighting of vultures on a carcass (mentioned earlier). A Black-chested Snake Eagle slowly glided northward, high above the vultures. We soon added White-bellied Bustard to our ever-growing bird list. At Mokoyeti there was not much bird activity, except a Hamerkop feeding in the Mbagathi River below. We pressed on towards Hippo Pools, but just as we rounded the bend around The Emakoko we were in for yet another extremely pleasant surprise: a big male Leopard standing just above the valley! We could hardly believe the luck we were having! Again, the shutters went wild! Soon the big cat lay down in the long grass making viewing difficult and so we decided to press on, happy with the mere fact that we had even managed to spot the elusive creature.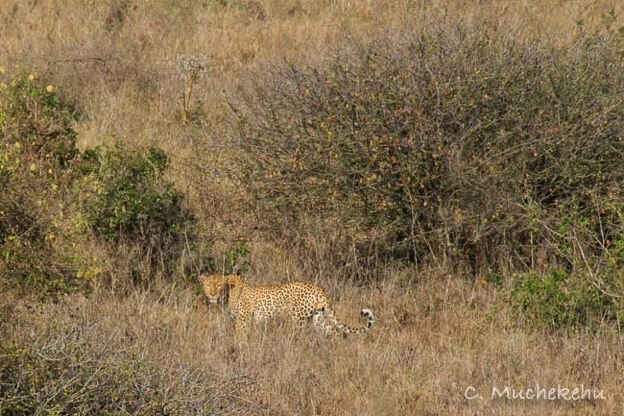 At Hippo Pools, we added many new species including Black Cuckoo-shrike, Brown-crowned Tchagra, Striped, Pied and Grey-headed Kingfishers, Sulphur-breasted Bush-shrike, Hybrid Lovebird and Striated Heron. A large crocodile was basking on the riverbank and an Impala herd slowly ambled through the open riparian woodland. The highlight here was however a group of at least 5 White-crested Helmet-shrikes of the southern race poliocephalus– an intra-African migrant from the southern tropics that is rarely seen in Nairobi. As we wound up our fruitful walk at Hippo Pools, a small group of Rufous Chatterers foraged on the ground for their final meals of the day within 10 meters of us.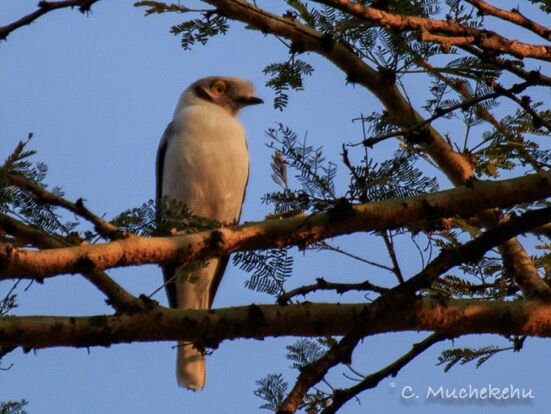 We decided not to do the Athi Basin circuit as the sun was already setting when we left Hippo Pools and we needed to promptly head out of the park. On our way out, we did however add one more species to our day's bird list – Montane Nightjar, heard calling in the forest near the main gate. Overall, the day was nothing short of spectacular! A total list of 137 bird species recorded, including some rare and unusual records, and various impressive mammal records as well! Plains game was generally more concentrated in the north-western and southern sections of the park (where the remaining water sources are), with the central areas largely devoid of large mammals, due to the dry conditions. Despite this dry spell(among the more severe ones the park has experienced in recent years), we still managed to have an exceptional day of birding and game viewing.Cisticola Tours definitely looks forward to sharing more memorablebird-watching and wildlife experiences with guests in the incredible Nairobi National Park!